Sun, sea, wine and red meat every day. Scientists say a village in Sardinia holds the key to long life."

– Robert Hardman, UK Daily Mail
Buenos Aires – While I'm gathering my thoughts and notes on Supreme Director Posadas, I thought I'd fill in the time with a little diversion….
A "giara" is a plateau, the most famous of which, the "giara manna" is in south central Sardinia famous for its mysterious miniature horses – mysterious as their ancestry is simply not known. Sardinia, if you're not sure, is a large island in the Mediterranean that officially is part of the Italian republic, though I'd bet not a Sardinian out there would claim to be Italian. If anything, they probably share more in common with the next neighboring large island, Corsica, which has a similar relationship to France. I can't claim vast knowledge of Sardinian cuisine – I've sampled a dish here and there over the years, I've probably even tried my hand at one or two in the kitchen, following a recipe from a book. So when my friend Wayne over at Southern Cone Guidebooks mentioned a new spot serving up the stuff, I put it on my list to check out. Sa Giara, Gurruchaga 1806 in Palermo, 4832-5062, was, to put it simply, delightful. [Closed in early 2012]
First, the room – nicely, cleanly laid out, vivid blue and white, nice glassware and flatware, a little gas-fired fireplace off to one side, a charming brick patio in an alcove out front. Our waiter, friendly, effecient, cute… the manager popped by to make some personal recommendations for some of the food. All in all a good beginning.
We started off with some delicious flatbread, variously called carta de musica or pane carasau in different parts of the island, along with two different dips, one of beans the other of chickpeas, both delicious. We ate our way through the flatbread much faster than we should have, and our waiter showed up with more when we were both just considering that we really ought to leave room for lunch. The menu is focused on casual food – a range of tablas, plates of cheeses and cured meats are offered, along with various pastries, all to go with tea, which is stated as a specialty of the house, though it didn't seem as if their selection was particularly large. There is a small menu of meat dishes – beef, lamb, and pork – and a short selection of pastas, which was the direction we both decided to go for lunch.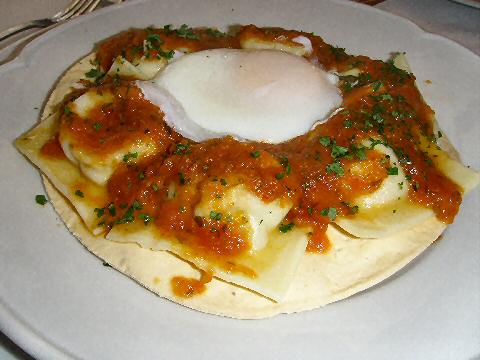 My friend opted for something a bit more familiar – fettucine with a simple cream, cheese, and pancetta sauce, I decided to go for one of the traditional Sardinian pastas. I'll be honest, I forget the name, but it's an interesting pileup of the crispy pane carasau on the bottom, plump cheese and herb filled ravioli, a fresh tomato sauce with, it seemed, a touch of orange zest, and all topped with a perfectly poached egg. I loved the textural interplay with the flatbread on the bottom, the rich and soft egg yolk, and, well, everything about it. The fettucine was pretty darned good as well. Keeping lunch relatively light, we split the one Sardinian dessert on offer, a sort of big round empanada filled with a ricotta-like cheese and orange, hot and aromatic in a bath of good honey.
Prices are not inexpensive, but that's becoming more and more common these days. The pastas run around 30 pesos apiece, the specialties slightly more. But, with two pastas, one dessert, two bottles of water, a coffee and a tea (and the ubiquitous cubiertos charge here) it ran us roughly 60 pesos apiece. Still, we'll be back to try the place again. It was well worth it….