"Sherry… a sickly compound, the use of which will transform a nation, however bold and warlike by nature, into a race of sketchers, scribblers and punsters, in fact into what Englishmen are at the present day."

– George Borrow, English Novelist
Buenos Aires – I'm going to give you the one sentence basics of sherry, formerly called "sack" by the Englishmen referred to above. There are plenty of websites out there that go into great depth where you can find out more detail and get into the intricacies.
"Sherry is a fortified wine, i.e., relatively pure alchohol is added to it during or after fermentation, that is made from white grapes in the Jerez region of Spain, and is unique in two aspects: first that a good portion of it, the fino category which includes finos, manzanillas, and amontillados, is fermented in open barrels underneath a naturally occurring yeast layer called the flor, while the rest, the olorosos, simply oxidize, a condition that in most wines is undesirable, but with the peculiar grapes of Jerez, produces world-class wine; and second, that it is aged in a solera system, which is a pyramid of barrels that allows the drawing out a portion of the wine from beneath the flor (if it is there) to move into the next level on down the pyramid, so that at the bottom, the wine ready for bottling, is a blend of multiple years stretching back to the first year (at some atomic level) that the solera was started.
Okay, enough about that. Here's the shame of it all. People don't really drink that much sherry. In fact, they seem to drink so little of it that I used to wonder how it was that it seems to sell in retail stores or restaurants at all. Sure, there's the occasional person at a bar who would ask for a "Tio Pepe", one of those fino style sherries that technically needs to be consumed within about 2-3 days of opening, but usually sits in the bar's refrigerator for 6-8 months going bad. And there's the cream sherry (semi-sweet) drinkers, or even sweet sherry drinkers, who have a little nip before bedtime. But who, exactly, is drinking the really good stuff – the legendary dry sherries that encompass a range of styles and weights and flavors and colors from pristinely transparent to deep chocolate brown? And what, exactly, are they drinking them with?
Which brings me to what I want to focus on, just prior to a rundown on the recent sherry dinner we put on here at Casa SaltShaker. Food and wine pairing. Let's face it, if there's any topic other than how to keep a souffle from falling that calls up dread from the deepest, darkest recesses of the hindbrain, it's food and wine pairing. The casual wine drinker readily admits to not having a clue and being consumed with fear that they will select the wrong wine to go with their food and then nothing will be good and the dinner will be horrible and nobody will like them anymore and so they order a beer. (Should I bring up food and beer matching?) The wine aficionado will have done his or her research and perhaps even tried a wide range of wines with different foods, and invariably, will have settled on a particular combination which they will swear up and down is a heaven-made match that no one can top, beat, or shake a stick at, and there's simply no exception, and to do anything else would be disrespectful of both the food and wine, and they secretly are hoping you like the combination as much as they do in order to validate their self-worth, and if you don't they'll realize that you're not the sort of person whom they want to hang out with anyway. This, by the way, is how sommeliers came into the forefront of the whole topic – it's not because we know more, or are willing to experiment more, or have gotten past the delusions of there being a perfect match – it's quite simply because if you leave the choice up to us, you have someone to blame if you don't like it, thus preserving self-worth and tenuous friendships, and if you do like it, you can congratulate yourself on having recognized a kindred spirit.
There's no perfect match. Really. At best, there are certain wines, that certain people (because no one's done any kind of extensive controlled research on large numbers of people), like really, really well with certain foods, in certain settings. And you know what? Other certain people, don't. Not one bit. One of them might be you. In fact, not only might you not like the food and wine pairing, you might not even like the wine at all. Wouldn't that be a shocker? It's spawned another whole industry in the wine world – people who write books and articles about how to go about matching food and wine – by weight, by style, by color, by region, by acidity, by tradition, by shape of the bottle, by color of the label, or by whether or not the winemaker puts his pants on two legs or one leg at a time. I tell you right now, I wish I'd written one of those books, especially early on when the subject was just taking off. I'd have a whole pile of pesos in the bank.
With all that in mind, I set out with my friend Mickey, who brought the sherries in from his private stash in New York, to create a sherry dinner. Now, Mickey, dear friend that he is, falls into that wine aficionado category above, though with many years of experience he's come to recognize that there's room to loosen up a bit. He still has some ideas about the perfect matches for things, but as long as he was willing to let me play a bit in the kitchen (not that he had alot of choice, I was buying the sherries from him, and although we discussed the plans for dinner, I made my own changes as I went along), we were going to get along fine on this. In fact, I'd assert, that the convivial setting of a Casa S dinner contributes much to the enjoyment of food and wine matches. Not that I don't have a generally good sense of things that go well together and can usually please a good number of people with those combinations, but the whole relaxed, casual chatting, like friends at a dinner party atmosphere, heightens the appreciation of those matches. It really does – I can even tell by the commentary I receive after the dinners – invariably people who felt uncomfortable at the table (whom, thankfully, are few), or been part of a stilted or even discordant conversation, have notedly lower opinions of the food and wine pairings. Time for a food photo, no?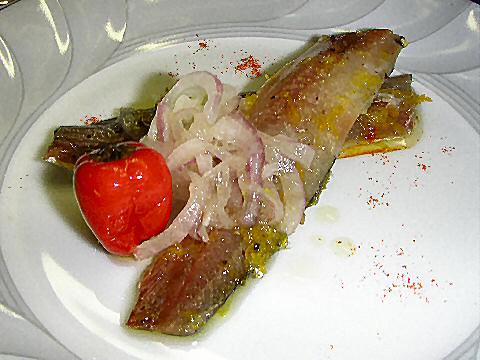 The dinner opened up with a crisp, crystalline, dry Pedro Romero Aurora Manzanilla. Manzanilla is a type of fino that comes from one particular area, Sanlúcar de Barrameda, and has a peculiar note of brininess too it that (generally) matches with things like oysters, shrimp, octopus, and salt-cured fish. I was all for doing something interesting with baby octopus, but my partner in this venture asserted that a salt-cured fish would be the better match from his perspective. This one I went his direction on, and obtained some fresh imported sardines, cured them whole in salt for two days, then filleted them and marinated them for about 8 hours in good olive oil, tangerine and lemon zest, and a little cracked pepper. I served them simply with a little thinly shaved onion (salted, rinsed, drained), and a pickled pepper.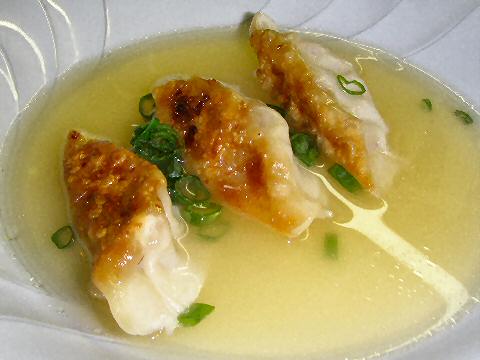 I've got to say, this dish turned out even better than I'd hoped, and was my personal favorite of the evening. We'd talked about doing something with a cured ham and good cheese to go with the M. Gil Luque Bandera VORS Amontillado, I think he was envisioning some sort of antipasto platter. I had this idea that started off as a ravioli, but then went more to my style with potstickers – filled with Manchego cheese and Jamón Serrano, with just a splash of balsamic vinegar to help hold them together – sitting in a bacon broth. Yes, bacon broth – it was all the rage a few months ago in various newspapers and magazines, all asserting that it requires this week long process involving more gelatin than Bill Cosby has ever eaten, freezers, cheesecloths, strainers, pots and bowls, and ending up with a fraction of the original volume. Now, I can't claim that perhaps the broth wouldn't have been more crystal clear had I done such a thing, but with the cost of good bacon here, and the fact that one can clarify a meat stock with eggs, as has been done by cooks for centuries, I went that route and ended up with nearly my original two liters of broth, nice and clear and smoky and delicious.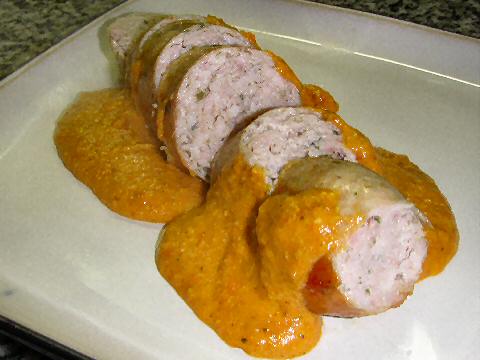 One of the styles of sherry that's a bit of an oddball is the Palo Cortado. This is a version that starts out like an amontillado style fino, with that layer of flor that I mentioned, but for unknown reasons, the flor dies off leaving the wine exposed to the air. You end up with an amazingly complex, and fairly rare, wine that falls between the amontillado and oloroso styles. We had a Barbadillo Obispo Gascon Palo Cortado to play with, and started thinking about a lighter game meat. And almonds. So of course I made rabbit sausage (rabbit, salt, black pepper, ginger, dried hot peppers, parsley, white wine, garlic), poached them lightly and then sauteed them to serve, sliced, with a slightly simplified romesco sauce (lightly charred red bell peppers, tomatoes, almonds, pureed with olive oil, bread, and a splash of anise liqueur – no garlic or onions in this version). There was some debate as to whether this was the best pairing of the evening – underscoring my point, with eleven guests present, plus myself, I think 5 went with this, 4 with the ham and cheese potstickers, and 3 with the next course…
Which was a simple filet steak, top round cut, about the closest we can get to a London Broil here, simply seared and finished in the oven, and topped with a rich blue cheese sauce (I wanted to use the very potent Cabrales, but there was none to be found this last week, and Mickey wanted me to just cut a piece of it and set it atop the steak – but that's not me, ya know?) – sauteed shallots in a little butter, then deglazed them with gin and cooked that down until there was little liquid remaining, added the strongest blue cheese I could find, let that melt, added a splash of beef stock, thickened it all with a little bit of flour, and finished it with some freshly chopped yerba buena, a type of mint. Served up with some candied carrots – cooked in butter, marsala, mustard, orange juice, brown sugar and honey. And all to accompany the big wine of the evening, Hidalgo Vaedro Oloroso.
And, finally, a solera style dessert wine, technically not a sherry, but in the same general category, the Barbadillo Laura Moscatel matched up with a date and mascarpone cheesecake, cocoa crust, drizzled with a little fig syrup.
See, all that food and wine pairing stuff isn't so hard after all…