Etymology: Middle English whirlegigg, from whirlen to whirl + gigg top
Date: 15th century
…
3 a: one that continuously whirls, moves, or changes b: a whirling or circling course (as of events)
Buenos Aires – Yup, that's been me this week. A little whirligig. Three Casa S dinners in a row, and all with completely different menus. I'm not complaining mind you, but think about what that takes to put together – 15 different dishes over three days, each for a dozen people. And, I'm going to sum up all the dinners in one single post rather than spreading them out over three.
First up, a group of students, mostly from the U.S., celebrating the 21st birthday of one of them. He organized it, his folks sprung for it (even though they didn't get to attend), and it was one of the more interesting planning processes I've gone through. We started off with a list of ingredients or flavors that he particularly liked and wanted included, with a general latin and/or asian style requested, for all but the dessert, for which his favorite is carrot cake with cream cheese frosting. The menu evolved back and forth a bit and we settled on a sort of fusion theme for the evening. Then the curveball. A few days before the dinner, he upped the number of people from 10 to 12, one of the additions being a young woman who eats strictly vegan. The choices (because I won't do a completely separate menu for just one person, it's too much work), either she ate before coming and just sort of hangs out during dinner, or we change the menu completely. Now, I have to admit, he's more chivalrous than I am – he opted for changing the evening to a vegan menu, other than one course, for which we agreed on a simple substitution for her. I'm pretty sure he left it as a surprise for pretty much everyone, based on reactions as we introduced the evening, but in the end, given the number of requests I've had already from guests for recipes, apparently they all enjoyed it quite a bit. Which is good, since vegan cooking is not my strong suit…
The first course, we stuck with a sashimi roll filled with a mix of crabmeat, and brunoised (finely diced) vegetables, which I would have bound together with a spicy mayo – in this case, since I was using the same vegetables in a tofu roll for the young lady, I made a vegan mayo – something I've never tried before, but it actually turned out quite well, and just added some shichimi spice powder to it for a little kick, and then served the rolls with a mix of pomegranate molasses and chili oil.
From there, we moved on to a causa – made the way we've made it many a time here for our Peruvian themed dinners, just without the tuna or other fish added, oh, and I used fresh dill instead of cilantro… just because. That was a hit with everyone. Then a yuca and plantain soup, made with vegetable stock.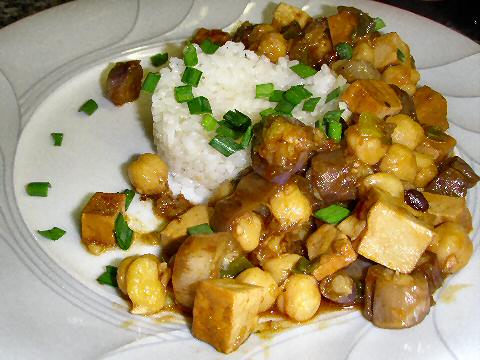 For the main course, I thought a variation on Eggplant Yu-Xiang was in order, as the host wanted something with a good amount of ginger and spice. Instead of the pork I used some diced smoked tofu and some chickpeas, and it worked out really well.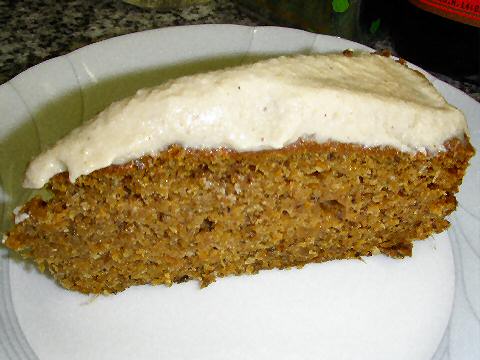 And, the carrot cake. No claims to my own version of anything here – the cake came from The Vegan Forum, the recipe in post #12 from ScandinaVegan – using the mashed banana to replace the egg replacement (not available here as far as I know) as suggested – excellent! The frosting was a simple cashew cream – cashews, water, maple syrup – blended together to make a creamy topping. It's not cream cheese, but it worked!
You know what – I just realized that this post is already fairly long – so I am going to separate the dinners into three posts…