Venice combined business prowess, backed by naval power, with her unique form of republican government to create the most enduring independent state in history. The Most Serene Republic of Venice was the world's longest enduring independent state, far eclipsing all others. The Dutch Republic has existed for 214 years. The United States has endured for 231 years. The much-admired Roman Republic survived 565 years. Most historians agree that Venice was founded in 697 and endured for an amazing 1100 years before Napoleon dissolved her government during his First Italian Campaign in 1797, when Venice violated her proclaimed neutrality by permitting the Austrian army he recently defeated to retreat through her sovereign territory. By then once-powerful Venice was little more than a decadent stop on the European "Grand Tour".

– Thomas Quinn, Author
Buenos Aires – If I'd have known that there was a Canadian indie rock band called The Serene Republic that took its name from Venice's long history, we'd have spent the night listening to them. Something to eat Venetian food by. After all, we were commemorating the 500th anniversary of Venice defeating the Holy Roman Emperor Maximiliano I, with a selection of dishes both traditional and reinterpreted, from the cuisine of northeastern Italy.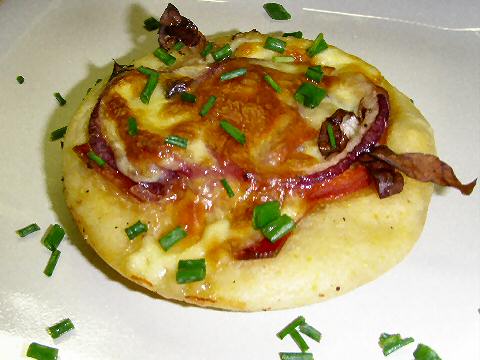 When I posted about making a deep dish style pizza the other day, my friend Frank asked in the followup commentary if I'd be serving them at any of our Casa SaltShaker dinners. The timing was perfect, since I was fiddling around with the final menu for this last weekend's dinner. Pizza? Why not? Deep dish? Not Venetian, but again, why not? What had originally been a planned radicchio and prosciutto risotto became mini-pizzas (deep dish, baked in little cazuela dishes, and topped with olive oil, roasted peppers, radicchio, prosciutto, onion, and cuartirolo cheese. Thanks Frank!
Another thought had been a traditional Venetian omelette of fresh peas, fennel, and diced ham, which got itself turned inside out into a sort of egg-drop soup with those same ingredients and a nice fresh chicken stock. Lots of chopped basil added at the last moment to give it a nice bright flavor. I'd already planned on that original risotto, and on a dish of sauteed razor clams, and decided they'd combine well – so a risotto made with vegetable stock, and finished with a puree of roasted squash, previously steamed razor clams cut into bite-sized pieces, lots of parsley, a little grated reggiano cheese and some good olive oil.
For the main course it was more about the wine than anything else. I posted awhile back about finding a couple of Veneto style wines being made here in Argentina, using Corvina grapes (classic of the region) and in both ripasso and amarone styles. Only the former is available, but it fits well with the idea of a "young amarone", which is the key ingredient in a classic dish of Brasato all'Amarone, beef braised in the wine. This was as traditional as I tend to get – other than using the wine from here as the cooking base, it was a classic recipe. A pot roast cut wasn't available, so I used peceto, which is also easier to cut into slices later. Next time I might use a fattier cut, while this came out fork-tender, it did dry out slightly more than I would have liked, but was still delicious! And, we served it with the same wine, the Masi Passo Doble 2006. Now, with a little more age on it, it's really coming together nicely and I recommend it if you can find it!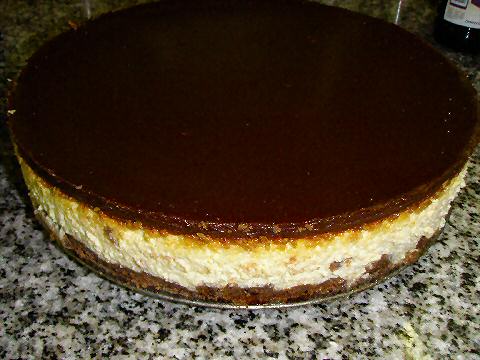 For dessert, a twist on tiramisu. After the success of my chocolate lemon tart recently, it started me thinking about similar ideas… I went with the same cocoa crust, but made a cheesecake filling using homemade ricotta made with extra fat (a good amount of cream added to the milk before starting the process), which gives it the richness that a mascarpone has, and then added espresso to the chocolate ganache atop. That works…
…and, a most serene evening indeed!