The whole country is filled with adventures, but there is adventure just in the visual landscape alone. There is always something familiar, but if it looks too familiar, you just have to look a little farther for the oddity."

– Chris Patterson
Buenos Aires – Oddiites, curiosities, serendipities… A trio of restaurants that I've found myself in for one reason or another recently, and not had enough of a meal to get a solid feel for the places, so just a couple of quick notes.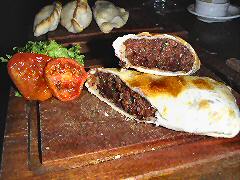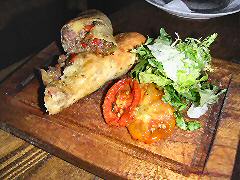 First, there was an article I was writing on where to find "campo" style food here in the city. Country-style is, of course, a pretty subjective thing, and I checked out a bunch of places. One of them that someone suggested was a place that "reimagines" the dishes… which it turns out is not quite accurate. They do whip up a few interesting interpretations, but I didn't get the feeling they were all that imaginative… hard to say. Maybe it was just the atmosphere, which is a heavy wood table and chair, almost underground club feel – and, indeed, the place has comedy shows a few nights a week (not on the evening we were there), at a microphone that's basically just off to the side of the tables. Cava 71, Roosevelt 1533, in Belgrano, also offers up an interesting wine selection, with a "cave" you can enter and pick out your bottle from if you like. The food – good quality, though a trifle on the bland side. I thought they had some interesting ideas, if not radical reimaginings – we tried a trio of empanadas – sweetbread (yum!), entraña (skirt steak, really excellent), and cantimpalo (cured sausage, just okay); and then this duo of strangeness – morcilla in strudel, which seemed to be an awfully bland morcilla (blood sausage) that had been wrapped in "strudel" dough – which it wasn't, this was a thick, empanada skin type dough; and a salchicha parrillada in pizza dough – which I envisioned literally, but turned out to be near the same as the first, the sausage meat removed from the casing and enveloped in a thin crust of pizza dough. Best things, the first two empanadas, no question. Friendly staff, might be interesting to go back on a night when there was a show… they also have a location listed in Palermo at Humboldt 2006.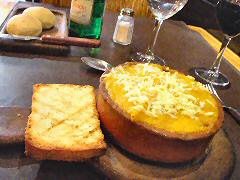 Another spot that came onto my radar for this jaunt were the two branches of La Payuca, in particular the one close to home at Santa Fé 2587, right near to Pueyrredón, the other not far away in Palermo at Arenales 3443. Far more "authentic" in country style offerings, and actually quite good I thought. I tried a couple of empanadas – their carne picante and carne dulce – the latter excellent, and one of the juciest empanadas I think I've ever had, the former, almost identical except with some scattered red pepper flakes added, so didn't quite hit the mark for me, thought still good. Their pastel de lomo con calabaza, one of a half-dozen campo dishes they offer, in piping hot earthenware bowls right out of the wood fired oven, was delicious – packed with steak inside and topped with a squash mash, lightly browned atop. The one negative, while they offer up a condiment tray with a trio of sauces on it to go with steaks, the usual chimichurris (white and red) and salsa criolla, they had absolutely nothing spicy in house, not even something as simple as tabasco sauce, to spice up the stews – and seemed mystified that anyone would ask – which seems strange given their location and the numbers of foreigners who must come into the place along with locals.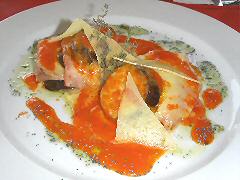 In a totally different vein, I was out walking around with some friends and we decided to stop in for a light lunch at Pizza Cero, a three location "chain", we were at Tagle 2661, corner of Libertador, with a beautiful view of the park across the street. We sat outside, relaxed, enjoyed, and didn't order pizza, which is, not suprisingly, their specialty. My friends wanted something basic, coffee and toast sort of stuff, which our waiter thought they might not have… they do at breakfast, he assured us, but at lunch, it was questionable. Coffee and toast? They did have as it turned out, so no issues. I opted for an eggplant parmesan, which was decent – the eggplants were cooked perfectly, the sauce a nice fresh tomato sauce, the parmesan missing… there was the mozzarella… or some kind of cheese, that was in thin slices and slightly firm, so either aged mozzarella or something else entirely, and a heavy dusting of poppy seeds. Odd, just odd. But reasonably tasty. Or at least it hit the spot.