I can't just take someone's word for it. I am a skeptic. I am also skeptical about crop circles, alien abductions, Nostradamus, and psychic surgery. I haven't believed in a six day creation in a very long time. But it is tough to be a skeptic these days."

– Margaret C. Douma, Surfing for Skeptics
Buenos Aires – Every now and again I realize that I've done something that I think of as "out of character" – in particular, taking someone's word for something. I tend to be skeptical about opinions. They're like mushrooms after a rainstorm, they're everywhere, and everyone has one, and some of them are good for you and some of them will kill you, and it's the rare person who can tell the difference at a glance. So I usually just accept that the mushrooms, the opinions, are there, and go on about my business as if no one had told me their opinion. Sort of… I mean, if a bunch of people have recommended a place to eat, I'll go check it out. Usually, I don't follow the other direction – if a bunch of people have recommended against a place, I'll still go check it out. It's more simply that the place has been called attention to. And I have this blog in which to sprout my own mushrooms afterwards.
So it was that after nearly three years of being in Buenos Aires, and, as regular readers know, having a penchant for Asian cuisine, I found myself for the first time actually at Lotus Neo Thai, Ortega y Gasset 1782, Las Cañitas, 4771-4449, Arribeños 2265, Belgrano, 4783-7993 [Haven't tried the new location yet.]. I say actually at, because I've headed there before… twice. Both times to meet a friend, the first time to meet one there at lunch only to discover it isn't open at lunch time, which she'd been sure it was; the second time to meet a friend who assured me that it was open for dinner on Sundays and closed on Mondays, but it turned out to be the reverse. This time I called and made a reservation. And, I'd heard stories – the owners of Lotus Neo Thai were the original owners of Empire Thai and had run the place into the ground, skipped out on paying bills and employees, left their new partner, an expat whom I know, holding the bag, so to speak. I'd heard that they did a mediocre job at Thai food – barely authentic and nothing spicy were common descriptions. And, I realized recently, that I'd just simply accepted all that at face value at some point and taken it off my radar. So back it went onto the list of places to check out, and the other evening, a friend and I met up to check out the food.
Right off the bat, it's nothing like what I expected visually. Somehow, I'd got it in my head a sort of loungy scene, with low level lights and hipper than thou waiters in black, and bright colored cocktails and pseudo-thai… you know the sort of place I'm talking about. As we climbed the staircase to the upper floor (and it's a climb, that ground floor must house a double height ceiling) it became clear that it just didn't have that vibe. And stepping into the room it was even clearer – the walls are all painted in a cheery light blue and green with lots of big painted flowers – honestly, it looked like a kindergarden classroom. The tables almost seem out of place – they're setup very beautifully, with a clear Asian aesthetic, and we were immediately offered our choice of either a regular table or a "more traditional" low table with pillows to sit on. We opted for the latter, though in retrospect, I think I'd go for a regular table next time – maybe just because we lingered over our meal and talking, but I was uncomfortable after about the first hour or so…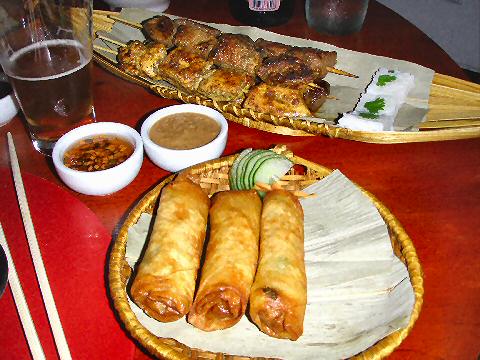 Shrimp crackers were dropped on the table, along with a sweet and sour sauce and a hot sauce that was mildly spicy – both quite good. We ordered a few appetizers – some springrolls – crispy on the outside, juicy and flavorful on the inside, a trio of dipping sauces on the table for them; a mixed satay platter – beef, lamb, chicken – a bit salty, and the peanut sauce had no heat whatsoever; and some coconut shrimp, which were light and delicate in a crisp batter, and then sprinkled with lots of coconut – slightly odd, since normally the coconut gets cooked into the batter, but very good. And, we tried a green curry chicken and a laap gai, which is a cold chicken salad spiced with lime and chilies. The curry was definitely on the spicy side – we'd asked for the "Thai spicy version" not the "Argentine mild", and been told they could do that – they hadn't on the appetizers, so we weren't hopeful – and the laap gai was reasonably spicy, though not particularly – focusing more on the lime and some mint.
All in all, quite good food, not as spicy as we would have liked, but certainly far more than I'd been expecting given those pesky opinions I'd heard. The service was friendly, cheerful, and even reasonably attentive, and by two young waitresses in casual garb, nothing black and trendy and loungy going on here. I can't speak for all the things I'd heard about the owners, they weren't present as far as I know. And, while the place wasn't particularly busy, there were people there who seemed to be enjoying themselves as much as we did. It was moderately pricey, but not particularly so for Las Cañitas – three, well really four appetizers, since the laap gai that I had as a main course was really an appetizer on the menu, and one curry, a couple of imported beers and waters, and I think we ended up paying 80 pesos apiece, with tip.
This seems a moment to compare to other southeast Asian options here that I've been to and reviewed – a sort of revisit if you will…