Just because someone is dead does not mean they have changed!"

– Bette Davis, when it was suggested she not speak ill of the dead
Buenos Aires – I may continue on this trend of centennial birthdays, more or less – we had so much fun with Carmen Miranda's 99th and Anna Magnani's 100th, that I couldn't even consider not celebrating Bette Davis' 100th when it came around this last weekend. I wonder who's next? Suggestions will be gratefully accepted… So I started off with a week long marathon of watching whichever of her movies I could put my hands on. A fun, if somewhat daunting task, and in the end, while I enjoyed it immensely, it didn't give me a whole lot to work with when it came to planning a menu – I wasn't about to go for a roast rat right out of Baby Jane, you know? A friend suggested going with "eyes" – ribeye steak… I got stuck there, with no beef in town, and not a whole lot of other eyes I wanted to consider – besides, Ms. Davis was the focus, not Ms. Carnes… I ended up just doing a bit of wordplay – most of which probably required some deep familiarity with the movies – and few of our guests had it, but at least they seemed to enjoy the food and company. So with All About Eve playing silently in the background on both television and computer screens, we settled in for what turned out not to be a bumpy night – starting off with a proper cocktail made from scotch, rum, peach juice, and a dash of fresh squeezed lime.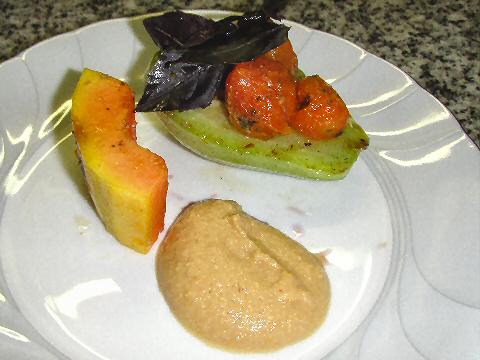 "I'll admit I may have seen better days, but I'm still not to be had for the price of a cocktail, like a salted peanut." While the bumpy night quote may be the best known from All About Eve, it's not the best line – there are several far better ones – and this one gave me the start with the idea of a salted peanut sauce – which led to thinking about the red papaya salad that we did for the Carmen Miranda dinner. I didn't want a direct repeat, and when I saw fresh chayote in the market (locally called papa aire, air potato), I decided on a slight twist – grilled chayote, grilled papaya, butter roasted cherry tomatoes, and purple basil for the salad. The sauce, a mix of peanuts, bonito flakes, garlic, fish sauce, red rice vinegar, and hot chilies. For one guest, allergic to peanuts, the same made with sunflower seeds in their place.
From there, we moved on to the 1938 film Jezebel, and a natural choice for a Jezebel Sauce, from the southern U.S. – my version a blend of apple and quince jellies, grated horseradish, black pepper, and mustard – sounds odd, but it's really quite good – the traditional uses apple and pineapple jellies, though the latter isn't available here. Usually, or at least popularly, it's served up on crackers with some cream cheese as an hors d'oeuvre, so I decided on a savory version of my cream cheese cheesecake, and since I spotted some fresh zucchini flowers in the market, I thought I'd chop them up finely and mix them in (the idea came from the ricotta and squash blossom empanadas I made wayyyy back). The combo worked great!
From there, the famed weenie roast right out of Now, Voyager, which, of course, you all remember as the most important culinary scene in the film. For that, the chicken and yam merguez sausages that I covered in yesterday's post.
On to the main course, and Whatever Happened to Baby Jane? – where rats and dead parrots aside, about the only thing of gastronomic interest was Davis' constant imbibing of scotch. A simple pan roast of pork loin, topped with akusai, or Napa cabbage, that had been cooked down in a sauce of lightly browned butter, red miso, and scotch. The first night the pork got a bit overcooked and I wasn't thrilled, it wasn't inedible, but not where I wanted it – the second night I kept it just a touch over medium.
And, of course, we finished off with the Hush… Hush, Sweet Apple Charlotte, with one of my favorite apple desserts, the "Guest at the Doorstep" Apple Charlotte – I've made it for one other dinner in the past, though this time I made it in individual ramekins rather than a big one and slicing it.
We definitely needed some more Bette Davis aficionados at the dinners – there was no one quoting lines or remembering movie scenes – but, such is life. I hope Bette appreciated our efforts, wherever she is.