"The Jalapeño takes its name from the city of Xalapa (Jalapa), Mexico where it is thought to have originated. The Jalapeño pepper has since gained tremendous fame due to its versatility in the food industry. Jalapeño Peppers are commonly found in most chain stores, processed sliced and canned. The Jalapeño features a sweet, but hot flavor and delivers approximately 4750 units of heat on the Scoville scale."

– Roguelands Heirloom Vegetable Seeds Company
Buenos Aires – Not that the quote above is directly related to anything in this post, other than Xalapa, the capital city of Veracruz, Mexico, but it caught my eye as interesting. After my post less than a month ago about the restaurant Vera Cruz and my disappointment in the food there, I was practically ready to give up on Mexican food here in BsAs – a common enough occurence among those who like Mexican cuisine, a few months back I received an e-mail from a friend and travel guide writer who had just spent a couple of weeks trying to find one Mexican restaurant here worthy of being added to the updated version of the guide he's working on. He hadn't found one. Dave H commented on my post and recommended a place I hadn't heard of, named after the aforementioned city, Xalapa, El Salvador 4800, in Palermo, 4833-6102. We approached it with skepticism – having been disappointed enough times – and he'd noted that he used to eat there regularly pre-2001 crash, though had been there since. The same friend who'd joined me at Vera Cruz agreed to giving it a go, and invited another friend of hers, who warned us that he'd been there, and "the food is good, though not a bit of spice". Not promising.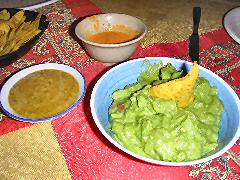 Luckily, I've learned a few things over the nearly three years I've been here (time does fly, doesn't it). The main one, especially when it comes to "ethnic food", is that if the traditional is spicy, you can count on that the porteño version won't be – but… if the owners or chefs are the real deal, or at least understand the original cuisine, they're often happy to make it the right way. So after we'd perused the menu, which is a mix of relatively traditional sounding dishes from Mexico (somewhat limited on our visit by the lack of beef available in the capital – our waiter told us upfront that none of the beef dishes were available), if not the province of Veracruz in particular, along with a bit of a Tex-Mex thrown in, we picked out a few things – some guacamole and a surtido, or mixed selection, of quesadillas to start – my next question to the waiter was, "Is the food Mexican hot?" He laughed and said, "No, it's porteño bland". Gotta love the honesty, no? "Can we get it made Mexican style?" "No problem, I'll tell the kitchen."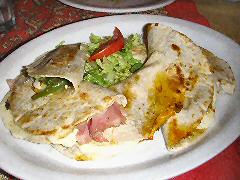 Expecting little more than the addition of a few chopped hot peppers, we plunged into our appetizers. The hot sauce to accompany the chips on the table, bright, tasty, and medium spicy. The guacamole, fresh, smooth, creamy, I wouldn't have minded a touch more salt, but really well made – quite promising. The quintet of quesadillas arrived – at first, good, but perhaps a trifle mundane – a ham and cheese, a mushroom, a plain cheese, and then we hit the jalapeño and cheese and the, hmmm… it was another pepper, poblano/ancho maybe… memory fails… and we broke a sweat. Really broke a sweat. Delicious! Things were looking up.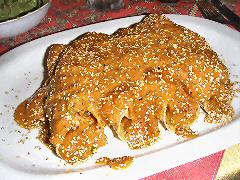 And the main courses arrived. A plate of pork and salsa verde enchiladas, another duo of burritos – chicken and vegetable, and my own plate of enchiladas de pollo almendrado – chicken with an almond sauce, which the waiter had highly recommended (he also put it above the straightforward pollo almendrado, served with rice rather than in tortillas, as he said "the kitchen just doesn't get the rice right"). Let's just say, not only were these authentic, and tasty, they were on fire. And not just a few uninteresting peppers, or canned and pickled peppers, tossed into the mix, these were the sauces and fillings made right – with different chilies in each, a good amount of them without going overboard, and absolutely… yummy. No question we were sweating from the capsaicin, but we were loving every bite.
Reasonably priced for Palermo, too – for the two shared appetizers, three main courses, a couple of rounds of water, and a beer, with tip we paid 50 pesos apiece. No question I'll be back there – not that I won't check out the few remaining Mexican spots in town as I get to them, but this place goes to the top of the list right now. Kudos go out to Dave H for the recommendation!