"Those quotation marks around "cooked" have been driving me nuts for years. Virtually every mention of ceviche (seh-VEE-chay; I'll use the Spanish spelling) by food writers is accompanied by a gratuitous statement to the effect that lime juice does to protein what heat does to protein, and therefore that the fish is essentially "cooked" by the lime juice. Well, does "cooked" mean cooked, or doesn't it? And if the quotation marks are necessary, whom, pray tell, is everyone quoting? Apparently it's a vicious cycle, with everyone quoting everyone else."[[- Robert L. Wolke, The Acid Test, Washington Post
Buenos Aires – I've decided that we're acid heads. Nothing to do with drugs, unless you consider ceviche a drug. And maybe it is in some ways. Kind of like guys who go out searching for the hottest hot sauce, though, in this case we're looking for perfect, exquisite balance, as opposed to overload. So maybe more like Valium than LSD (oh, I can see my 'bot spam going up with those words in this post). But we'll pretty much go anywhere in the city to find a good ceviche… which is, for me, maybe a compromise on looking for good sushi – which Henry won't eat, being uncooked and all – and don't try explaining to him that ceviche isn't exactly, really cooked (click on that article linked above for one of the clearest and simplest explanations I've seen of the process) – tradition going back to pre-Inca times is ingrained in him that it is.
So, what better place to finally get ourselves off to than Ceviche itself, a relatively new restaurant that has opened in the former Central space at Costa Rica 5644 in Palermo. Owned, I gather, by the same guy who's behind the Dashi sushi chain, I had initially heard nothing but "expensive but not worth it", so we simply hadn't bothered to check it out. Then recently I started hearing recommendations for the spot and figured maybe they got their act together and it would be worth splurging a bit. Turns out that they got a new act entirely – or rather, a new star – they snagged the chef from Moche, the former Peruvian embassy chef Marco Espinosa, who prior to that was a "disciple" of Gastón Acurio of the Astrid & Gastón restaurants, certainly the most expensive restaurant in Lima, and arguably among the most in South America – we actually thought about going to their main spot in Lima (they're now expanding all over the continent it seems) but turned around and walked away when we got to the door after looking at the prices and the people heading in the door. Interestingly, Moche is still listing Espinosa as their chef, though gives a different resume for his background, which has me curious as to just what that background is – and also wondering if he really is overseeing both restaurants – I did notice that although he jumped in here and there during the evening (Ceviche's kitchen is an open one that runs alongside the dining room), mostly he was watching and giving instruction. [This location has closed. They've opened other spots, to be reviewed.]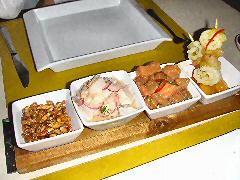 Back to our visit – first, we liked the room. It's big, long, and very modern, but very tasteful, with good lighting. I love open kitchens, and we snagged one of the tables right by the ceviche station so we could watch them putting those together. They've got thing very organized, as is probably necessary for a restaurant of this size – rows of gleaming stainless steel containers filled with various prepped ingredients sitting atop the counter – including the fish (cut, though not submerged in citrus juice), which, if they weren't a busy spot would be, perhaps, a bit of a concern, but it looks like they go through stuff fast enough that it likely isn't. We started off with a degustación de ceviches which was listed as a trio of lenguado (flounder), salmon, and vegetable versions. We specified we'd like it "Peruvian spicy" not the "Argentine spicy" that our waiter admitted it was. What arrived was a trio of lenguado, salmon, and a skewer of cooked squid… hmmm… apparently no vegetable ceviche but we'd "like this better". Well, actually, I'd have liked to try the vegetable ceviche just to see what he was doing. The two ceviches were clearly very fresh, and nicely composed, though not remotely spicy – a small dish of vaguely hot sauce was brought along with for us to add – we used the entire bowl just spicing up the lenguado ceviche and had to ask for more – it wasn't a big bowl, and they didn't seem to get it – we had it refilled half a dozen times during the meal, and had to flag down the waiter and ask each time, and then he had to go ask the kitchen, and they seemed to think it was a big chore to dish up a spoonful or two of this vaguely hot sauce into a mini-bowl. The lenguado ceviche was quite good, the salmon one interesting – it was "Japanese style", which seemed to mean that they'd added a splash of soy sauce, the skewered squid with tropical fruit was tasty, just not ceviche – and overall, all three bowls wouldn't have made a decent sized ceviche at most Peruvian restaurants, and for 40 pesos… on the other hand, it probably topped the versions at both Moche and Zadvarie that have been the exemplars of haute cuisine ceviche here prior to this…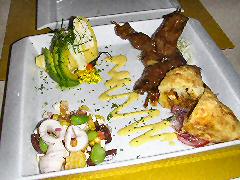 Since we were splurging, we decided on a second round of what was called the degustación de chef – a quartet of appetizers for another 40 pesos… two skewers of anticuchos, or grilled beef heart that were simply salty, with no spice, a small seafood salad that was refreshing but uninteresting, an interestingly re-interpreted tuna causa – with a mayonnaise heavy tuna salad wrapped inside a layer of mashed potatoes, like a sushi roll – but without the other usual components of the dish, like tomato, peppers, olives, onions… okay, there were a couple of slices of avocado standing near to it – still, it gives us ideas for our presentation, we may just copy it at some point for fun, though with the other flavor components. And, finally, the one real winner on the plate, a yuca rellena, with a nice meat filling inside a golden and slightly crisped ball of yuca mash. Again, no spice on anything, and we zipped through another couple of bowls of sauce – someone just bring us the container, it's not like anyone else in the room was asking for it.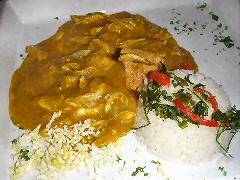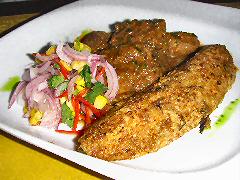 We moved on to main courses, and, frankly, disappointment. They weren't bad, but they weren't near as good as his versions at Moche of these dishes have been in the past. The
ají de gallina
a wet pool of near flavorless sauce (for god's sake, the
sauce is supposed to be pureed medium hot peppers
, what did they use, yellow bell pepper?) with the chicken and some rice. The
seco de cabrito
, too, basically unseasoned, it ought to be cooked down in a red pepper and herb sauce. This version served with an interesting take on
tacu tacu
, a dish that's basically the Peruvian equivalent of refried beans and rice – the menu said it was made with lentils and rice – it wasn't, they were beans. They were unseasoned (where's the garlic, where's the chilies, where's the herbs?).
Here's my take, overall. This is reinterpreted, fancily presented versions of Peruvian dishes that have been completely denuded of spice in order not to offend or assault Argentine palates, and priced to make the trendy neighborhood "Palermo Hollywood" crowd feel like they're paying for something special (the above, with a couple of bottles of water, ran us 175 pesos). I have no doubt they'll be a runaway success.
Next day we went back to Solopescados and had a great, filling, and nicely spicy ceviche for 27 pesos…