To choose doubt as a philosophy of life is akin to choosing immobility as a means of transportation."

– from Life of Pi
Buenos Aires – I do seem to be falling behind on the dinner posts… hmm… well, I'll try to get caught back up. Here we are a week after Pi Day, which, of course, you all celebrated… March 14… 3.14… in reality we celebrated it for two days and miraculously, the numbers work… 3.14 15… The natural thought on the part of some of the guests was that I might be subjecting them to a series of five pies of one sort or another, and I did consider it – there are enough different ways to approach a pie that I could have made it work, but in the end I went a bit further afield…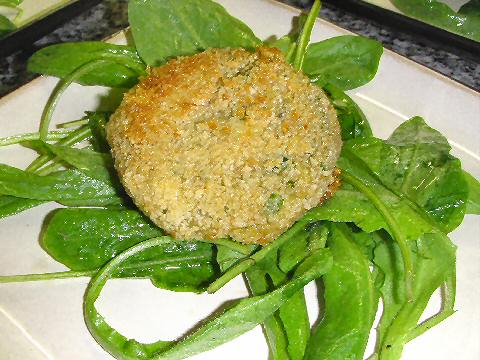 We started off with the "history" of pi… to a certain extent. The number, the ratio, has been around for roughly four millenia – at least as a human concept – likely it was there beforehand, we just hadn't figured it out. However, I wasn't about to try preparing some ancient Babylonian recipe, even had I had one to work from. Besides, the number wasn't called pi then – that didn't happen until 1706, when Welsh mathematician William Jones named it – and led to our first course, a Welsh treat called Glamorgan Sausages. No meat involved, presumeably from some time period when the stuff was scarce… or perhaps there's another reason behind it, but these are a mixture of fresh breadcrumbs and grated cheese (I used a mix of cheddar and lincolnshire), green onions, parsley, thyme, sage, hot English mustard, egg, salt and pepper, all packed together to form a nice, firm sausage – I went with patty shaped rather than the more traditional elongated ovoid – have to keep the pi theme going you know – dipped them in more egg and then rolled them in dry breadcrumbs, fried them up in butter and served them atop a radichetta salad with honey mustard dressing. Radichetta is a common local green that we might refer to as "country lettuce"…
From there, we moved on to a barley soup, specifically an Austrian barley soup called Graubünden. And why, you might ask? Because, though William Jones named this irrational constant, well, he was from Wales, and pretty much nobody paid him any mind. However, Leonhard Euler, an Austrian (aha!) took the idea and published it hither, thither, and yon, and generally gets credit for naming it, even though he didn't. He did, however, steer me in the direction of an Austrian soup, and a simple barley one – packed with celery, carrots, cabbage, leeks, and, of course, barley. Very simple, but very good – and perfectly timed given that the weather decided to turn a bit chillier last weekend.
Next up, you might recall my experimenting with an oyster mushroom coca a few weeks ago – and a nice twist on the idea of a "pizza pie". The only differences here, I made small individual rounds and I used a mix of oyster and portobello mushrooms. In retrospect, I think I like it better with just the oyster ones… And that lead us on to the main course, and my first thought of some sort of "pot pie" – beef, chicken, lamb… wait, rabbit! And from there, a decision to go with just a more traditional "old English" rabbit pie, and then looking at the menu and realizing that everything had some sort of starchy component, to go with a crustless rabbit pie. For this, I cooked a whole lot of onions – mixed white, yellow, and red, thinly sliced, and a couple of peeled and sliced appels, in a splash of olive oil and a good amount of diced bacon. I added some bay leaf and nutmeg, and when the onions were soft, I added rabbit pieces that I'd previously dredged in flour and sauteed just enough to brown them. Then I added dried prunes, and topped the whole thing up, just enough to come up about midway on the rabbit pieces, with apple juice (cider was called for, but hard to find here – at least the dry kind) and a bit of white wine. Brought it up to a simmer, turned the heat down very low, covered the pot, and let it go for about three hours, until the rabbit was very tender and basically falling off the bone. Ladled that up onto plates and served.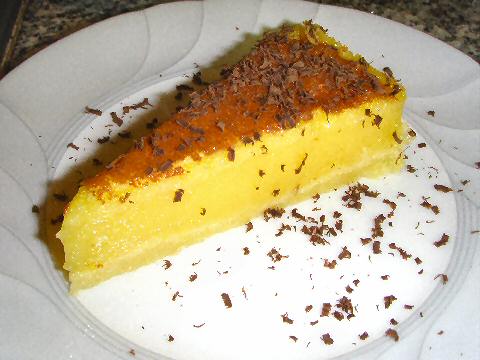 Finally, on to a real pie of sorts – or at least a tart. A couple of years ago I'd contacted the owner of Marion's Continental restaurant in New York to get their recipe for Lemon Kiss Pie, and Richard was nice enough to send it to me. It's truly a spectacular lemon pie – really, I used to stop in at the bar there for just a piece of the pie and a cup of coffee. I gather from recent blog reports that Marion's has just closed and is being replaced by some gentrifying lounge/club that probably has no place on the Bowery, even in 2008, and that's a shame. But I promise to carry on the tradition of Marion's Lemon Kiss Pie!