The only real elegance is in the mind; if you've got that, the rest really comes from it."

– Diana Vreeland, Fashion magazine editor
Buenos Aires – Regular readers might remember my recent negative encounter at the Palacio Duhau Park Hyatt during the Masters of Food & Wine. I mentioned that I received apologies from one (and later more) of the Hyatt's senior management in attendance, and one in particular, their director of marketing and communications, invited me and a friend to be her guest at any of their restaurants for lunch one day – which is a good thing, because at the sort of prices that the Park Hyatt charges (95 pesos for a 3 course lunch, not including beverages), it simply isn't in my budget to go there. This week they have a visiting Japanese chef, Tokijiro Yamada, from their Santiago property, cooking in the Duhau Restaurante, one of several dining spots in the hotel, so they'd tuned the menu a bit towards the Japanese fusion side of things (though it appeared a good percentage of their regular lunch menu remained intact as well).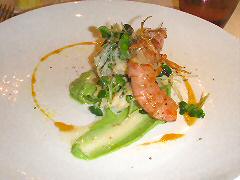 The room is done up in a very modern, but studied elegance with lots of gold and bronze tones – not really my tastes, but well done. It opens onto a terrace overlooking the gardens, and you can dine out there, but the day was feeling a bit humid and sticky, so we decided to stay indoors. We casually mentioned that we were going to be sharing the dishes back and forth so it didn't matter who got which, and without asking, the kitchen simply split things onto separate plates and created a nice order to the dishes – that's service! Keep in mind, however, that means my photos are of half-portions of the standard, roughly. We started off with a dish of fresh Ushuaia prawns, a grilled one atop a salad of lightly sauteed ones with a wonderfully bright and zesty avocado and lemon puree. The prawns were perfectly cooked – this was an excellent start to the meal.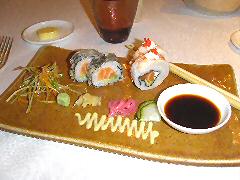 We moved on to a duo of tempura rolls – one salmon and one prawn. Interestingly, not what we'd expected, which was that it would be tempura battered prawn and salmon, respectively, rolled into a sushi maki. Instead, it was the entire roll that was battered and deep fried. An interesting twist. I have to admit, I was surprised that the prawn one was served with cream cheese inside – I know it's popular with Argentines especially, but it's not exactly a sushi standard, and it's something that I was surprised to see a well known Japanese chef put out. The presentation was very pretty – though, even keeping in mind that a normal portion would have been double this – or 8 slices of maki – at the 40 pesos a la carte price, that's just ridiculous. And honestly, though tasty, outside of the presentation there was nothing special about these rolls.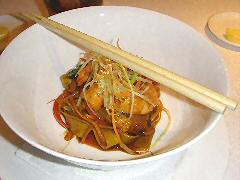 We moved on to one of the special stir-fries on the menu – the "Wasabi Pasta". Now, admittedly it didn't specifically state that the pasta was made with wasabi or that there was wasabi in the dish – but I think it's a natural conclusion. If it was there, it was unnoticeable. The noodles, more or less like extra wide fettucini, were chewy… way too al dente – and I like my pasta al dente. They were tossed with more prawns and a mix of vegetables, all in a fairly intense soy sauce – not over the top, but bordering on it. Still, once again, the prawns were perfectly cooked, which was the nicest part of the dish.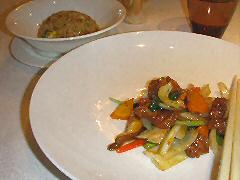 Keeping in mind that this was day one of this visiting chef's one-week stint in the local kitchen, it was surprising when we were told upfront that one of the three special stir-fries was not available and was being replaced by this pork stir-fry. This one, I have to say, was over the top slathered in thickened soy sauce. Even mixed with the fried rice that was served alongside, I couldn't do more than pick at the bits of pork and then more or less push it away and not finish it. I was left, overall, with a feeling that chef Yamada has some great, creative, ideas, beautiful presentations, and an extremely high tolerance for salty flavors. They need to be toned down.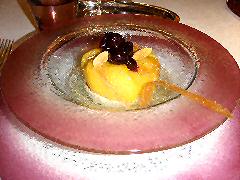 For dessert, there were no Japanese fusion specialties on offer. My friend ordered a trio of gelatos – all good, with nice, intense flavors. I ordered the "warm peach with red fruit compote and champagne", which is how I think the description read. Immediately noteable was that it wasn't warm – it was refrigerator cold. I liked the nice touch of the waitress pouring a half glass of champagne around the peach and then leaving the rest to drink. The peach was deliciously ripe, the flavors worked reasonably well – though perhaps a slightly sweet champagne would have been a better touch – this one was bone dry.
Now, it's hard for me to give an overall assessment of dining at the Duhau – with the exception of the desserts, we didn't order anything from the regular menu. At the same time, the Park Hyatt is holding out this chef as an exemplar of one of their best chefs, brought in to create a special dining experience – and I don't think he quite pulled that off. Admittedly, day one, and we were the first customers through the door. I can say that the service was impeccable, and I'd imagine that's a standard at this property. The ambiance, very elegant and yet at the same time not feeling stuffy – very comfortable. The prices, well, by Buenos Aires standards pretty stratospheric, though perhaps not for a luxury hotel setting, still, more than I'd want to be paying to dine out in this town. It would still be interesting to go sometime and try items off their regular menu, to get a sense of what their own chef does, and/or, one of the other restaurants in the hotel.