"Give a person a fish and you feed them for a day; teach that person to use the Internet and they won't bother you for weeks."

– Anonymous
Buenos Aires – You know us, always on the lookout for a new Peruvian restaurant, and especially one that either a) serves authentic Trujillana cuisine, which Henry is convinced we will never find here and he's probably right, (not even at Los Trujillanitos on Corrientes where the owners are from Trujillo but where the menu only offers one specialty of the area, and they never actually have it) or b) serves a great ceviche, which he could eat every day and be happy. So when some friends, also from Trujillo, told us about a fish store that had a little restaurant inside that served up "una ceviche espectacular!" we couldn't not go – in fact we went the very next day. Their directions and the name of the place were a little off – they'd told us "on Corrientes between Anchorena and Jean Jaures" and it's called "pescados.com" – well, that block is the Abasto, and it wasn't across the street from the mall either, but then we spotted SoloPescados.com a few doors down Anchorena on the side of the Abasto, at number 533, phone 4861- 0997. Despite their name, at least at this point, they don't have a website. It is, however, indeed a gleamingly clean and sleek fish store, with a nice display of both fresh fish and shellfish, and loads of pre-prepared dishes for takeout. [Closed in 2015]
We sat, and were brought menus, and started to flip through – nothing Peruvian, no ceviche, nada – just stuff like fried fish, or grilled fish – really basic stuff, more or less the fish dishes that are available at any local Argentine minutas place – afterthoughts when you come right down to it. We were on the verge of dialing our friends to ask if they were sure – after all, they'd gotten the name and address off by a slight margin, maybe we were in the wrong spot, or maybe they'd actually had the ceviche somewhere else? Just as we were about to push send, the waitress wandered back and Henry said to her that we'd heard they had great ceviche, and we were wondering if this was the spot since we didn't see it on the menu. She said – oh, we just give out those menus for the Argentines and tourists – you want the Peruvian menu – just a moment. And she promptly swapped our menus for two others – twice the length, and packed with one Peruvian fish dish after another, including an entire page of different ceviches! So, ask for the Peruvian menu. Really.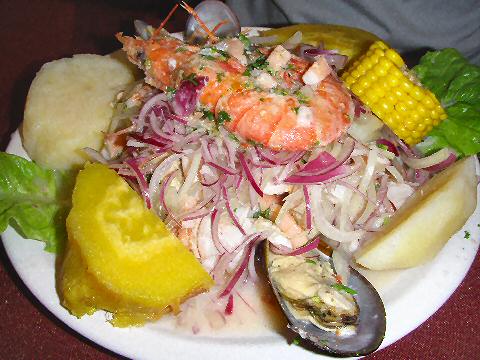 Is that beautiful or what? It's also easily the best ceviche we've had in Buenos Aires, and plenty big enough for two to share – or not – this is the "individual" sized portion… Okay, perhaps the ceviches at
Moche
or
Zadvarie
have a touch more elegance, but they're more expensive and a quarter the size – this was 27 pesos. This is the real deal, like ceviche would be served in Perú. Absolutely delicious, totally fresh, and if you like ceviche, don't miss this spot. The fried fish – from the Peruvian menu, not the other – were great as well! We'll be back to check out more dishes too.