"One of the greatest pains to human nature is the pain of a new idea. It is, as common people say, so 'upsetting;' it makes you think that, after all, your favourite notions may be wrong, your firmest beliefs ill-founded; it is certain that till now there was no place allotted in your mind to the new and startling inhabitant, and now that it has conquered an entrance you do not at once see which of your old ideas it will or will not turn out, with which of them it can he reconciled, and with which it is at essential enmity."

– Walter Bagehot, political analyst, economist
Buenos Aires – Given that it only happens every four years, there was simply no question in my mind that a Casa SaltShaker dinner on the weekend of February 29th had to involve the leap year. It may be cliche, it may have been the easy way out in picking a theme, but so be it. I still had to come up with a menu. Leaping, Jumping, Gamboling, all those good synonyms seemed like a good place to start. Frogs, Kangaroo…? Hmmm… there weren't any frogs' legs available in Chinatown when I checked, and I don't think anyone is yet importing marsupial meat…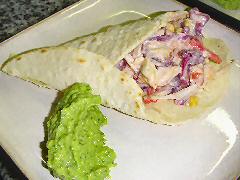 The famed Mexican jumping beans seemed like a general place to start, and when I saw several recipes out there for "jumping bean slaw", I took the idea and ran with it. Since there were no jumping beans available (and the recipe didn't use them anyway – I decided to start with white beans, and add fresh corn that had been blanched, diced tomato, slivered red peppers, shredded green and purple cabbage, and finely chopped green onion. For the "slaw" sauce, I whipped up some fresh sour cream and added lots of chopped garlic, cumin, coriander, guajillo chili powder, and a touch of salt. I decided to wrap them in homemade wheat tortillas, and accompany them with a simple guacamole – avocados, lime, cilantro, salt and pepper. I loved these, and given how fast they were consumed, it seemed our guests did too. And hmm, on the first night, I made what I thought was enough for two nights worth of slaw, but the three of us managed to finish off the bowlful, so I made more the next night!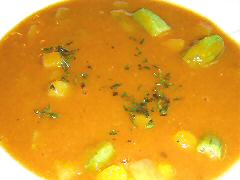 I ran across a Jamaican recipe for "Jump Up Soup". I gather that the "jump up" is sort of way of stating "putting on airs" or "with attitude" – though I won't guarantee that my interpretation is correct. Either way, the soup sounded great. The original recipe had the soup and then strips of jerked chicken added at the last minute, but since our next course had already been slated to be chicken, I decided to leave the soup sans bird. The broth is a mix of crushed tomatoes (I used a liter-sized jar of crushed Italian plum tomatoes – sometimes there's nothing that can beat those, you know?), and mixed it with an equal volume of chicken stock (you could use vegetable stock if you want to make this vegetarian). Into that I put a chopped up sweet potato, half a good sized squash, a large onion, several garlic cloves, some leeks, a red bell pepper, and roughly a teaspoon each of allspice, cumin, turmeric, curry powder, and bay leaf. The leaves from a dozen stalks of thyme, a couple of hot chilies, a few slices of peeled ginger, and about ¼ cup of molasses. I cooked that all up until the vegetables were soft and then pureed it in the blender. Meanwhile, I cooked some diced sweet potato and squash until they were soft, and blanched some ½" segments of okra. The vegetables went into the bowls, the soup ladled atop, some fresh thyme leaves sprinkled around, and yum.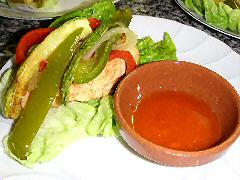 Who could resist the idea of "Leaping Lizard Lettuce Wraps" – a menu staple from a group of restaurants called the Rainforest Cafes. I've never had one, and the best I could find was a description that said it was a feast of lime-grilled chicken with roasted vegetables. That was enough to set me off on the trail of my own wraps. I cut chicken breasts into 1″ wide strips, and marinated them in a mix of fresh lime juice, salt, and ground chipotle peppers (smoked jalapeños) for several hours – almost like a chicken ceviche of some sort. Then I cooked those up in a hot cast iron pan until lightly browned. Meanwhile, I cooked strips of red and green bell peppers, onions, and zucchini in olive oil until they were nice and soft and just starting to caramelize. I laid a strip of chicken and a bunch of the vegetables atop lettuce leaves – they were "wrappable" if you wanted, though it was easier to eat them with knife and fork. Some hot sauce on the side – just fresh chilies in vinegar – for dipping, and we were good to go.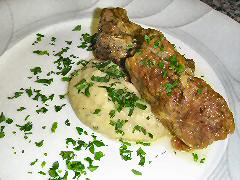 I loved this dish. I really did. I dry rubbed lamb with a mix of salt, dried mint and peperoncino all quickly milled together. I left it to sit for about eight hours, and then slow cooked the lamb – first browning it in a little olive oil and then adding white wine and yogurt to the pan, covering it, and letting it simmer for about three hours. Now, the first night, I used bondiola, or strips of lamb shoulder, as pictured here. The second night I couldn't get anymore of that cut, and the only thing I could find in sufficient quantity was lomo, or loin of lamb. The former is a slight fatty, filled with connective tissue cut – and very simply, when braised, it comes out tender and delicious and just perfect, as the fat and connective elements sort of melt into the meat. The latter is a lean cut with a cap of fat on one side – it still tastes delicious, but the meat never gets that rich, meltingly tender character to it – it certainly gets soft, and the fat more or less melts off the side of it, but it's just not quite the same. Still good, but I'll stick with a braising cut of lamb in the future. Accompanying the lamb, a charred eggplant puree – whole small to medium eggplants charred over an open flame – literally until their skins are completely blackened and they're almost falling apart soft. Let them cool, then cut them open, scoop out the insides – don't worry about picking off every bit of charred skin, it adds to the flavor and color of the dish. Puree that up with some olive oil, a little ricotta or cream cheese (since I was only using a very small amount I didn't make homemade this time – it was only about ½ cup for six eggplants), lots of garlic, salt and white pepper. You could also use a thick yogurt in the puree instead of the cheese. Garnished with chopped parsley. And, by the way, it makes great sandwiches the next day – the lamb shredded atop the puree on fresh bread…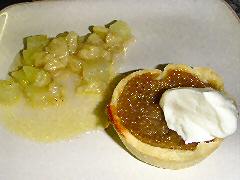 It started off with a very strange sounding cocktail, the Leaping Elephant – a blend of apples, bananas, and butter… who wants to drink that? But it did sound like an idea for a sauce – diced apple and banana cooked in a bit of gold rum and banana liqueur and butter… and what to go with it. Somehow, the idea of a butter tart popped into my mind. I don't think I've ever had a butter tart, but I simply knew such a thing must exist. And, who knew, but apparently it's practically a national dessert in Canada. Yes, Canada. Butter Tarts. National Dessert. It didn't track, human nature and the pain of a new idea and all that as quoted above. Let's just say those Canadians are on to something. I found a great sounding recipe on the Joy of Baking website and didn't change a thing… (golden raisins instead of black, but for all I know, that's what the author used)… although, I found the filling to be a little skimpy for a dozen tarts on the first night, so I upped it by 50% on all ingredients the second night and ended up with perfectly filled tarts. Really, now I have to find out if Canadian cuisine has more cool stuff to it like that…
So what did you guys do for leap year?