You better cut the pizza in four pieces because I'm not hungry enough to eat six."

– Yogi Berra, former Baseball Player and Manager
Buenos Aires – It's been a pizza kind of week, and part of that, as always, is the search for better and better pizza in town. A couple that came to my attention recently both deserve plaudits for the quality of their offerings…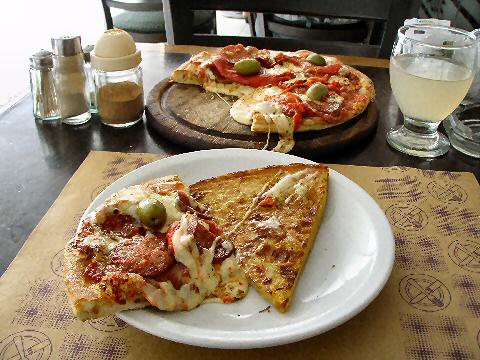 I was on a wander in Boedo the other day, and there are actually several pizzerias in the barrio that have been touted as being amongst the best in the city. It's not a barrio I get to often, which is a shame, because it's got some fascinating architecture, beautiful streets, and truthfully, I've always found myself having a decent meal wherever I've stopped in. There's even a relatively new puertas cerradas that I have to check out one of these days. One of the pizza spots that consistently gets high marks is Gata 2000, Pichincha 810 – I take it the name refers to both a female cat (the corporation behind the restaurant is called cuatro patas, or "four legs"), and perhaps the year they opened?
The pizza is great. Really great actually, and certainly places it into one of my top ten in the city. The style is a la piedra, a thin, but not grilled pizza thin crust – very rich and yeasty tasting, like they really let the flavors develop – good pizza dough should sit for a minimum of 24 hours to allow the fermentation of the yeast and ripening of flavors. The tomato sauce, fresh and zesty. Plenty of quite good mozzarella cheese, and though I often like to either go with something very basic to see how they do, or with the "house special" – after all, if the place is willing to put their name on it… – but my eyes were interrupted by the vision of a pizza called the ¡Ay Caramba! – topped with hot pepper flakes, chorizo colorado (which is a chorizo sausage closer to the Spanish or Portuguese style – cured and firm), and roasted red peppers. How could I pass that up?
Gata 2000 also wins honors for what might just be the best fainá (the chickpea flatbread that here is often used as a top crust or side dish to pizza) I've ever had – smoky, well seasoned, and served piping hot from the oven. They also offer their pizzas in three sizes – large, small, and individual, the last of which really is a perfect size for one person.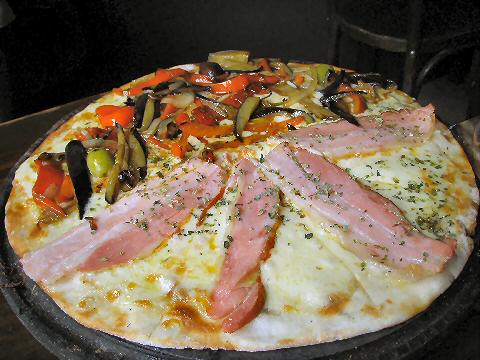 Over in a more widely traveled section of town for visitors, and probably even for most expats, a friend of mine suggested we drop in on Io Te Amasso (as far as I know, "amasso" is not an actual Italian word, it should probably be ammasso, with two m's, meaning something along the lines of piled up, or gathered together – then the name would mean something like "You and I meet up" in idiomatic expression) – the place has two branches, near to each other, we ate at the one at Malabia 1885, right on Plaza Armenia. [Both locations have closed.]
This place offers up wood-burning oven cracker thin pizzas – Napolitana style – not parrilla style. The crust, for this type of pizza, is one of the best I've had here – certainly beating out my previous favorite napolitana in the city, Bakano. The sauce is fresh but a little bland (salt is on the table, pepper in a shaker is delivered when asked for – they really ought to have pepper grinders), the cheese is great, the toppings plentiful – here we split a pizza into two (an option they only offer on the large pizza, not the medium, and there is no small or individual size) – one side with good, smoky bacon, the other side I went with the house special, named after the restaurant and then noted as chambota, which is a slow cooked mix of peppers, onions, and eggplant in olive oil. Great flavors, and plenty of each topping. Overall it could have used some more spice or zip to it, but it's definitely a good pizza. Their fainá was just kind of average – good but nothing special, though at least served nice and hot. They're a little pricey – this pizza was 35 pesos, but hey, it's the middle of Palermo, so what can I expect?