"Great things are done when men and mountains meet.

– William Blake, Poet
Mendoza, Argentina – Let the muttering begin… He's been in Argentina for almost three years and he's never been to Mendoza…? What kind of wine geek is he…?
You're right, really, and I don't have much of an excuse for not having been, not that I really need an excuse, I simply haven't been. I've thought about it, I've considered it, I've even once or twice semi-planned it. I just haven't. But here's the thing – the whole "going to Mendoza" bit for most people is about visiting wineries. I dread visiting wineries. I do. I don't even want to begin to count how many wineries I've visited over the course of my career. I've been to wineries in France, Germany, Italy, Australia, Uruguay, and all over the U.S. I've been on my own, I've been with friends, family (hey, my grandmother took me to my first real winery visit in Temecula, California, and that was roughly thirty years ago – this doesn't count growing up in Michigan and visiting cherry and apple wine producers…), on press trips, on restaurant staff trips. I've probably been to somewhere around 300 to 350 wineries. Maybe more. And you know what? With few exceptions, once you get past the front doors, they all basically look the same – tanks, barrels, presses, bottling lines – it's… boring. The thought of making a trip for other than work reasons to "wine country" just feels like a busman's holiday. So, having a work reason got me to Mendoza… let the good times roll.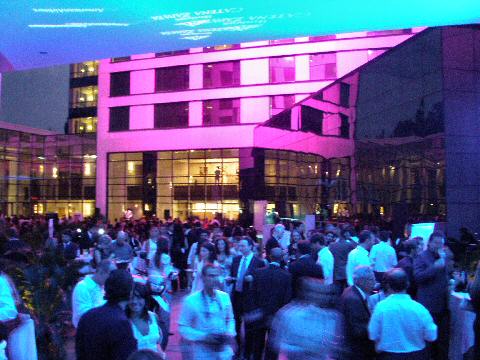 First up, an opening night "cocktail" party held in the courtyard of the hotel – Park Hyatt Mendoza – which is a gorgeous hotel, and lots of friendly, delightful staff that made up for whatever lingering bad taste I had from the previous evening at the last event. One oddity, for me – I'll tell you upfront, I'm not the sort who stays at five star hotels. They're out of my budget, it's that simple, so unless someone else is picking up the tab, like the hotel itself in this case, I don't stay at them. I once stayed at a five star hotel in Florence, but that was due to a misunderstanding with a local countess… here's a tip, never ask a local countess to recommend an "inexpensive, casual spot" – that just means they don't book you in at the towering luxury hotel, but at "that small palacio along the canal" where you only have three staff members assigned to you instead of the requisite eight… two nights cost me over $1000… and that was a dozen years ago. Back to Mendoza, and the courtyard, and wayyyyy too many people attending this event (all the Masters of Food & Wine events are open to pretty much anyone who can plunk down the entrance fee, either for a single event or for all – which ranged from $45 on up to around $600 (the Rarities dinner I'd missed the night before). The opening night cocktail party was setup with free flowing wine from a dozen or so wineries, and hors d'oeuvres, hot and cold, being served from individual stations setup by many of the famed chefs who'd been flown in for the event – Montse Estruch from Madrid, Luis Acuña from Buenos Aires, Govind Armstrong from Los Angeles, Jean Paul Bondoux from Buenos Aires, Floyd Cardoz from New York, Paola Carosella from Sao Paolo, Craig James from London, Adriano Kanashiro from Sao Paolo, Maximo Lopez May from the Park Hyatt Mendoza (he didn't have to fly in), Andrew Ormsby from Dallas, Pepe Pintos from Mallorca, and Andrew Shotts from Providence…
It was fun until it got to be too many people (the photo is early on, when only about a third of the people had entered) and you couldn't get close to a table to snag one of Ormsby's amazing goat meat spring rolls or Cardoz' "sashimi" of local beef or… well, you understand. I bailed on the party at that point, after snagging a shot of Shotts' "hot chocolate and marshmallow" creations and got out of the throng. Luckily, my room faced onto the courtyard so I didn't have to miss the fireworks… literally… that ended the evening a couple of hours later. And oh, I just realized I never told you what the oddity was about staying at this five star hotel – now, I can't generalize, this being pretty much the only time (we'll forget the palacio for the moment) – but most 1, 2, and 3 star hotels, where I'm used to staying, have nice little touches like coffeemakers in the room, or at least easily available coffee somewhere nearby, and internet connections, gratis. Hey, we had internet in our hotels in Puno and Cusco last year – in the middle of the mountains. Not so here. Coffee – you either get a table in one of the hotel restaurants or you use room service – with tip, you're looking at around 12 pesos for a cup of coffee – $4 – and internet access? 54… yes, Fifty Four pesos a day to connect from your room, or to use the "public access wi-fi" in the lobby. As it turned out, the hotel decided to wave the wi-fi access fee for those of us journalists staying at the hotel… after all, we were writing about them, ya know? Not the room connection, just the wi-fi in the lobby, which is why I haven't been posting for a few days, it just wasn't worth it other than for quick e-mail checks.
Okay – the wineries. Remember, I get bored at them – and this trip, while a writing trip, was about the overall event rather than about reviewing wineries. We got split into groups (paying attendees picked which "packages" of wineries they wanted to visit) and loaded onto buses, then we drive, then we get off the buses. The winemakers or the owners or more generally, the P.R. person, took the group around, or in most cases here, split into two groups, one English speaking and one Spanish speaking, and pointed to things like a Bucher press, or a destemmer, or a barrel, or… zzzz…. Oh, sorry. But here's the thing about Mendoza. It's the mountains. They're omnipresent. They're cool. They're gorgeous, really. I spent a lot of time outside during the winery visits, as did several of the other journalists. We know enough to go inside for the wine tastings (well, we like to taste wine), and lunches and dinners. I'll get to the food in my next post…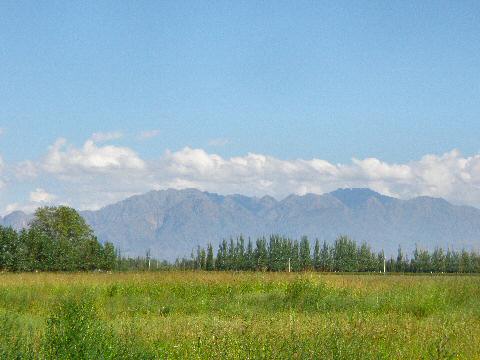 Here, looking out over the vineyards of Bodega Tapiz – started years ago, to disastrous ruin, by Jess Jackson of Kendall Jackson infamy, forcing him to sell out at a bargain when the economic crash happened at the end of 2001 to a local family who now run it and produce some really great wines.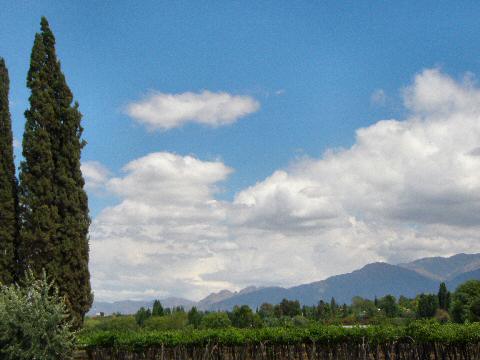 And, over the vineyards of Nieto Senetiner, where we sat outside on their terrace and had a delightful little lunch, and where I ran into an old friend who owns a wine shop in Manhattan, who had just wandered into the winery for a visit, and been offered the opportunity to join us for lunch (for whatever the fee was for that event).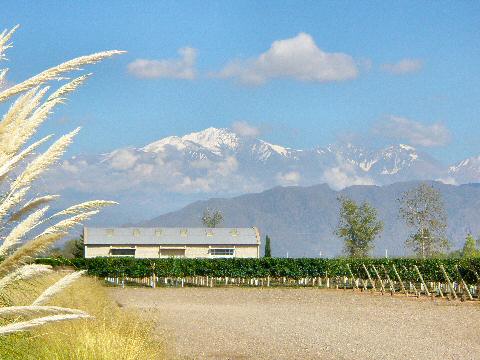 And a really cool, and much closer up vantage point, from Septima, where we had another great lunch on the following day, accompanied by much sparkling wine – Septima being the winery for the Codorniú cava/sparkling wine producer, who regular readers will recognize as the makers of our "house" sparkler at Casa SaltShaker.