I must possess all, or I possess nothing."

– Skeletor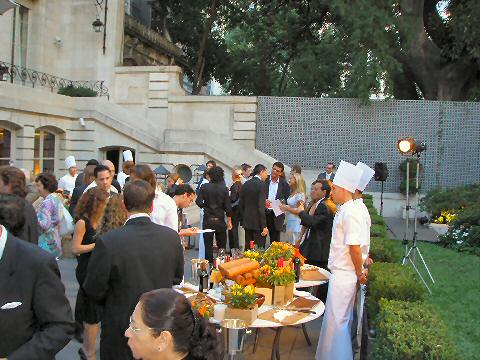 Buenos Aires – Collectors are an odd breed, regardless of what it is they collect. Wine collectors are a breed unto themselves – amongst those of us in the wine trade, they tend to get referred to as "Masters of the Universe" – generally with a roll of the eyes, a wink, or even a condescending sneer. It's not that there aren't wine collectors out there who really do have a handle on wine, understand it, treasure it, and are delightful to have a conversation with – it's that, unfortunately, the majority are clueless newbies, who read Robert Parker or Steve Tanzer or whomever, blindly follow their advice, are more likely to know the "score" of a given bottle than anything about what's inside it – often even right down to grape variety or anything else basic – might very well rarely drink from what they collect – they view it as something to be hoarded and displayed – and, of course, waved around like… well… a penis in the locker-room. "Mine's bigger than yours…"
So I found myself invited to the annual Masters of Food and Wine, only the second time this show has been held in Argentina. The Masters is an event originally started by the Park Hyatt chain, that along the line picked up major corporate sponsors, like the Wine Spectator, Mastercard, and American Airlines. I was asked to cover it for Passport magazine, and figured, much as I was likely to find myself amongst a good number of the above sort of collectors, there would also be the other sort, the "real" guys and gals, along with various members of the profession. And hey, it was a chance to try some interesting wine and food.
The opening night was held at the Park Hyatt Palacio Duhau here in Buenos Aires, with a "Torrontés, Malbec, and Cheese tasting". The wines were slated to be from ten wineries that were going to feature some of their best, the cheeses to be pulled from the Hyatt's amazing cheese cellar. That was the theory, and to a certain extent, it was true – there were additional wineries present, not everyone was showing their better stuff – a few were showing their cheapest bottlings available, and while many of the cheeses were indeed great artesanal products, just as many were standard supermarket varieties, right out of the plastic wrap. The best of the evening – a rosé from Viñas del Adagio Rosa del Desierto Malbec Rosé 2007 – one of the best roses I've tasted from Argentina with a beautiful violet petal and red plum flavor, crisp, dry, great finish.
And really, it was a beautiful setting in the garden of the Hyatt, there were some great people there to chat with, and not as many of the MotU as I expected – though the best line of the evening was hearing one of them as he started a conversation with a visiting wine writer…
The following night was due to be the famed "Rarities" dinner – a collection of old and rare wines (I don't know what the theme was this year) along with a multi-course dinner prepared by several chefs who were flown in for the event from all over the world. Unfortunately, the hotel missed copying my name from the original list, and I wasn't on their seating chart – and while initially all seemed well, as someone started to investigate and figure out what had happened and get it straightened out, she was pre-empted by the banquet manager? food and beverage manager? who informed me (again) that I wasn't on the list, the Park Hyatt doesn't make mistakes, and even if they did, they weren't going to do anything about it because there was no available seating, and perhaps I might leave the hotel rather than lying and trying to crash an event that I wasn't part of. Unfortunately, everyone who I'd been in touch with prior to the event was unavailable (and he was unwilling to interrupt anyone, give that he'd clearly decided I was persona non grata), and by the time I got through to people who could get through to the right people to get it straightened out, a couple of hours had passed, the dinner was well underway, I'd given up, gone home, and eaten already. I did get an apology from the original young lady who'd tried to help me, and later from one of the senior hotel managers – Mr. Attitude didn't make a re-appearance.