"Perhaps more than any other one person, Cassatt foresaw the approach of the day when New York City as a commercial center would outstrip both in density of population and in amount of wealth all the other cities of the world."

– John Moody, Financial Analyst and founder of Moody's Investment Services
New York City – I've actually left town, but as a last look back at some of the remaining places I nibbled away at various things, I thought I'd go for another roundup post. A couple of more "nice" dinners out – one with good friends from New Jersey who drove in to have great quantities of juicy, marbled prime steaks, pristine oysters, excellent steak tartare, oozingly rich (and cooked perfectly this time) marrow bones, and dios knows what else made it onto our table, at Porter House. It's pricey, even when you know folks there, but as a treat, it's worth it – and it's a reminder of a totally different type of absolutely top quality steaks versus Buenos Aires – it's a whole "raised for marbled fat and tenderness with a rich but subtle flavor versus raised for intense, nearly gamey flavor with little fat and a bit of chewiness" philosophies of cattle raising.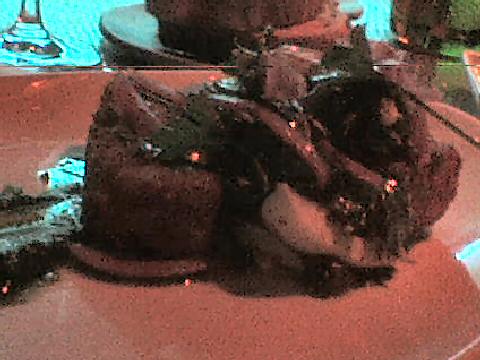 Another night found me ensconced at the bar at
L'Impero
, until recently the home of one of my favorite chefs, Scott Conant, and one of my favorite wine guys/restaurant managers, Chris Cannon, the former has moved on to other projects after a (apparently fairly nasty) split in ideas for the future with the latter, a shame since I like them both. The new chef, Michael White, made his name in NYC at Fiamma restaurant, serving up what various folk have termed "hearty, big-guy food" – the adjectives summing Michael up in a trio of words. It's an apt description of the food as well – and made for an odd disconnect. Not that I didn't go in knowing that the food would be quite different, but there was a sort of automatic deep brain expectation upon entering the elegant room at L'Impero of equally elegant, refined, borderline delicate food with intense piercing flavors, and then suddenly receiving plate after plate of rich, hearty, filling dishes, that, for me, fit the room at Fiamma – big, bustling, high energy, raucous – far better. The food was all quite good – perfectly crispy deep fried smelt with aïoli; fascinating pressed sweetbreads in a breadcrumb crust – almost like fish sticks made out of sweetbreads – great intense flavor (though two deep fried dishes in a row were, perhaps, a bit much – sorry about the photo, I'd forgotten my camera and used the phone's in the dim lighting of the bar); thick, chewy
strozzapretti
coated in olive oil and tossed with lovely, slightly chewy rings of cuttlefish; and a dense, nearly impenetrable pistachio semifreddo – somehow, though, it fit that the bar's television was tuned to a football game, ya know? 
[Closed]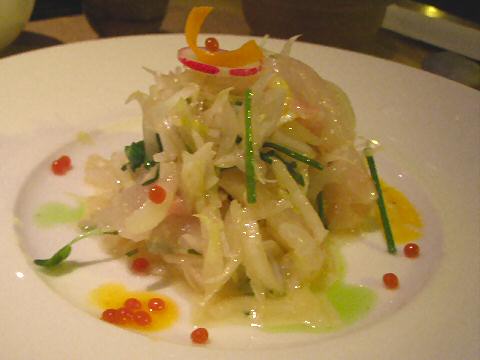 I've mentioned before my thoughts about chefs who try to
run multiple restaurants
– I have no problem with chefs making money, turning themselves into brand names, going for the gold, however you want to phrase it – but invariably, I find that the results are less than satisfying from the other side of the equation, as a customer. There simply reaches a point where quality suffers, or concept changes – it's near unavoidable – the chef, the person with the ideas and the talent, simply can't be in more than one place at a time, and things will change, no matter what. It's hard enough for chain restaurants with teams of managers, chefs, and quality control people to try to keep everything the same from one spot to the next – it's an impossible task for the individual chef. Now, that said, I hadn't ever eaten at one of the
Gari
sushi restaurants before – I'm not sure why, the original on the upper east side certainly had a great reputation – and spawned a chef, Seki, who went out and opened one of my absolute favorite sushi spots in New York (I'll have to review Sushi Seki one day when I'm back…). But, I hadn't. And now there's a Gari on the upper west side, where I was staying, and one evening, feeling a bit peckish for raw fish (despite all the tuna and mercury news this last week), I headed to 370 Columbus Avenue, near 77th Street, and grabbed a window table. Upfront, I'll say I didn't feel comfortable. The staff (and there are a lot of them – six sushi chefs and four waiters for a room with forty seats) weren't particularly welcoming, though not rude, everything was just very matter of fact, as if I (and everyone else) was just some task to be attended to. My waiter became, perhaps a touch more warm, or at least animated, when it became clear I wasn't just taking up a space at a table to order a sushi combo – and I quickly tossed off an order to try three different of the "creative" appetizers – this red snapper salad (which I honestly don't remember what it was all mixed with) that was tangy and smoky, an octopus ceviche (which wasn't a ceviche at all, being thoroughly cooked, and not particularly citrusy, more oily), and some edamame – I'd asked to receive them one at a time to relax and enjoy – my waiter brought them all at once, simply saying "they're appetizers, they're ready at the same time" and walking away. Despite the temptation to either send a couple of them back to be brought back when I was ready, or to simply leave, I decided to give the food a shot – it was all good, but truly, I don't get the fuss. On the flip side, I continued on with two plates of half a dozen each sushi a la carte, all of which was pristinely fresh, perfectly cut, served with just the right amount of wasabi and rice (and the rice was dead on texture and flavor), which uplifted my thoughts about the quality right away. I think that when it comes to the "creative" stuff, Seki does a far better job, and far more interesting combinations. On the other hand, he's not on the upper west side… but then again, neither is Chef Gari… just his name.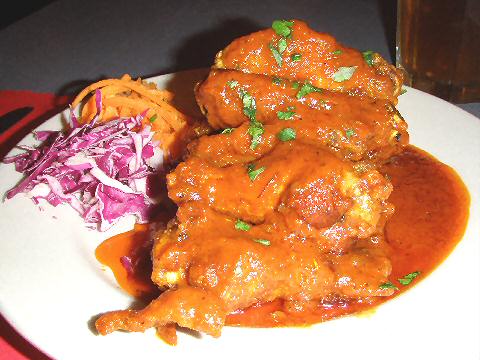 At the far other end of the food spectrum, sometimes you just want something casual and fun (and reasonably priced, my god NYC restaurants have gotten stratospherically expensive). I was headed initially to have lunch at
Marion's Continental
, but turns out they're not open for lunch (didn't they used to be? or maybe it was just weekend brunch); and from there headed towards
Five Points
(gotta review them one of these trips), and suddenly spotted the
Great Jones Cafe
, at 54 Great Jones Street, a place I haven't been to in years. It's a comfortable, homey room, more or less a bar, with a sort of Cheers feel to it – everyone seems to know everyone else or at least pretend they do. I ordered up a plate of fiery hot, spot-on delicious
creole wings
and could have simply stopped there, sated and happy, but it was, after all, listed as an appetizer – just, perhaps, an appetizer for two or three people – and had already ordered up a plate of
jambalaya
– which was flavorful, but didn't stand a chance after the wings, and was also a bit too heavy on just rice, without much in the way of meat – I'm used to jambalaya with chicken, shrimp, tasso, and andouille sausage – this had a couple of shreds of chicken and some diced ham, nothing else. Still, the wings were worth the visit.
Now, you may ask why I'd come to New York during the midst of January – not the best time of year to visit, and I certainly don't miss the cold weather (though it wasn't all that bad this last week). Actually, I was in town for a martial arts tournament thrown by my old school, which my head instructor wanted me to attend both as a judge and to help him administer the event, the Gotham Classic. It was the first time he'd run a major event in nearly fifteen years, and he took on a promoter partner, who I gather hadn't run one at all before – and, well, let's just say that the turnout was a little light – around 10% of what they'd planned for and an even lower percentage than what they'd hoped. Not that I'd call it a wasted trip – I enjoyed the tournament, getting to be a judge, seeing old friends, simply being around that environment – but I think I'd pass on the special trip in the middle of January in the future. Plus, I have to say, that New York is becoming more and more difficult to enjoy unless you have a lot of money to burn – or maybe it's just that I didn't want to get out and do things in the cold that might have been less expensive… I leave you with this sign I spotted on my last afternoon there…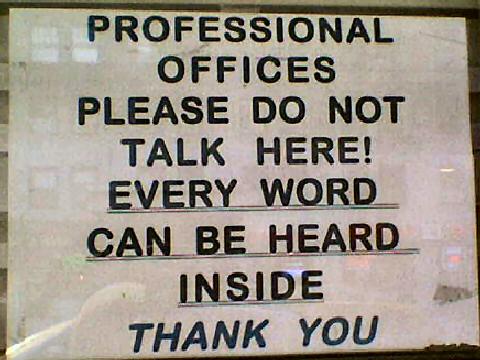 You know what? Close your windows if it's a problem for you… this is a public sidewalk…
😉
…and now, back to our regularly scheduled programming in Buenos Aires.