"Let's do Mexican," generally means heading for the closest eatery serving a greasy Tex-Mex mishmash of tacos, burritos, and chimichangas, usually washed down with an inexcusably large margarita flavored sno-cone."

– Dan Perlman, me
New York City – When I wrote that intro to a restaurant review, fifteen years ago, for some reason I'd thought that the chef of the newly opened Mi Cocina, 57 Jane Street in the West Village, was from Oaxaca. Some time later I believe I was corrected, that José Hurtado Prud'homme is from the Yucatán. Or maybe he lived in both at different times. I should ask him one of these visits… no matter, since that first visit it's pretty much always been my favorite Mexican restaurant in the city, and while the menu ranges over a good variety of regional cuisine, there are always specialties from the Yucatán on it. So what's different about that? Well, the region is separated from the rest of Mexico by a steep mountain range, it has several port cities, and, is closer to major cities in the Caribbean than it is to, say, Mexico City. It was also inhabited, historically, by the Maya, and now their descendants, whereas the majority of Mexico was inhabited by the Aztecs. So there are different inherent cultural traditions, as well as a strong European influence (the Spanish invaded and the Dutch traded – it's always a surprise to visitors to the area to find that Edam cheese is a local favorite), and bits and pieces of other influences. A long time friend and I met up there, as we have so many times over the years… chatted with Chef José for a few minutes (it's been about four years, so we had some catching up to do, he didn't know I'd moved to BA)… [Closed]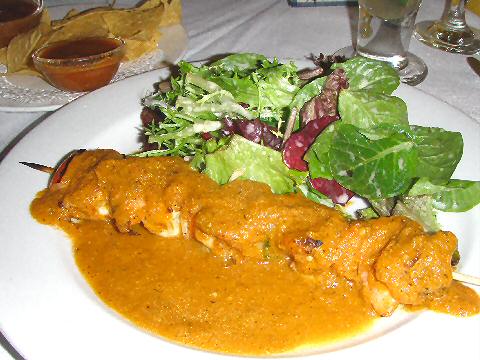 I always like to start my visit at Mi Cocina with a
Doña Margarita
, made with high grade aged tequila, fresh lime and orange juices… it just sort of gets things going. I was surprised on this visit to find that the ubiquitous chips and salsa are not automatically brought to the table, but must be ordered – though at no charge. They're served up with this great smoky sauce that is far better than the usual suspects. It's been a long time since we'd visited, and my friend wanted to return to a couple of his old favorites –
empanaditas al picadillo
, which aren't a big fave of mine – they're glazed with a slightly sweet coating, and the insides are shredded beef with raisins, olives, and sugar – and later he moved on to a classic
enchiladas de mole poblano
, in a rich, dark, and bitter sauce, flavored with chocolate, and stuffed with plenty of chicken. I decided on one new dish that I've never seen, though apparently a classic of Yucatán cooking,
camarones al ha-sikil-pak
, the latter term being a native word for a sauce made from toasted and ground pumpkin seeds, tomato, habanero chilies, sour orange juice, and epazote. Delicious as it sounds, and not overly spicy, despite the habaneros. For my main course I decided on an all time favorite,
chiles en nogada
, which, though from a different part of Mexico, Chef José turns out beautifully. It's a large poblano pepper, stuffed with a lightly spicy meat and raisin mixture, roasted, and topped with a creamy walnut sauce and pomegranate seeds. I'm happy… and too full for dessert.