"Every object has a history, and behind that history an inventor, the person who thought it up first. Sometimes who was first can be a topic for hot debate: often several people independent of each other will all think of the same good idea at around the same time and will later have to argue "No it was me, I thought of it first." Many people have claimed to have invented the Frisbee."

– Mary Bellis, The History of the Frisbee
Buenos Aires – There seems to be some debate about whether it was January 13, 1957 or 1958 or some other close by date as to the date of the original plastic, Whamm-O Frisbee, first called Pluto Platters (so as not, I assume, to impinge upon the rights of the Frisbie Pie Company, whose disposable and regularly tossed about pie tins were pretty clearly the impetus behind the invention, and not at all to be confused with Pu-Pu Platters). That, however, is of no matter, it was close enough for me to call it the 50th anniversary weekend of the invention of the official Frisbee, which got me thinking about summer time, out of doors, hippies, vegetarian food, you can see the logical train of thought, no? It was a perfect time to offer up another of our vegetarian dinners. I decided this time to just simply offer it as we do all our menus – I've written before about attempting to cater directly to the local vegetarian set who ask for more vegetarian dinners and their non-response when we actually do, so this time, I decided, let them figure it out themselves – and amazingly, a few actually came! Mostly, though, the two evenings were attended by those of a meat-eating bent who simply wanted to try something different, or for whom, as visitors to our burg, the timing worked out.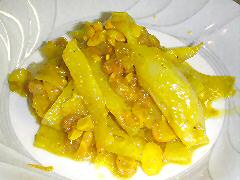 So be it, we had some great fun, despite my wooziness the first of the two evenings.
We started off with a fennel escabeche, a dish that I prepared for our techniques of preservation dinner exactly a year ago, a perfect time to resurrect a dish that was received to rave reviews. I didn't make any real changes other than increased the amount of saffron to give the dish more of a yellow glow. I'm pretty sure it was a hit once again.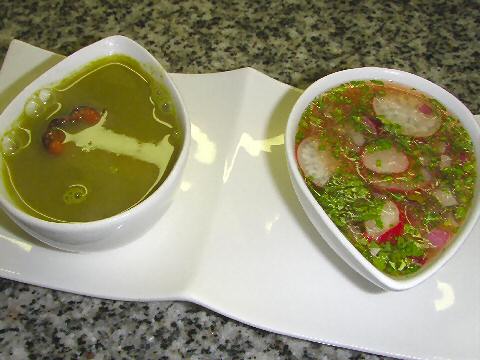 From there we moved on to a couple of radish soups. Yes, radish soups. I don't know why radishes have been on my mind recently, but there you have it, I have radishes on the brain. Originally I was thinking about the cream of radish soup I made in our first vegetarian dinner, a year and a half or so ago, but I didn't want to repeat the same dish in the same, more or less, themed dinner. I ended up deciding on two different soups – a cold gazpacho style soup, and a hot soup – and decided to go a bit "out there" in terms of style. For the chilled soup, it turned out that I had all this watermelon sitting around… because as you'll see, I had to make watermelon pickles for our main course… and I juiced the fruit, strained it, and then used it as the base for a gazpacho that I then filled with sliced radishes, chopped red onions, chopped arugula and mint, and then flavored with a good spicy olive oil, a dash of balsamic vinegar, salt, and white pepper. Very simple, but really, really good. For the hot soup, I cooked some white onions and garlic until soft and just lightly golden, then added chopped radishes and their greens, the more greens the better, some fresh thyme, and vegetable stock. I let those simmer away until the radishes were soft, then pureed. The first night I left the soup thick, but found that there were too many bits of radish green fiber and a few scattered bits of stem from the thyme that had gotten mixed in that simply didn't puree well, so the second night I strained it through a coarse strainer. Into the bowl with the piping hot soup went some pitted fresh cherries that had been tossed with a little balsamic vinegar and salt. I know, cherries and radishes, and odd sounding combo, no? It works. It really works.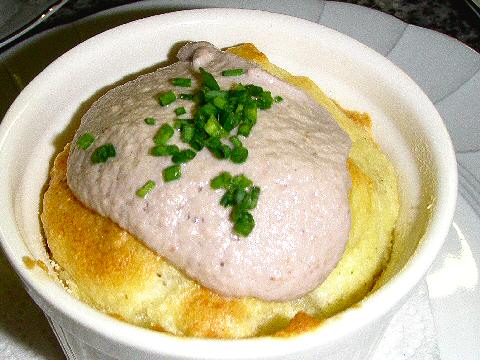 Next up, I've been playing around with different recipes for using yuca root – a tuber that's used a lot especially in the northern half of South America and into Central America, but which seems to feature mostly as a simple, bland, side vegetable or starch. Very few folk seem to be doing anything interesting with it, which is a shame, there's no reason you can't play around with it as much as any other tuber… so to speak. I had the thought of a yuca souffle, and an internet search revealed that one of some sort is popular in Guatemalan cuisine, but apparently, served very simply, sort of more pancaked than anything else, and not quite what I was thinking of. Still, it was a place to start – and personally, I like the way this one turned out. The yuca is peeled and cut into small pieces, boiled in salted water until soft, then mashed to a coarse, lumpy mash (I suppose one could food mill it or something and get a finer puree, and it might be interesting to do that at some point just to see the difference. Starting with about a pound and a half of yuca root, I then mixed that with about half a cup of butter and a cup of milk, all mashed together and seasoned with salt and freshly ground pepper. When slightly cooled, I added 7 egg yolks and mixed thoroughly. About twenty minutes before we were ready to serve, I whipped the 7 egg whites until stiff, then folded them into the yuca mixture, and ladled the mix into ramekins that had been buttered and coated with bread crumbs. Into a hot oven and baked until all puffy – these won't collapse fast like a standard souffle, they have a bit more structure, though they will gradually deflate as they cool, so serve 'em hot right out of the oven. To zip them up a bit, I made a sauce of walnuts, roasted garlic, lemon juice, and just enough water to smooth out the puree, and then spooned that atop the souffles.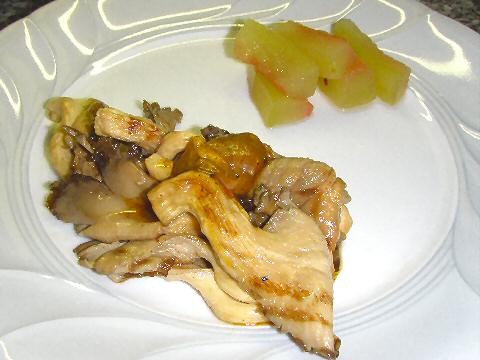 On to the main course – I already knew it was time for watermelon pickles – 'tis the season and all that. The one addition to the recipe I've linked there was some peeled and sliced fresh ginger root. To accompany the pickles… or was it the other way around?… I grilled fresh oyster mushrooms and then topped those with a molasses butter (dios mio is that butter good!) made from softened butter, a good dollop of black molasses, ancho chili powder, hot pepper flakes, cinnamon, and salt. That's a mushroom dish that I could eat any day!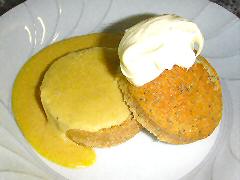 Finally, I'd decided I wanted to reprise my little poppyseed tortes (yes, I know, there was a bit of reprising going on this weekend, but in new contexts) – sans the filling. I used just the cake recipe, then sliced those, topped them with a puree of cactus pear fruit (just in season here) with lemon juice, brown sugar, and just a dollop of sour cream to give it some richness – not too much, this is supposed to be a fruit sauce. The fruit was so fresh and vibrant and it played perfectly off the poppyseed flavor.
And now, off on a bit of a short trip – I'll be headed to Dallas and New York – Henry, his sister, and niece are off to Trujillo for a long stay – our Casa S assistant is house sitting (and probably experimenting with all my spices and such, he's gotten the culinary bug now and has even enrolled in a professional chef's program that'll commence in March – give us a little time and we'll let him have an evening to show off). So, next report to be filed from the grassy knoll…