"What he said to bite, I bit."

– Jiang Qing, Chinese revolutionary
Buenos Aires – With the holiday season upon us we haven't been spending a lot of time out eating in restaurants. However, here and there I've managed a lunch somewhere with friends and at least gotten a taste of a few places I hadn't gotten to before.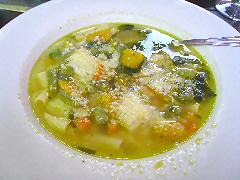 Normally, we don't spend much time at the restaurants in the Village Recoleta complex. While they're not quite the tourist trap that, say, Puerto Madero is, they do tend to be higher priced and packed with a fair number of visitors, especially at this time of year. Still, many of them are spots that have been around for years and are part of the Recoleta scene – and they do get their share of locals. Quite a few of them also have good food. Recently, enroute to the movies in the complex, we stopped in at La Strada, Vicente Lopez 2028, 4801-1771 for a light Italian lunch. They have a nice outdoor seating area, though, unfortunately, like several other places along this strip, they charge extra for sitting out of doors. They're a little more blatant about it – the menu has two price columns, one labeled for inside, one for out, and the differences are anywhere from 1-5 pesos per dish, which does add up. Nonetheless, it was a beautiful day outside, we were already seated there (I'm sure they count on that), and we decided to go ahead. A really quite good minestrone soup started off the lunch, along with a fairly standard green salad. That was followed by a reasonable fettucine with pesto – still not quite the true pesto paste that I'm hoping to find here one day, but at least lots of fresh basil, garlic, and walnuts chopped up and tossed with olive oil; and a grilled abadejo, or pollack, fillet with an array of grilled vegetables and a very nice lemon and caper sauce. Overall, decent, and we'd go back. [Closed]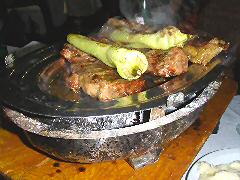 A couple of weeks back you may remember our visit to the church of spiritual exercise. Before spending four hours tramping about the convent, we had to fortify ourselves, and just a block or two away we found a corner with a couple of restaurants, settling on Parrillón de Juan Lacaze, Salta 490 in Monserrat, 4381-2920. Now, I'm sure there is or was a Juan Lacaze at one point, and he may even be the owner of the place, though at this point, the most prominent source of the name seems to be the river beach community of the same name across the river near to Colonia del Sacramento, no doubt named after someone famous in Uruguayan history. Meanwhile back at lunch, we tried the usual "Do you have a recommendation of something that's really good here?" and got the just as usual litany of every item on the menu. Some day waiters here are going to wake up to the idea that if they're actually helpful, even if it's an act, they might actually start making some reasonably good money in tips from customers who do tip. Not the case here, and our waiter was about as useless as they come. On the other hand, the food was quite good – I like that the steaks are delivered on a sizzling platter set over a couple of hot coals, I like that they come with some nice vinegar peppers atop, I like that they were cooked to our specifications, I like that they were good sized portions without being ridiculous, I like that the prices are completely reasonable, and I even liked the guitar player singing tango songs through lunch. If you could add in good service and this place would be a hit.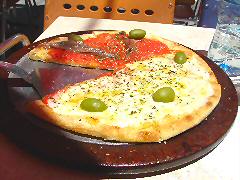 It took me a few minutes to figure out where the name came from – this is the pizzeria owned by the same guy who owns and runs Damblee, which has become one of my favorite spots to eat, so I figured, let's check out what he's doing with pizza. Sánchez y Sánchez Pizza Urbana had a nice ring to it, but isn't his name… then it hit me, the address is at Rivadavia 3399, right on the corner of Sánchez de Bustamante, 4864-6655… but, meanwhile, for those who know the geography of Buenos Aires, Rivadavia is the "spine" of the city – starting at the Casa Rosada and stretching west to the city border and beyond (local claim has it it's the longest street in the world, but a little online searching shows it to be a mere 35 kilometers long heading to the west of the city, which is far shorter than Yonge Street near Toronto at 56km+, and the arguably, at least by the Guiness Book of World's Records, longest "motorable road", the Pan-American Highway, which stretches from Fairbanks, Alaska to Ushuaia, Argentina, coming in at a measly 48,000 kilometers – though it changes names regularly, it is considered one long highway) – the point being, that every street that crosses Rivadavia changes its name at the crossing point – it's the zero point from which addresses are measured heading east and west – and sure enough, the opposite side of the street, the name change is to Sánchez de Loria. The "pizza urbana" designation, I suppose, goes with the sleek modern styling of the spot. The pizza itself, at least the one I tried, quite good – great mozzarella, not surprisingly given Gustavo's commitment to great cheeses cross-corner at Damblee, very good, flavorful tomato sauce, and a beautifully cooked crust. I did find the crust to be just a little bland for my tastes, it could have used a little something… I started thinking about the other pizza spot in the neighborhood that I really like, Tuñín, and hmm… this would be a good side by side comparison… very similar in style and quality… anyone up for a taste test?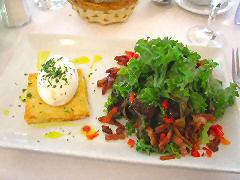 I love good French bistro or brasserie food. The really good spots are few and far between here in BA, and when a friend suggested checking out Bouchon, Tucumán 400 in Microcentro, 4313-3358, my first question was, "Isn't that the place owned by the owners of Petanque?" He affirmed it was, neither of us like the place in the slightest – with its useless service and truly awful food – so why were we going to their sister restaurant? Then again, I'd tried the same owner's short-lived Sangria and liked it, and, which I didn't realize had been short-lived until realizing that Bouchon is at the same address. So, off we went. High marks right off the bat for very friendly, helpful service, our waitress going out of her way to talk about several of the dishes, explain them, and even, amazingly, make some recommendations! There is hope. The food, while not spectacular, fairly good. My salade lyonnaise very nicely made, with a perfectly poached egg, a very good puree style gazpacho, both made good first impressions. Second impressions were not quite as good, though still not bad – a charcouterie plate that consisted of a trio of slices of four different cured meats – nothing French – just plain basic ham, salami, turkey, and prosciutto served with a couple of mini-squares of toast, and a plate of garlicky broiled snails that our waitress assured us were not canned, but locally raised – tough to believe given how tasteless and watery they were – the garlic butter was the only flavor to the dish. The place is worth another shot one day when I happen to be in the 'hood. [The place ended up just as short-lived as its predecessor.]