"We have always found the Irish a bit odd. They refuse to be English."

– Winston Churchill, former British Prime Minister
Buenos Aires – Seventy years ago this past weekend, Ireland came into being as a republic, by declaration of constitution. Prior to that, for a few years it was the "Irish Free State" and prior to that it was simply a part of the United Kingdom. It's sometimes surprising to encounter these little tidbits, as some countries seem to have existed throughout recorded history – but, 'tisn't true. In celebration of this anniversary, we decided to have some fun with both traditional dishes and some modern takes on Irish cuisine – something that to many might seem an oxymoron – but trust me, it's not all corned beef and cabbage, nor potatoes (though they do figure in heavily at some moments…).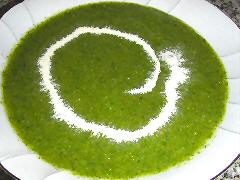 It's the Emerald Isle, you know? Lots of greenery, including many vegetables and herbs – far more than they get credit for appear in their cuisine. Watercress, in particular, seems to be quite popular in various dishes, and given our spate of hot weather, I knew I wanted to offer up a chilled soup to start the evening. The original recipes I looked at included a fairly hefty quantity of potato, and were cream soups – with lots of cream and milk mixed in. I wanted something lighter and more vibrant. First off, in place of milk and cream, I used the whey from making ricotta for the cheesecake which will shortly make its appearance. In that, I cooked up a couple of chopped onions and one, just one, peeled and diced potato (to give a little body and richness), and some blades of mace. I let that simmer away until the potatoes were nearly cooked, and then added a large quantity of watercress, stems and all – really, a large quantity – it was heaped up well over the height of the pot, but it all quickly softens and finds its way into the soup. I let that simmer just until the stems were soft, then pureed the whole thing, let it cool, then chilled it, seasoned it with salt and white pepper, and served it with just a drizzle of cream atop.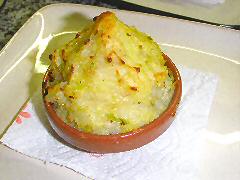 This was the one dish that I kept pretty much traditional and true to the recipes that I found. Colcannon is, apparently, the true national dish of the isle, and it makes sense – potatoes and cabbage, you know? As one source put it – depending on your economic status, colcannon is either an appetizer, a side dish, or the whole dinner. I went with appetizer… it's a relatively simple dish – make mashed potatoes with plenty of butter and milk. To that, add a fair amount of sauteed leeks, garlic, and cabbage – for five good sized potatoes I used half a dozen leeks, a third of a large head of cabbage, and half a dozen garlic cloves – the vegetables finely slivered, the garlic finely chopped. Seasoned with salt and pepper, then mounded in small ovenproof bowls, and browned under the broiler. The French have nothing on these mashed potatoes – yum!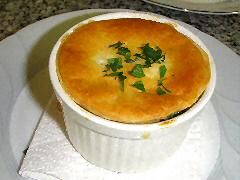 Having just had a dish of mashed potatoes, I decided not to top this relatively traditional seafood pie with more, and went with a simple pastry crust. Beyond that, it follows a fairly common recipe – a mix of seafood – sauteed cod, shrimp, mussels, clams, and squid (this can also be made with just the fish, if, as we had one night, someone is allergic to shellfish), all placed in ramekins, and then topped with a cream filling – cook chopped green onions in butter until soft, along with smoked paprika and cayenne pepper. Then a couple of spoonfuls of flour, cooked until lightly toasted, then add a 50:50 mix of milk and cream that I'd already warmed in a separate pot, bring to a boil, and cook until slightly thickened. Season with salt and pepper to taste, ladle over the seafood. Add fresh parsley, top with the crust, bake until the crust is brown and the filling bubbling, garnish with some more parsley, and serve.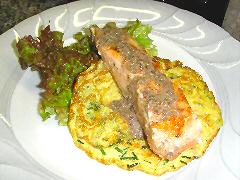 This dish kind of came together from multiple sources – various dishes – and simply whim. It's basically two separate parts, but they combine beautifully together. The first part, slices of salmon fillet that are marinated in a mix of dark beer (or better yet, stout) that's been pureed with fresh sage leaves, anchovies, and black olive tapenade. Let the fillets marinate for 3-4 hours, then grill until browned on top and bottom. Take the marinating liquid and put it in a pot while the salmon is grilling, and reduce it over high heat until thick – with the olives and anchovies, you shouldn't need to add any salt… The second part is a smoked salmon omelette – which would make a great brunch dish all on its own – a mix of chopped chives, chopped smoked salmon, soft goat's milk cheese, and eggs, with salt and pepper, cooked into thin omelettes and lightly browned on both sides. The "salmon two ways" works out as a really nice combination!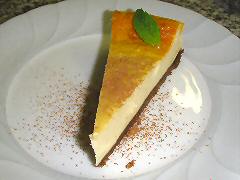 While I considered something made from Lucky Charms® for the dessert – and back in 2000 actually prepared an entire dinner for the anniversary of the introduction of the cereal (soup of pink hearts, grilled and stuffed purple horseshoes, red balloon custard, orange star beef, blue cheese diamonds, and flambeed yellow moons – god only remembers what recipes I used) – I decided against that. Instead, one of our homemade cream cheese cheesecakes, made with Bailey's Irish Cream in place of the milk I usually add. It cooks up a little weirdly – getting very puffy like a souffle, and then deflating – I have to assume it's something to do with the alcohol boiling away in the heat. A chocolate cookie crust, a bit of cocoa dusted over the top, and it was a hit.