"I have to make dinner – I mean actually make it without magic. We are liable to die."

– Barbara Eden as Jeannie, I Dream of Jeannie
Buenos Aires – 'Twas the night before Larentalia, and all through the house… Not a creature was stirring, except the house elf. Well, not an elf exactly, but a Lare, a sort of djinn, or genie, or sprite, said to live in the corner, near to the chimney, and protect the home from harm. Except that one night a year, December 23rd, when the Lares were celebrated, appreciated, venerated. At least, of course, until the Catholic Church got into the act and decided to declare that the ancient Roman festival really honored Acca Larentia, the sainted nurse of Romulus and Remus, and since, of course, she was sainted, could be celebrated as a real holiday, not one of those pagan ones. Co-opting is such a fun activity. At Casa SaltShaker we took it upon ourselves to return the holiday to its roots… after a fashion.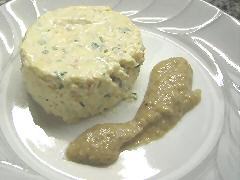 If they're a celebrity, they probably have a recipe posted out there on the internet attributed to them. How could I not look to see if Barbara Eden had one? And sure enough, she has one – a very 1960s recipe for mushroom caps stuffed with crabmeat. I don't know whether it's really her recipe, one simply claimed to be hers, or perhaps it's what she ended up making in the show noted above. Either way, it served as an inspiration for our first dish of the evening, a crab mousse with a shiitake sauce. The mousse, a mix of one pound of shredded crabmeat, ½ cup of mayonnaise with 1 tablespoon of tomato paste mixed in, handful of chopped chives, 1 small grated onion, 1 tablespoon of red vinegar, 1 teaspoon tabasco, ½ teaspoon smoked paprika, 1 teaspoon salt – all mixed together, add in 2 tablespoons of gelatin dissolved in ½ cup of water, and then fold in 1 cup of cream that's been whipped until stiff. Ladle into molds and chill until firm – about 4-5 hours. The sauce, dried shiitakes that have been reconstituted in a mix of white wine, vinegar, shallots, salt and pepper, and then pureed. Unmold the mousse onto plates and serve.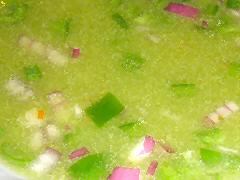 Next up, a play on words, I mean, who could resist "djinn & tonic"? Not me… A simple cucumber based gazpacho – puree half a dozen peeled cucumbers, 1 jalapeño pepper, 1 teaspoon cumin, 1 teaspoon coriander, a handful of cilantro in ½ cup each of gin and tonic water, season to taste with salt and white pepper, then chill – thin with water if needed. Dice some green bell peppers, red onions, and chop some scallions or green onions and a rocoto or other mild chili pepper, place about ¼ cup of the diced vegetables in a bowl and ladle the soup over it. Interestingly, and it just shows how tastes run differently – the first night, everyone loved the soup and I got two requests for the recipe via e-mail the next morning. The second night, only one person liked it, everyone else said it was too spicy. Tasted the same to us.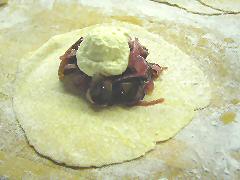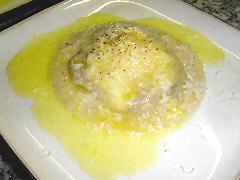 I had so much fun making the ravioli last week that I decided to try another version – these giant ravioli might become regular features here, I have fun, and people seem to enjoy them. This time, I went with a relatively classic Roman dish of radicchio ravioli – the filling a mix of red onions and radicchio thinly sliced, sauteed in olive oil until limp, then red wine added and cooked slowly until all the liquid was absorbed. Seasoned with salt and black pepper. When cool, topped with a small scoop of homemade cream cheese (mascarpone would be interesting as well, or ricotta), and this time I used a semolina pasta – 1 cup fine white flour, 3/4 cup of semolina flour, pinch of salt, and 3 beaten eggs, mixed together to make slightly sticky dough – let it sit for an hour before rolling it out to relax the gluten. The ravioli were topped with a simple grating of reggianito cheese, some freshly ground pepper, and a spoonful or two of hot melted butter.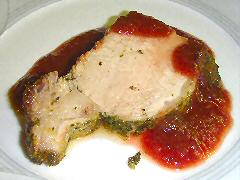 Another Roman style dish – roast pork, in this case a carre deshuesado, which is basically the long strip of meat inside the ribs, deboned. I marinated it for a couple of hours in a puree of olive oil, fresh sage, fresh thyme, salt, and black pepper, then without scraping off the marinade seared it in a hot cast iron pan on all sides and put it in the oven to cook until it hit about 140°F – which is really just shy of medium, but I turned the oven off at that point and let it sit for about 10 minutes more in the oven and then 10 minutes on the counter, it ended up just about dead-on at medium, just slightly pink. For the sauce, a fig jam – I cooked about two dozen fresh green figs down with a bottle of red wine, a cup of sugar, the juice of a couple of lemons. When it had turned more or less mushy, I used the handblender to coarsely puree it, then cooked it down slowly for about two hours to thicken it. Seasoned with salt and pepper and ladled around the sliced pork.
"I think I might have stayed there, I might have walked through the Carnival with a child's hand in mine, eaten apples doused in cardamom wine and told her how once, when I was very young, I had seen the old Queen dancing in her lonely hall, her embers red as bleeding, and I thought she was so beautiful, then. I thought she must be so happy. I might have done those things."

– A young Djinn Queen, in The Orphan's Tales: In the Cities of Coin and Spice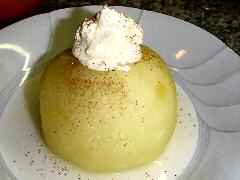 The idea of apples doused in cardamom wine sounded like a tasty ending to this semi-mystical feast. I decided to poach the apples after peeling them and coring them, in a mix of white wine and honey with the peels from the lemons I used above for the fig jam. They don't take long to poach once the liquid starts to boil – the apples will float, so you either have to weight them down or keep turning them – but it'll only be a few minutes. Let them cool in the cooking liquid. Serve with fresh mascarpone cheese that's been sweetened (if needed) and flavored with cardamom and cinnamon – dust the plate with a little more of each.