"Of course we need to eliminate social injustice in Colombia … but what is first? Peace. Without peace, there is no investment. Without investment, there are no fiscal resources for the government to invest in the welfare of the people."

– Álvaro Uribe Vélez, President of Colombia
Buenos Aires – One of the things I've come to regard as a drawback to my approach to Casa SaltShaker is also its strength. Our regulars, in particular, love that they can come and have a completely different meal, a different cuisine, from having come any previous time. Our constantly changing themes provide a structure for constant experimentation and play. At the same time, I often find myself thinking… "if only…" not a regret, but a wish to continue to play with a particular dish or dishes, and take my exploration of a particular cuisine further. A chef in a "regular" restaurant can constantly "tweak" a dish until getting it just where they want it – I generally have 1 or 2 shots at it, and then it fades quickly into the pages of this blog. Now, of course, nothing says I can't change my approach – perhaps taking on a particular cuisine and experimenting with it over a series of weekends, either consecutively or spread out over a period of time, and we shall see. This came up in regard to this last weekend, when I'd decided that we'd celebrate El Día de las Velitas, more or less "the festival of lights"… who knew that Colombians were celebrating Chanukah…? No, really, these days this festival, with grand displays of candles or lanterns in public squares and the streets of Colombia, is the "official" start of the Christmas season. While I don't know the origin of the festival, I'd guess it's based on a long time cultural tradition that has been co-opted by Catholicism in order to bring the population of Colombia in line with church doctrine – of course this happened a long time ago, so who knows? Regardless, once decided on a Colombian theme, I realized I had the chance to rework a series of dishes that I'd gotten to play with one evening about 9 months ago, for a private dinner – so it's not really repeating, right?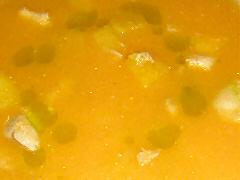 Now, one of the things I'd done that dinner was taken a trio of Colombian soups, and turned them into non-soup dishes. One of them, given my penchant for soups, had to be turned back to a soup, but I still wanted my own take on it of course. The sancocho de pescado, a fish soup, in this case mero, or sea bass, was my first choice – I love a good fish soup. This turned out just the way I envisioned it, and actually didn't need any tweaking over the the three evenings we offered up this dinner. It's really simple too – coarsely chop some white onions (not yellow onions, I like this with those somewhat flattened white onions with the slightly greenish skin) and a couple of cloves of garlic – you want about 2 cups, and put in a soup pot with a couple of tablespoons of butter and a little salt. Cook until the onions are just turning transluscent and soft. Add half a dozen tomatoes that have been cut up into pieces – I just cut each into eight – we're going to puree this part – cook for about 10 minutes over fairly high heat, until the tomatoes are soft and have released their liquid. Put everything into a blender, add the juice from 6 limes, plus about a cup and a half of coconut rum (I was originally going to use coconut milk, but decided I wanted a lighter texture, and this seemed a fun option). Puree until completely smooth and then strain through a coarse strainer, pressing the solids to get all the liquid out. Bring the broth to a simmer, add in a couple of peeled and diced yams, and about 3 pounds of fish that has been deboned and cut into small pieces. Add fish stock to cover by an inch or so, bring back to a simmer and cook for about an hour – you want the fish basically falling apart and the yams completely soft. Serve. I drizzled a little mint and parsley oil on top for color.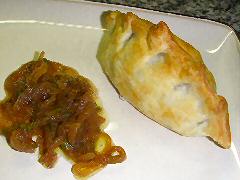 I didn't do alot different to the empanada from the previous time – I used what's called here tapa de asada, essentially the meat that surrounds the ribs, rather than cooking down ribs and shredding the meat off the bone – this way I could dice it up before cooking and slowly cook it with finely diced onions, celery, carrots, and red wine – a little cumin and red pepper flakes for seasoning. When the meat and vegetables were well cooked, I added about a cup of peeled wheatberries, a handful of freshly chopped sage, and enough water to be absorbed (better to go with too little and add more if needed, since this needs to "dry out"). Cook until the wheat is tender and the liquid is gone. Let cool, fill empanada skins, bake. This time I thought I'd go with a different sauce for accompaniment, and a simple red onion compote seemed to fit the bill – finely sliced red onions, butter, port, mustard seeds, black peppercorns, all cooked down until the onions were limp and the liquid nearly gone. A little salt to taste and onto the plate.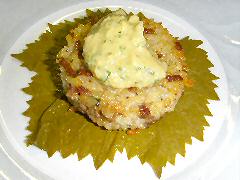 My favorite dish from that first dinner was this risotto cake. I had a couple of requests for no pork this time, so typical chorizos were out of the picture. I was going to head to Once to try to find some beef chorizos, but realized that if I was already using ground beef in the mixture, that all I really needed to do was add some chorizo style spices to the mixture. So, I cooked the ground beef with lots of cumin, coriander, freshly chopped oregano, and salt, then drained it. Meanwhile I made a risotto with a good amount of garlic and onions, and then mixed the two together. Poured into a plastic wrap lined cake pan, pressed, chilled, and then cut into rounds and fried up in a mix of olive oil and butter. Topped with my banana guacamole – one large avocado, one banana, one rocotto pepper (seeded), juice of 2-3 lemons, handful of cilantro, and salt – all blended together with just enough corn oil to make it smooth. The grape leaf below was just a decorative touch…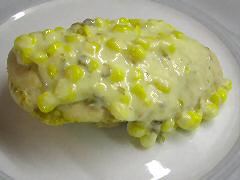 I liked this dish so much the first time around that I couldn't see any reason to change it. Chicken breasts dry rubbed with coarse salt and cumin and left to sit for a few hours. Cooked in a large saute pan with corn oil until just lightly browned on the outside, then a splash of chicken stock added, cover the pan, reduce the heat to low, and let cook away slowly for about 30-40 minutes until cooked through and the chicken has absorbed the flavors from the stock. The sauce – saute fresh corn cut off the cob with some chopped capers, when they're cooked through, sprinkle liberally with cornstarch, saute for half a minute, and add sour cream – bring to a boil and cook until thickened. Season with salt and white pepper, ladle over the chicken breasts.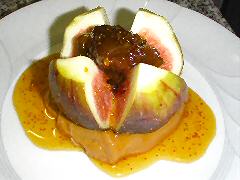 You may or may not remember my mentioning in a followup comment to a post on Gabo restaurant a dessert of figs candied in syrup and served with arequipe, the Colombian version of dulce de leche, just a little darker and thicker. When I saw that fresh figs had literally just come into one of the local markets – Friday was the first day they'd shown up, I quickly changed my mind and decided to go with fresh figs – they were just perfectly ripe. I made the arequipe, spooned it out on the plate, then put an almost quartered fig atop (tried to not cut all the way through so they'd hold together and open up like a little flower or one of those folded paper things we used to make in school to tell fortunes… but then, as long as we were already in overkill territory for decadence, I had all the candied figs that I'd bought from a friend's shop who gets them from an artesanal supplier, that I simply put a scoop of those in the center, and then drizzled fig syrup all around them.
Our bread for the dinners – I decided had to have something that was just a touch Colombian in it… so I added a couple of teaspoons of instant coffee to the warm water while the yeast was proofing. It gave just a faint hint of coffee flavor to the final rolls, and a little darker than usual color. Butter with some salt and smoked pepper (chipotle) added, and we were good to go. I also put out dishes of a simple hot sauce made by pureeing a few jalapeños with white vinegar and a touch of salt, just for those who wanted things a bit picante – one guest asked if we had enough for her to bathe in… I guess she was missing spicy food…