Getting the truth in the New York Post has been as difficult as finding a good hamburger in Albania."

– Paul Newman, Actor
Buenos Aires – I don't know if it is, or was, difficult to find a hamburger in Albania. I've never been there. I don't know if Mr. Newman had ever been there when making the statement above. Then again, the hamburger isn't part of a whole lot of cultures, so why should it be easy to find one in Albania? One could just as easily point out in converse how difficult it is to find qofte të fërguara in California, or wherever he happens to live. When I was a kid I collected stamps. I remember Albania being one of the places that stood out, because there it was in my stamp album, under the "A"s, while the stamps all stated the country name as "Shqipëria", or "Land of the Eagles" – hence the double eagle on their flag. How did we end up with a name so, so different? (There were others – Hungarian stamps said "Magyar Posta" or something close to that). The answer is actually unknown – there are several theories, all of which go back to around the 1st or 2nd Century and the Illyrians, and each theory seems, to me anyway, as plausible as the next one… but the name was passed down to us through Latin and Greek references. Back when I was collecting stamps I could have told you all sorts of trivial facts about the country, and pointed to it on a map with ease. These days, I doubt I could do either. Conveniently, Albania celebrates two holidays a day apart – Independence Day, from the Ottoman Empire, or Turkey, in essence, November 28, 1912; and Liberation Day, from the Germans and Italians, November 29, 1944. It made the country a perfect choice for this last weekend's dinner at Casa SaltShaker.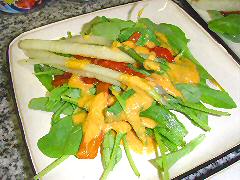 Several sources on Albanian cuisine avowed that roasted pepper and tomato salads were a typical and classic way to start off a good meal. A little crumbled feta cheese (after all, Greece is right next door with that influence), and away we go. I just couldn't resist the beautiful white asparagus that are still in season, and this dish took shape in a way that I'm sure no Albanian grandmother would recognize – some delicious strips of oven roasted red peppers, some blanched white asparagus, atop a mix of greens – arugula and radiccheta – and moving the tomatoes and feta into a different form by creating a dressing from them – basically a strained puree of tomatoes, onion, garlic, mustard, smoked paprika, feta cheese, salt, a splash of Port (don't ask, it just came to me, instead of using sugar to slightly sweeten the dressing) and a bit of olive oil to smooth it all out.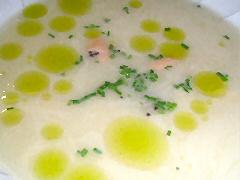 The country seems to have a soup that's a near national icon, called jahni – basically a fairly simple white bean soup with meat in it. I wanted to go with a non-meat version, and I found a few references here and there to vegetarian versions using chopped eggplant in the mix. From there, it reminded me of the delicious eggplant consommé with pickled eggplant that I made for our "winter veggies" dinner back in August… with one simple substitution… why not pickle the white beans instead? So, I followed the same pickling process that I outlined there, only using white beans (for this venture, canned white beans that have been rinsed work beautifully). The soup was similar – I didn't have shishito peppers, so this was pure eggplant, and, the base liquid I used was the whey from the cheesecake that comes up in a couple of paragraphs rather than just water, and then, traditional jahni soup seems to use both parsley and mint, so I made an oil to drizzle atop that was a mix of the two herbs.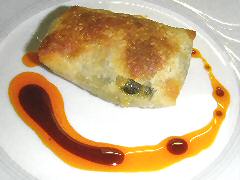 This dish leans towards the traditional – a filo dough encased "pie" – the filling a simple mixture made with sauteed garlic and sunflower seeds (filling in for pinenuts, which have gone off the charts expensive again), when lightly golden add a good dollop of tomato paste, cook a minute more, add plenty of chopped spinach, season with salt and pepper, and let it cool. Add some chopped hard boiled eggs, and wrap up in the filo dough, brushed with butter, and then bake it all. It looked forlorn on the plate by itself, and at last minute I had this thought that it needed a little "zip" – I was going to just drizzle some chili oil on the plate and let folks have a little hit of something spicy with it, and then thought it needed something to balance with some acidity – so chili oil just lightly mixed with some pomegranate molasses, which also makes a really pretty presentation as it separates on the plate. The flavors worked brilliantly.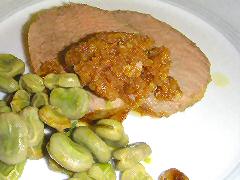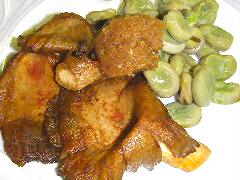 I found myself going back and forth between two recipes that both sounded intriguing. One was what seemed to be a very classic, pretty much national dish, of veal and lima beans – almost stew-like. The other, what appeared to be a more modern dish, of veal with walnuts, used more like a coating for roasting, or perhaps even stewed together. Some of the recipes weren't very clear, such is the nature of recipes. In the end, I decided to combine the two dishes – as a side, I shelled, and then blanched and shocked a whole bunch of fresh fava beans, then at last minute sauteed them in butter with a little dill, salt, and pepper. The veal, I decided to use a peceto, or "top round", "eye of round", cut – and roast it whole – after giving it a dry rub of salt, black pepper, and smoked paprika and letting it sit for a couple of hours. Roasted to medium. Then, separately, I made a puree of toasted walnuts, garlic, melted butter, salt, and to give it a richness, an egg yolk or two. The first night it looked like the above picture, the second night, for which there's no photo, I added a little more melted butter and gave it a smoother, more sauce-like texture. I liked both versions. On the right, the same treatment for our vegetarian guests, oyster mushrooms that had been dry rubbed and then pan roasted the same way.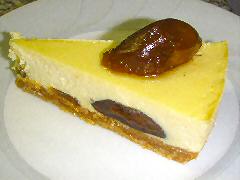 Figs seemed to figure heavily in various desserts from Albania, likewise cheeses, especially sheep's milk cheeses. I decided to go with a classic Casa S cheesecake, adding in some manchego cheese, a slightly salty sheep's milk cheese, to the mix, and then placing figs that had been cooked and preserved in syrup into the pan and pouring the cheese mixture over them, plus an additional one for decoration on each slice. It turned out really well, with the slight saltiness adding in a nice contrast to the syrup on the figs. I debated on whipped cream and decided against it, it just seemed like one step too far, and the cheesecake was prettier without.
Our bread of the evening, our standard olive oil bread recipe with half the whole wheat flour replaced by malt flour, and crushed caraway seeds added to the dough, and the butter served with the rolls had chopped fresh dill in it.