"I agree with you that it is the duty of every good citizen to use all the opportunities, which occur to him, for preserving documents relating to the history of our country."

– Thomas Jefferson, 3rd President of the United States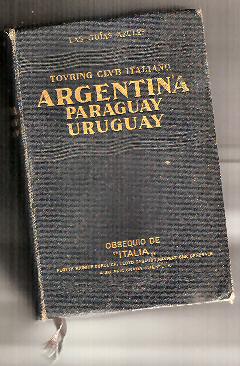 Buenos Aires – Anyone who travels extensively, especially in Europe, is probably familiar with the Blue Guide line of guidebooks. In some ways, not as "friendly" as your average guidebook, they're packed, instead, with detailed travel information, historical notes, self-guided tours, maps, and an amazing amount of detail. They're designed for someone who is a "traveler" versus someone who is a "tourist", and there's a big difference. The modern versions of those guides don't include anything covering South America, but at one time, in their early days, they did, and by chance, while rummaging through a flea market, a found a copy of the 1932 Argentina, Uruguay, and Paraguay edition, in Spanish. Having just started flipping through it, I can say it's a fascinating glimpse into a 75 year-old past, and a very different world. So, expect that over the next weeks, months… I'll be taking portions from the touring, especially things like the historical restaurants and cafes, and taking a look at whatever happened to them, what they are now, etc. I've already noted that a few of the places are still in existence, and a few have moved location but are still around, and some, I know, are simply gone – it will be interesting to see…
Now, in the historical vein, though not out of the book, there's been a spot that's been "on my list" for a long time. The place has acquired something of a mystique, and I'm not entirely clear why. The place, Angelín, at Cordoba 5270, in Palermo. I hear stories of them using "secret" types of wood in their wood-fired oven, of just as secret recipes for their crust and their sauce. They're famous for their pizza canchera (which means "savvy" or "streetwise"), which they claim to have invented – it's a pizza with just dough and sauce… no cheese, no other toppings… I'm afraid I can't go along with giving them credit for having "invented" such a thing – perhaps they were the first in Buenos Aires to serve a pizza with just dough and sauce, but long before their was an Argentina, the Italians were doing the same thing back in Napoli… and, perhaps, most importantly for some, they are legendary for being "Frank Sinatra's favorite", right down to an autographed photo on their wall from him… which doesn't affirm his favor, just that he'd tried their pizza… and a bit of digging turns up that Frankie only graced Argentina with one visit in his career, in August 1981, where he put on five performances over five nights. I can't say how many of those nights he graced Angelín with his presence, or if, perhaps, he simply had the pizza delivered to his hotel, but it would seem to me that five days is a bit short to have decided on a favorite pizza in the city. But, such are the few threads of which legends are woven, no?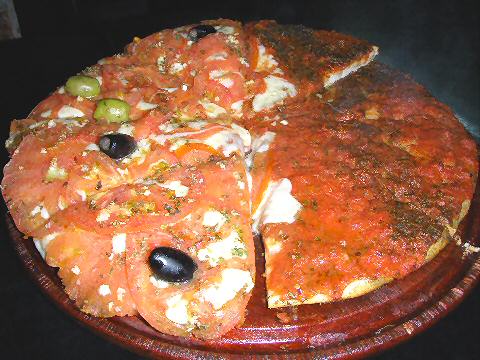 Regardless, the pizza is pretty darned good. We tried a half and half
canchera
, just to see what the fuss is all about, and classic
napolitana
. The crust is good, nice and browned on the bottom and not at all doughy, though, in my view, a little bland. The sauce is great, it really is – packed with herbs and garlic – one of the better sauces I've had, and certainly makes the
canchera
a worthwhile offering, since that's where all the flavor comes from. The
napolitana
was a little less interesting, though still good – it had a modicum of the sauce, just enough to give a touch of the herbal flavor, and a lot of fresh tomatoes and a decent amount of cheese – and not a bad pizza mozzerella, though not top of the line. Overall, definitely recommended, and the atmosphere is great – old-time style, with lots of character, and, of course, you can look at Frankie's photo. Angelín is also one of the few spots that offers up a truly extra large pizza, which they also call the
canchera
, just to be confusing, big enough to serve a party of 5-6 people.