"Stunningly simple in preparation and extremely true to pure flavors, Catalan Cuisine is one of the world's most overlooked culinary treasures. From staples like pa amb tomaquet (bread slathered with fresh tomato and drizzled with olive oil) to the Catalan dish par excellence Botifarra amb Mongetes (Catalan sausage with beans) to the revered wines of the Priorat, your average person doesn't know much about Catalan cuisine at all; indeed some people don't even know there is such a thing."

– from EatCatalunya.com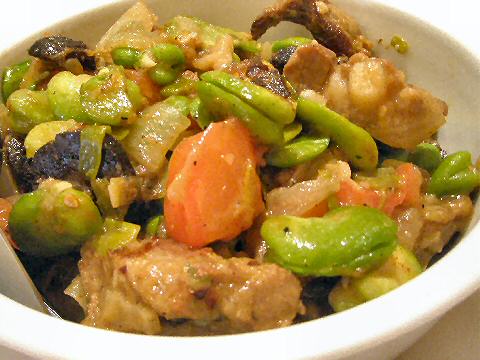 Buenos Aires – It's been on my list for quite some time. There are plenty of Spanish restaurants here in the city, most of them focused on the cuisines of either the Galicia region in the northwest on the border with Portugal, or the Basque region along the northern border with France. But I've been hearing good… no, great… things about Casal de Catalunya, Chacabuco 863 in San Telmo, 4361-0191, and it was time. It wasn't planned as the time – originally a little group of us were going to troop off there, but I was in San Telmo to check out a restaurant offering Mendozan cuisine for an article I'm writing, only to find that it's long closed, and realized that I was only a couple of blocks away. So, I met up with my friend Barbara there for lunch one day last week. The restaurant is housed in the Catalan cultural center, along with a museum, social hall, and various offices. It's a beautiful room, spacious, white tablecloths, clearly a lot of attention to detail went into it. Lots of wine everywhere (no Chianti that I noticed… but there was a large bottle of Brunello on display, strangely, given that it's from Italy as well). Excellent, attentive, and very friendly service.
We started off sharing a basket of very good breads – and we really did eat most of them they were so good, served up with garlic cheese, then a plate of papas bravas, little cubes of fried potatoes that were served with more of the same cheese and some mildly spicy pepper sauce, and then the dish above… one of those moments that make me sit up and notice. This is one of the dishes mentioned in the quote above – Botifarra amb Mongetes – and I would be happy to just go back and have that dish, a glass of wine, and then maybe another dish of the same. It was just dead-on perfect flavors – fava beans, tomato, a black sausage of sorts, and bits of stewed pork, all with a mix of herbs and spices that just sang.
Our main courses were quite good as well, but truly didn't stand a chance after that appetizer. A platter of grilled langostinos, some of the largest I've seen here – plump, juicy, sweet… each skewered, rubbed in spices, and grilled to perfection, and a deep bowl of squid ink risotto topped with tender chipirones, baby squid, that was delicious… if perhaps a too large portion of the risotto itself – easily shareable by two people. We were passed by by a couple of waiters carrying cochinillos, roast suckling pigs, to a table of businessmen having lunch near to us – I wish I'd had the camera at the ready, it was quite the parade – and the men looked very happy – and the suckling pig, so tender that the waiters used the side of a plate to separate it into serving pieces, deftly cutting and then scooping right onto the plate.
We were stuffed, and didn't go on for dessert, but this will be a spot to go back to for a nice evening out with a group of friends. It's a bit on the pricey side – the potatoes, appetizer, two main courses, and two bottles of water running us 80 pesos apiece with tip, but it was worth it.