On the night before his coronation, Sir Hari and his peers dined off the traditional gold plate, while their underlings supped from silver. Next day he rode out at the head of the state procession of elephants. His favorite pony, which trotted after, was decked with a jeweled harness, containing among other gems an emerald valued at $150,000.

– Excerpted from Time magazine, March 8, 1926
Buenos Aires – It is, of course, impossible to separate completely the culture of a region from its politics, and the history of how what is now the northwestern Indian state of Kashmir is a fascinating one. Full of intrigue, blackmail, and all sorts of other good thriller stuff, here's the nutshell version. In 1947, the British helped setup, or impose, a two state region – India and Pakistan. There were, at the time, over 600 individual… principalities for lack of a better term, each ruled by its own local ruler, generally a maharaja, or king. Each was, more or less, given the option to join one state or the other – I imagine certain geographic conditions were imposed – perhaps only those along the proposed border actually had a say in which way they went. Much of this was accomplished in the mid-year and signed off on by early August. In the region then known as Kashmir & Jammu, the Maharaja Hari Singh held out until October, ostensibly wrestling with the decision, given that he and many of those close to him were Hindu and wanted to join India, while the vast majority of the population in his kingdom were Muslim, and wanted to go Pakistani. In the end, in late October, he decided to sign the Instrument of Accession, making the choice for India, and setting up the region for constant border conflict and legal challenges ever since. Luckily, we were able to view the whole situation from afar this weekend, with a trio of dinners celebrating some of the wonderful flavors of Kashmiri cuisine.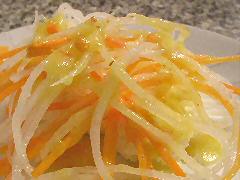 My original plan was to offer up some version of a dish known as Nadroo Yakhni, or lotus root that was simmered and served with paneer. The latter was the important part of the dish, from what I could see as I looked at various recipes and discussions – it's a fresh cheese, made in a process very similar to the ricotta process I detailed not so long ago – the two differences seemed to be simply that the milk was heated to a slightly lower temperature, only 175°F, and then was held at that temperature for ten minutes before adding the vinegar (or lemon juice). Also, salt is added right after the draining process. The lotus root turned out to be problematic. I often see it available in markets in Barrio Chino, so, of course, it wasn't in any of them this week – except one – where it looked rather grey, and there were only a few of them anyway. When I touched one, it crumbled. Not exactly the freshest root around. I decided to use some daikon radish and carrots, and finely julienne them. I also wanted to serve a cold course first, so rather than simmering them in a mix of spices, I served the julienne with the cheese (hidden underneath in the photo), with a dressing based on the flavors – some olive oil (no mustard oil available here), with powdered and dijon mustard, ginger, garlic, turmeric, a bit of smoked masala, and salt, and since no "kashmiri red chilies" were available, some finely chopped rocotos. It made for a nice refreshing salad to start the evening, and the paneer is really quite tasty.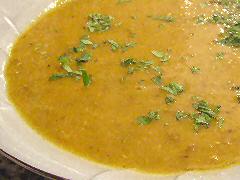 Next up, a dish based on Munga Dal, a traditional simmered dish of mung beans with all sorts of really tasty spices. I went with turning it into a soup rather than leaving it as a dish of the beans as might often be served, accompanied by basmati rice – so I added a bit of extra liquid, and also coarsely pureed it. The process was pretty simple – first off, I used the whey that I got from making the paneer, though just water or vegetable stock would be fine as well – and added about a cup and a half of mung beans to it, after rinsing them. Brought to a boil, and then reduced to a simmer. Meanwhile, I sauteed together: 2 chopped onions, 6 minced garlic cloves, 2 sliced jalapeño chliies, about 2 tablespoons of chopped ginger, 1 teaspoon turmeric, 1 teaspoon curry powder, 2 teaspoons cumin, and 2 teaspoons smoked masala in corn oil until the vegetables were all soft and starting to turn golden. Then I added 4 tomatoes cut in small wedges, and continued to saute until they were soft. By this point, the mung beans were simmering away, I simply put this entire mixture into the pot – note I used no salt up to this point, which would toughen the skins of the beans – stirred it all together, and let it continue to simmer away. When the beans were soft (add more water as needed), I added about 3/4 cup of coconut milk and the juice of two lemons, and then used the hand blender to coarsely puree it all – if you want to go more traditional, don't puree the dal, and don't add too much liquid, just simply add salt to taste, garnish with cilantro and mint (both of which I then did, though as a soup), and serve.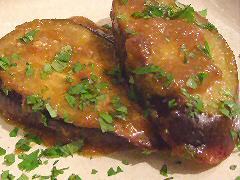 I don't know what it is, but in the last couple of years I've become enamored of eggplant. Not that I didn't like it before, but it was just one of those occasional things, probably more often in babaganoush than anything else. I've been having great fun finding interesting ways to prepare them, and this one is no exception, based on recipes for Chaoq Waagan (various spellings seem to exist). The eggplant is sliced in fairly thick slices – at least ½" thick, and then sauteed in a mix of light oil and clarified butter until lightly browned on both sides. Meanshile, simmer about half a cup of tamarind pulp in some water until soft, and then strain, pressing as much pulp through as possible, discarding the skins left behind. Then, in a blender, put 2 medium onions, 2 teaspoons each of salt, turmeric, smoked chili powder (I used chipotle powder), ginger (powdered), cumin, and, the reserved tamarind water and pulp. Blend until smooth – add more water if need be. Take the sauteed eggplant and put in a large pot (you could just continue in the same saute pan if you like, as one continuous process), and pour the blended mixture over the slices. Add more water if necessary to not quite cover them. Simmer away for about 20-25 minutes, until the slices are soft but not falling apart. Serve, with the cooking sauce, and garnished with cilantro.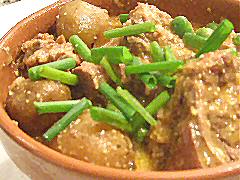 For the main course, I wanted to go with a traditional curry of lamb, Rogan Josh. Most of the versions I saw didn't seem to be particularly spicy curries, and I had no reason to change that around – the preceding two dishes had provided some nice zip for the evening, so this was a nice… cooldown. In a bit pot, dry fry over medium heat: 1 teaspoon ground cloves, 2 teaspoons cumin, 1 teaspoon coriander, ½ teaspoon turmeric, 2 teaspoons sweet paprika, 1 teaspoon cayenne – until there's this really wonderful smelling aromatic vapor coming off the spices. At that point, obviously before they start to burn, add 2 tablespoons of chopped ginger, 2 thinly sliced large red onions, 6 sliced garlic cloves, and a bit of salt. Cook until the onions start to soften, stirring regularly. Note – there's been no oil or butter added at this point. Add cubed lamb – I added enough for a dozen or so servings – it was roughly 5-6 pounds of lamb breast cut in 2″ cubes, with a bit of fat left on. Continue to cook until the lamb is nicely browned and has rendered a bit of its fat. Though traditionally this dish would then have diced potatoes added, I used small Andean potatoes and left them whole with skins on, just a personal affectation I suppose. I continued to cook this mixture, stirring regularly, for about 5 more minutes. Then, I added water to just barely reach the top of the mixture, brought it to a boil, turned the heat down to the lowest flame, covered the pot, and let it simmer for 5-6 hours, until the lamb was literally spoon tender, stirring regularly so nothing burns on the bottom of the pot. During the last half hour before serving, I added a pureed mixture of 1 cup of roasted (unsalted) cashews, 1½ cups each of tomato puree and heavy cream (yogurt seems to be used as often as cream in this dish), and I also added about 2 cups of blanched and shocked peas (frozen will also work). Garnish with fresh herbs – I used chives. This should probably have been served with some basmati rice, but I was trying to not overdo it…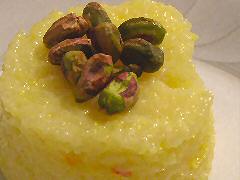 …especially since the upcoming dessert was a rice pudding – saffron rice pudding to be exact. I played around with this to get the consistency I wanted, in the end – about 1½ cups of jasmine rice, lightly stir fried in 3 tablespoons of butter for about 3-4 minutes. Then I added 2 cups of water, and about a dozen crushed threads of saffron, and cooked until the water was just about absorbed, then I added 2 cups of whole milk and continued until that was absorbed, at which time the rice was almost finished cooking. I added 2 cups of sugar and a large pinch of salt, which all immediately melts, and did the same, cooking until the liquid was almost gone. I finished this with a tablespoon of orange flower water (rose flower water is a good option too), and took it off the heat. I let it cool for about five minutes and then stirred in six beaten egg yolks. This yielded enough to fill a dozen buttered ramekins with about ½ cup of the mixture in each. Pack it in firmly, let it cool, and then refrigerate until it's nice and solid. Remove from the ramekins (it's a bit of a pain in the ass to do, but you'll figure it out), and top with roasted pistachios.