"Claims of observations are not falsifiable or verifiable, unless those observations are strictly monitored by sense. Consequently, casual judgements (i.e. casual conclusions following casual observations) of claims of observation settle deeply on mere assumption. You cannot make scientific progress by rebuking unfalsifiable and unverifiable claims, or rather, rebuking claims that you are unable to falsify or verify."

– kmarinas86, participant in a forum on space science
Buenos Aires – Time for another of my little trios of mini-reviews, critiques, or, simply observations at some casual spots that I've popped into of late. All of them interesting in one way or another. And I mean interesting in a good way, as opposed to the blind date cousin someone pawned off on you trying to be polite about describing the next day sort of way.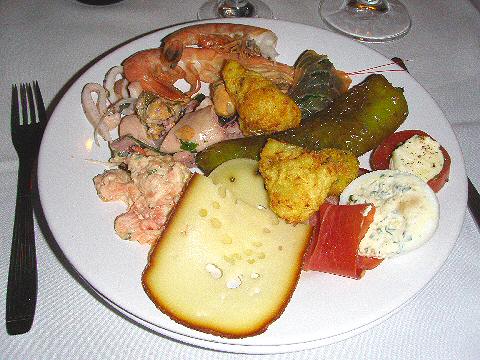 Pinuccio e Figli, Chile 2199, Congreso, 4308-3491 [As of mid-2010, a second location at Honduras 5255, Palermo, 4834-6373 – a bit more sleek and modern, and a different clientele, but the same menu.] – The women: big hair, bleached blond hair, tube tops (one, I swear to god, with a playboy bunny logo on it), bottled tans, mid-calf length jeans painted on, and Stockard Channing right out of Grease translated into Spanish, complete with accent… the men: tight white t-shirts – one with a cigarette pack rolled up in the sleeve, or black or white open collared shirts – open near to the navel, minimum of three gold chains with medallions, multiple rings, slicked back hair, and I kid you not, one guy with a broken nose who actually kept pulling a comb out of his pocket to fix his -do. It was like being on a movie set for a Brooklyn or Long Island Italian production circa 1975. I wish I had pictures. I have to wonder if this is an every night crowd, or did we stumble in after the cast of some show finished up production. But they were all at separate tables. And they were giving us "the eye"…
Customers aside, and another visit will, hopefully, clarify the ambiance, the waiters are all middle aged, mildly gruff, Italianate guys, you know the ones, who toss a couple of menus on the table with the announcement "da menu"… only here with a sort of slurred "la carta" that comes out sort of "l'cart" as they walk away. But then they turn out to be really swell, and when ours comes back he launches into his recommendations and an explanation of the menu – and sends us all to the "antipast-bar" which is stocked up with all sorts of good stuff, really well prepared, lots of seafood, that you load up on a plate you get from another guy at the counter, and then you take it back, he weighs it, covering up the scale display with a paper plate and announcing that if you guess how much you got on your plate, it's free, nah, too low, go ahead, guess again, nah, sorry, you pay… and back to the waiter who says the pastas are too big for one person and we gotta try his favorite the ravioli with green onion cream sauce and his face falls when we order the fussili with carbonara and pappardelle with arrabiata but not to worry, he brings all three and doesn't charge us for his and they're all good, and we gotta drink something only the winelist sucks, except the winelist is just for stiffs, ya' know, walk with me over by the bar, there's shelf after shelf of wine from all over the country, just ask how much, hey we'll make up a price but it's not bad so sure, let's drink a couple of bottles of that. Got it?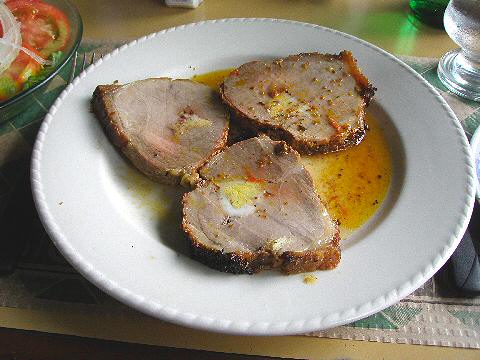 El Nuevo Vencedor, Cuenca & Carranza, Villa del Parque – Robert over at Line of Sight was out wandering in Villa del Parque, where I take my cheesemaking class, and mentioned "eating a perfect peceto relleno", which of course, caught my attention. I had to think, and probably, at least here, I've never even had one, perfect or otherwise – a peceto being an eye of top round… nearly fading into the London broil cut of meat… and relleno – well, stuffed. So, needing to fortify myself before class each week, and always on the lookout for a "perfect" anything, I trooped off to find this spot… only to find out that the peceto relleno had been the special of the previous day. I told the waitress why I was there, she broke into a big smile and said she'd be right back – and sure enough, the kitchen still had a couple of portions left and very shortly I found myself facing a quite good empanada, and a plate with a trio of tender, delicious slices of beef wrapped around hard-boiled egg, and the whole thing clearly roasted after having been rubbed in lots of salt, paprika, and some other spices, making a sort of smoky jus, or perhaps at a spot like this, simply juice, on the plate. A huge salad accompanied, decent bread, a bottle of water, and the whole thing ran me 20 pesos. I can't vouch for the dish's perfection, but I understand the sentiment.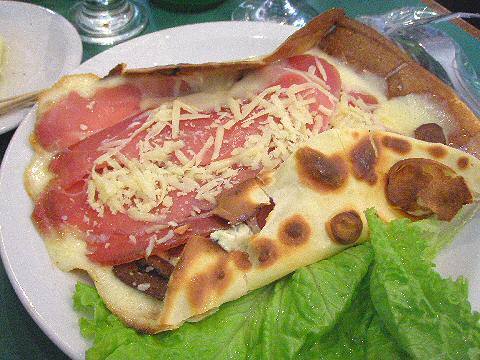 La Farmacia, Av. Directorio 2400, Flores, 4631-3481 – We headed out for a day of wandering, picking a general direction, Flores, and got moving. Turns out the colectivo #101 apparently has more than one route, the one we were on not listed in the usually handy Guia T, and as we got near to our destination, which was to start in Coreatown, I realized we were off and running in another direction. We decided to stick it out a bit and have a little adventure, though as we began to pass things like Parque de la Ciudad, an amusement park open only on the weekends, and the giant Jumbo outlet store, and the neighborhood clearly turning a bit iffy as we headed into Villa Riachuelo, we decided to decamp from the bus when it stopped near a train station. As it turns out, an electric train, almost more of a tramway or trolley – which I had no idea existed, called the Premetro – and we took that back to its terminus after passing through a mix of rundown and charming sort of neighborhoods, and deposited us at the end of the E-line subway, no additional charge, and two stops later we were at our destination. Based on a Guia Oleo writeup and their own website, we'd picked out this spot as intriguing. It's a pretty classic, laid-back, porteño spot, with a menu specializing in superpanqueques, or griddle-cooked crepes, which to my tastes they cook a little too long, getting pretty much crispy, and way too big… even though we only had nibbles for appetizers – their selection includes either a full sort of picada – mixed cheeses, meats, etc., or just picking out individual ones – we just picked out a couple – some mozzarella (aged pizza cheese type unfortunately) in olive oil, cubes of beef in mustard sauce, and a basket of peanuts in the shell. The walls are lined with cases of old pharmacy bottles, the place was at one time an actual pharmacy I gather (Farmacia Santa Elena), as have been the others of same or similar name I've been to – La Farmacia in San Telmo and La Pharmacie in Palermo.