Pinot Noir is about finesse, elegance and clarity. It's one of the few varietals translucent enough to show soil, climate and the winemaker's hand. At its best, it can be the most complex and satisfying elixir you'll ever consume. At its worst it can be thin insipid swill you wouldn't even serve to relatives."

– Mike Lynch, Wine Marketer, in Wine & Spirits magazine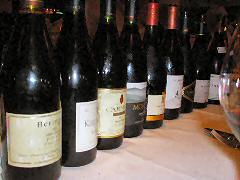 Buenos Aires – It was a face-off last night. Nine diehard wine guys showed up carrying eleven bottles of Pinot Noir. There had been no instructions as to where or when they were to be from, just the grape. The guys ranged from an aficionado who owns one of the largest saddle making businesses in the country to others in the wine or restaurant trades, and, for the most part, though some of us knew some of the others, most of us had never met before. The face-off, which initially looked to be one of one wine versus another, and of course that was part of it, quickly showed to be more of a wine versus critic, as we swirled and sipped our way through one after another of bottles that simply didn't impress. It's telling, that even though we liked a couple of them, only two or three of the bottles were finished to the bottom by the end of the meal…
Marcus Gran Reserva 2003, Rio Negro, Argentina – Generally considered one of the heavyweight contenders from Patagonia, this wine simply showed up as a heavyweight. The nose showed some nice ripe cherry fruit, but the palate was all alcohol and oak with all the charm of a left hook. As one taster asked, "Are we sure this isn't their Malbec?"
Astor 2006, Rio Negro, Argentina – A new kid on the block, decked out in a label destined for export, and as a relatively bargain priced wine, showed well. Nicely perfumed and delicate fruit, well integrated structure, very light, a bit short on the finish, but overall not bad.
Doña Paula Estate 2006, Lujan de Cuyo, Argentina – Past experience with this wine has been hit and miss, depending on vintage, and this one fell to the miss side. It has a core of good ripe red fruit, but that's overshadowed by awfully high acidity and green tannins on the finish. It may just need some time to integrate, but my guess is, it won't.
Carmen Reserva 2005, Valle de Casablanca, Chile – If you're fond of walking by auto graveyards and inhaling the rich smell from that pile of burning tires, this wine is for you. Weedy fruit, burning rubber, high acidity…
Laroche Viña Punto Alto 2005, Valle de Casablanca, Chile – One of the better showings of the evening, with a good dose of ripe raspberry fruit, a bit of smokiness, and plenty of spice. A little short on the finish and a trifle high on the alchohol, but with enough depth to back it up.
Morandé Pionero 2006, Valle de Casablanca, Chile – Rue… not as in "rue the day…", but as in the medicinal herb that Italians love to infuse into grappa in order to take a small amount when they're simply not feeling well. Little fruit, little structure, just really, really herbal and green. Perhaps rue the day isn't so far off…
Montes Oak Aged Limited Edition 2005, Valles de Casablanca y San Antonio, Chile – Another plodding heavyweight, all alcohol, over-oaked, over-extracted, and the finesse of the proverbial bull in a china shop. Could have been any red grape, from anywhere – the quintessential "international red". The sort of wine that would be liked by people who like that sort of wine.
Viña Casas del Bosque Gran Reserva 2005, Valle de Casablanca, Chile – The star of the evening and the only thing that prevented me from tossing in my glass, going to the bar, and ordering a cocktail. Beautifully spicy, ripe red raspberry and cherry fruit, just a touch of smoke, well balanced, integrated, and it simply sang out "I am Pinot Noir, drink me", and we did.
Jacques Parent Monthelie 1999, Burgundy, France – Delicate, lightly perfumed, a trifle understated, some simple red cherry fruit. No question it was Pinot noir, nor that it was a Burgundy, nor even that it was well made. Had we tossed it into the ring as the first wine of the evening, it would have probably been a star, but surrounded by all the overblown stuff, it got a little bewildered and lost.
Beringer Stanly Ranch 1994, Napa Valley, USA – It's clear that this wine once had some "stuffing", and I've tried it in the past when it was quite impressive, but it has faded – not to the point of being completely gone, but definitely past its prime. A bit of lingering black cherry fruit, some cedar notes, but mostly just getting thin, and the flavors marred by an overlay of toffee.
Keller Estate La Cruz Vineyard 2003, Sonoma Coast, USA – Over-extracted, concentrated, a bit too much oak, "jammy" barely begins to describe this wine. Little to identify it as Pinot noir, tasting of fairly sweet plum preserves, a bit of earthiness, fat texture, and a whole lot of unnecessary heft. Perhaps the Atkins Diet would help…
Zombory Pince Tokaji Aszú 6 puttonyos 2003, Tokaj, Hungary – Not a Pinot noir, but a dessert wine brought by one of the attendees to finish the meal. Nicely structured, very sweet, aromas of overripe pineapple and wildflowers, that continue onto the palate, a touch of roasted Brazil nuts to the short finish – the wine needs time to develop and integrate, at only four years of age for a 6 puttonyos Tokaji, drinking this was simply infanticide. Give it a decade to grow up and it'll be a star.