"Light the candles and pour the red wine into your glass. Before you begin to eat, raise your glass in honor of yourself. The company is the best you'll ever have."

– Daniel Halpern, Poet, from How to Eat Alone
Buenos Aires – A group of local wine aficionados contacted me for a little private wine tasting here at Casa SaltShaker. Over the course of the evening, they tasted their way through eight wines "blind", discussing, arguing, making a case for… jotting down notes and points, and eventually voting on, and then having the wines revealed to them – they each brought a bottle, hidden from each other, I bagged them up in numbered sacks, Henry served them and then with the flair of Carol Merrill, stripped them out of their cloaks, from least favorite to best. It was quite the selection – I didn't get involved in the tasting itself, and don't have any notes to provide you, but I can tell you that of the eight, the virtually unanimous favorite was the Trapiche Medalla Real 2004, and the equally least favorite the Finca La Anita unfiltered Syrah 2004. Interestingly, the winner was the least expensive, coming in around 80 pesos, and the loser was the most, at around double that. From just tasting them all in passing as we served them, I'd have to agree on the last place choice – it was one of two of the eight that I simply wouldn't even have wanted to drink, the other being the Bianchi "Stradivarius" Merlot 1999. Surprise on both of those actually, but that's the way things happen sometimes.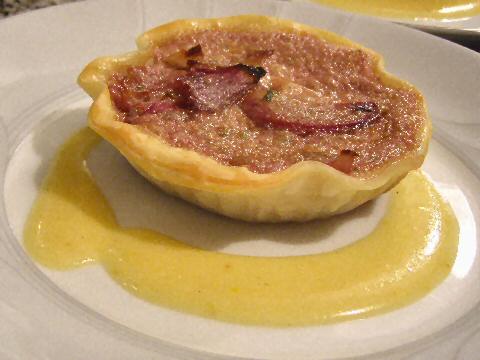 Quite simply, this might be the best little savory tartlet I've ever made. I only hope I can duplicate it in the future – this one I'd put on a menu at a restaurant without hesitation. To start with, it's an onion tart, and it's tough to beat a really good onion tart. Second, it just all came together just as I'd envisioned it. A basic savory pie crust filled with a mix of red and white onions and shallots that have been sauteed in olive oil with salt and white pepper, until they're just lightly caramelized. Then the custard filling, a mix of whole milk and cream, eggs, chives, salt and white pepper, and just a bit of intensely reduced Cabernet sauvignon, enough to give it a faint tang and a pink-purple color. Then baked in the oven until just set but still creamy, and the crust browned. Around it, a loose mayonnaise (i.e.,, not enough oil to make it stiff) made with umeboshi plum vinegar and spiked with a touch of shichimi powder.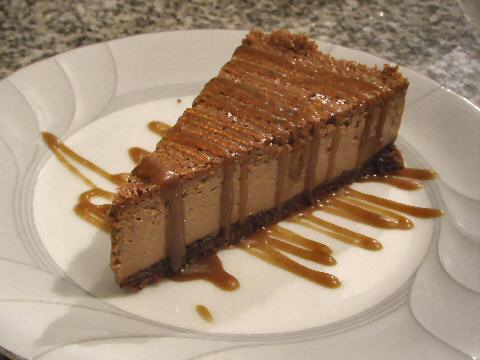 Not that there wasn't more to the dinner than this dessert – we offered up a beautiful fresh green pea soup from just shelled peas, some delightful slightly crocante sweetbreads atop honey spiced yams and fennel, and a different twist on beef rolls "nicoise", with a filling of enoki mushrooms – unfortunately the beef quality was weird – surprisingly chewy – I don't buy that the beef scallops were cut from lomo, or loin – conversation time with the butcher again…
But back to the chocolate cheesecake – made with homemade cream cheese, good bittersweet chocolate, eggs, flour, sugar, and salt, and topped with a simple butterscotch syrup… well, really more of a butterwhiskey syrup, since I used rye whiskey instead of scotch.