"The sacred rights of mankind are not to be rummaged for among old parchments or musty records. They are written, as with a sunbeam, in the whole volume of human nature, by the hand of the divinity itself; and can never be erased."

– Alexander Hamilton, Statesman
Buenos Aires – I have a little place that I've gone to quite a few times and haven't written about. "Why?" they ask, crying out to the heavens. "Why haven't you shared this little gem with us?" It's simple, actually, and has nothing to do with wanting to keep the place hidden away or for my own dining pleasure. It's just been inconsistent… not in quality, which has always been good, but in format. Over the last two and a half years that I've been writing about restaurants here in BsAs, this place is now on, I believe, it's fourth chef. And each time they get a new one, they seem to change the entire concept of what the restaurant is. Overall, it's roughly the same format – a nice, casual, short menu – leaning towards a sort of French and Italian mix – and I understand that any chef wants to put his or her own imprint on a place – but it does make it difficult to know what to expect from one visit to the next. Finally I decided to just talk about it a little in its current incarnation, with the caveat that I simply don't know why they change chefs so often, and that by the time you visit it, or I do for my next stop in, it may be quite different.
[This place has closed as of early 2009 and is slated to be a new restaurant from Martín Baquero, of Almanza, which is now closed.]
The place, La Despensa Bistro, Quintana 210, in Recoleta, 4812-0080. The room is a pretty little dark wood panelled affair, with lots of mirrors and black and white photos, a service bar facing you when you walk in, stocked high with wines and wine glasses, and they do have a decent wine program – not extensive, but not all usual suspects, and usually several different wines by the glass, though that seems to vary with the waiter you talk to. It's not a big place, maybe a dozen tables, and tends to be busiest at lunch, when they offer up some nice specials, and the local business and ladies who lunch pop in for a bite. Still, we've never had trouble getting a table, even though it always seems to be nearly full. Service is casual and friendly. La Despensa means "the pantry", hence the title of this column.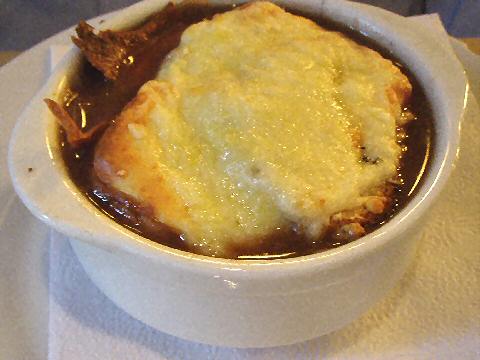 Currently, the menu seems to be focused on French appetizers and Italian…ish pastas. On our last visit we started off with a bowl of very good classic onion soup – the onions deeply caramelized, the stock enriched with a bit of red wine, and a nice thick slab of country bread all gooey with melted cheese wedged firmly atop. For our other appetizer we dug into a warm Camembert salad, interesting but not as successful. Basically a large bowl of greens with a few scattered halves of cherry tomatoes and a honey vinaigrette splashed all about. Atop the greens, four small ovoids of Camembert coated in breadcrumbs and sesame seeds, and then fried up – I'm guessing pan fried just from the texture of the crust – the cheese a fairly bland, low quality version, and what flavor it had completely masked by the sesame and the dressing.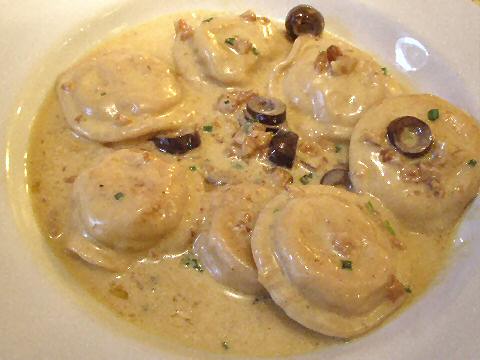 On to the main courses and primarily pastas at the moment. Both interesting and tasty. The first, a Fussilli all'Amatriciana (mislabeled on the menu as alla Matriciana – something that Romans also often do just because of the way they pronounce their vowels – but this is just a quibble on naming – the dish comes from the town of Amatrice, north of Rome), was well made, perhaps a little light on the sauce part of the dish – which traditionally would be a nice hearty mix of tomatoes and guanciale, or cured pig's cheeks, though like many places that make this dish, they substitute pancetta, which gives a subtly different flavor, but unless you taste them side by side, you'd be unlikely to notice. The other dish, an oddity, and I tried it specifically because of that – it was listed as Sorrentinos de Ají de Gallina – an interesting sounding Peruvian Italian fusion combo. The dish was tasty, it was really quite good. It was, however, missing a key ingredient for ají de gallina – which you may remember from various writings I've done about Peruvian cuisine, is chicken and potatoes that are smothered in a rich yellow sauce made from ají amarillo, a creamy cheese, walnuts, bread, and milk – the ají, or chili pepper. I know I should be used to the toning down of spices here, but it's the key ingredient in the sauce. This was a very nice, creamy sauce topped with chopped walnuts and black olives, and I did enjoy it, it just wasn't what the menu offered.
Overall, La Despensa gets good marks, and even with its changes it has always been consistently good, just different. It has gotten a little pricey in comparison to even my last visit maybe six months ago, with appetizers having moved up into the low $20s, and main courses into the high $20s and even up to the high $30s – an easy 25% or more increase. On the other hand, it's probably not out of line with what's happening in other restaurants in the area – the economic inflation is really starting to become noticeable.