"Whether Moldova or Transnistria are nations is a question for 100 or 400 years ago."

– Ryan Lanham, Identity Unknown
Buenos Aires – I knew nothing, truly nothing, about the nation-state of Transnistria, as it is known in English, or the Pridnestrovian Moldavian Republic as others know it. It's a conflict which I've probably seen flash by in a news article at some point in the past, but for whatever reason, it made no impact. A bit of online reading reveals some relevance to "my" history – perhaps not personal, but, for example, Transnistria was where the Romanian concentration camps were setup that hundreds of thousands of Jews were sent to during WWII. And, to some extent, the right of any group of people to exist (or not) as an independent state echoes what has been happening in many parts of the world, time and again. I have no solid opinion on this particular conflict – it's been 17 years since Transnistria declared its independence from Moldova, the declaration not in disupte, simply the recognition of the declaration. This thin strip of land that separates Moldova from Romania operates as if it were an independent nation – with its own government, flag, coat of arms, constitution. The surrounding world just seems to regard this as a childish, albeit dangerous and historically costly, prank that will one day be resolved if they only wait for the Transnistrians to grow up. History, at least from my dim knowledge of the subject, suggests that that isn't likely, and is probably a misguided viewpoint.
The only important question for us here at Casa SaltShaker, of course, in choosing to celebrate Transnistria's declaration of independence at a distance, was "What do they eat for dinner?" The answer seems to be, pretty much whatever the Moldovans eat… and we set off to have ourselves a bit of an Eastern European supper.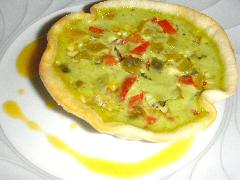 Showing just how far astray one can go… well no, I could have made gels and foams I suppose (notice I haven't been doing that, I think, in general, it was an interesting exercise, but just not my style)… this dish started out as a roasted red pepper stuffed with a mixture of feta cheese, cream cheese, garlic, and walnuts. Which, I must admit, sounds good on its own. But somehow, when I saw an array of different colored peppers at the vegetable stand, it morphed quickly into a mixture of the various types… and then into a way of presenting them that was colorful – a tartlet. It's a basic pastry dough, the same I'd use for making empanadas. The filling, I cut a red pepper, green pepper, yellow pepper, and several ají vinaigre into small dice (the last being pretty much the same thing as what we think of as an Italian frying pepper), and then realized I still had a bag of shishito peppers in the fridge – being too thin to dice, I simply chopped them coarsely. I sauteed all the peppers together in olive oil until they were softened, and then spooned them into the tart shells. For the base, I pureed a mix of cream cheese, herb marinated feta cheese, eggs, garlic, parsley, chives, and pistachios (on hand, and as common in the cuisine, it appears, as walnuts). A scoop of that mixture into each shell, bake until done, and then I just rewarmed them when it was time to serve. The sauce is really there just for color, I had some tamago-no-moto, the Japanese mayo-style sauce that I like to have around, made with orange juice and peel, and which I thought would also combine well with the flavors.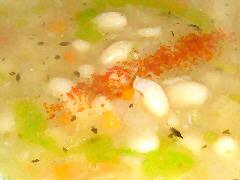 A classic soup of the region, a white bean soup, and really not modified in any great way – a base of carrot, onion, and celery, cooked until soft, add in some oxtail (the classic uses ham hocks, but too hard to find here, and I like oxtail better anyway), some garlic, leeks, thyme, bay leaves, lots of white beans (cold soaked in advance of course), and simmer it all together until the beans are soft. The final season is some red wine vinegar, salt, and black pepper. The additions, for presentation – I used the celery leaves and pureed them with a little oil just to make a colorful drizzle of celery oil atop, and then a bit of sweet paprika sprinkled across it all. It was almost a shame that the weather suddenly turned so warm this weekend – I'd figured on this as one of our last winter soups.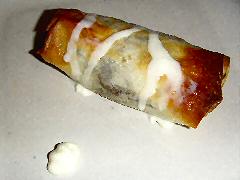 How can you not like a mushroom strudel? Unless you're one of those people like I used to be, who thought mushrooms were slimy denizens of hell, creeping up to attack small children in their sleep. The filling – a mixture of portobello and white mushrooms, sliced, some reconstituted pine mushrooms, chopped, all sauteed down with a good handful of chopped shallots and a red onion. When all the liquid had evaporated, I added back in the liquid from rehydrating the pine mushrooms, plus a good dose of sweet vermouth, and then cooked that down until the mushrooms were a nice golden brown and all the liquid was absorbed. Seasoned with salt, black pepper, and nutmeg. After cooling the mixture, I mixed it with a bit of cornmeal and a couple of eggs for binding, and then filled buttered squares of strudel dough, making little blintzes, more or less. The sauce, some homemade sour cream. If only, if only, it were just like mom used to make… I'd have liked mushrooms growing up.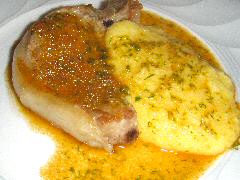 If Rachel Ray were here, she'd be squealling "yummo" or whatever the phrase is that she uses… I know it's something starting with the Y-word. Pork chops – a little salt and pepper, simply pan roasted to medium. On the side, mamaliga, the Transnistrian or Moldovan version of polenta – I'm not entirely clear the difference, it may simply be a different type of cornmeal – and in fact, I rarely see cornmeal here, almost everything is polenta (a coarser grind of the corn), so it was with pleasure when I spotted a display of harina de maíz the other day, because the finer grind gives, to my mind anyway, a much more interesting texture. I brought 7 cups of salted water to a boil, and then slowly whisked in 2 cups of yellow cornmeal. Then I covered it and let it cook over low heat for 10 minutes, stirring occasionally to make sure it didn't stick and burn on the bottom of the pan. To finish it, 10 tablespoons (yes, it seems like a lot) of butter, cut into cubes, and whipped in with a small wooden paddle until the mamaliga got all glossy and smooth and pulled away from the sides of the pan. A little more salt to taste, and dolloped aside the pork chops. The sauce, a traditional accompaniment for many dishes of the repertoire, apparently – and really good – I blended together a cup of concentrated beef stock (reduced by half from its original volume), half a dozen garlic cloves, a handful of parsley leaves and the same of dill fronds, and then, since I didn't have any hot paprika on hand, a mixture of equal parts of sweet paprika, ají rojo, and cayenne pepper, which worked out as a nice substitute. Bring the mixture to a boil, reduce heat and simmer for five minutes, and then add salt to taste. Y-word again.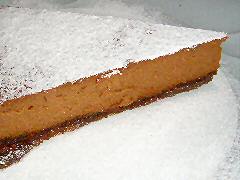 Finally, a chocolate cheesecake. It's really pretty much one of those things that one doesn't need to say much more about. Chocolate Cheesecake. Make that Bittersweet Chocolate Cheesecake. It was really just my standard, and still secret, cheesecake recipe with the addition of some melted bittersweet chocolate and a bit less sugar, and changing the crust to a chocolate crumb crust. Then, just for a bit of decoration, sifting confectioners sugar over the top of it and the plate.
I can only hope that the Transnistrians were enjoying their Independence Day dinners as much as we were…