"The task of keeping food vibrant and interesting, particularly food that belongs to a long tradition, is the challenge of any cook, professional or amateur. For those who have a repertoire of their own, the repetitive aspect of cooking and the demands of our relentless need to eat can easily turn cooking into a dull task. Relying upon recipes, no matter how well advised, can turn cooking into drudgery. Food that is both delicious and interesting is always a reflection of an active response to the raw ingredients – one that often turns on its head information found in recipes."

– Paul Bertolli, Chef & Writer
Buenos Aires – With 190 million people from more than 300 different cultures living on 13,000 disconnected islands, plus a European influence that comes from more the three centuries of Dutch occupation, Indonesia has, to say the least, a varied cuisine. It's also home to many unique herbs and spices, most of which simply aren't available here in Buenos Aires, requiring taking a fair amount of liberty, innovation, and, simply, inspiration, to come up with an Indonesian "style" menu for Casa SaltShaker this week. For offbeat varieties of ginger like laos and kencur, both forms of what we usually call galangal, ginger had to do. Salam leaf there's simply nothing similar to it, nor even the recommended substitute of real curry leaves (which I discovered talking to my Indian friends who opened their restaurant here, the curry plant that grows here, and which I could find the leaves, is completely different from what they know as the curry plant in Southeast Asia). The fish, of course, are different varieties. All in all, I let a fair amount of reading of recipes simply be a guide. I'm also going to start something new with this writeup, focusing more on one particular dish that I think was the most successful, or most interesting. I'll still talk about the other dishes we serve… no worries…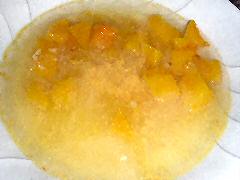 We started off with a yellow squash soup, based on a recipe for Sayur Labu Kuning – visually, I wasn't happy with this dish. The broth ends up a slightly yellowish tinted, slightly cloudy broth, with cubes of yellow squash, and a dollop of orange-ish chili paste in the center that begins to fall apart into little blobs almost immediately. Flavorwise, it was tasty, though somehow just seemed a little… anemic. Maybe because it was a cold night and this seems, in some ways, almost more like a warm weather soup – maybe using more squash and pureeing the whole thing to a thick, creamy soup would have worked better for the season, or at least the visual. The soup itself was fairly simple – sauteeing a finely chopped red jalapeño (no "bird chilies" available anywhere in Barrio Chino this week), onion, and several cloves of garlic, until soft. Add chopped ginger and a little of the local curry leaves – had to try something. Then a fair amount of ground up dried shrimp, cooking until well toasted. Then add cubes of squash, water to top, and cooking until the squash was done. Fish sauce and salt to finish. For serving, a dollop of a fresh chili paste made by blending red chilies, lemongrass, ground dried shrimp (or shrimp paste), shallots, sugar, white pepper, and salt together and letting them sit for a few hours.
Moving on, I wanted to offer something with a peanut based sauce, though a saté didn't seem like a good bet given that we weren't using the grill. Instead, a simple salad of cucumber slices, bean sprouts, and lettuce, the key being the sauce – a thick dressing made from rocoto chilies (just to change up what type of chili I was using), garlic, salt, ginger, and peanut butter, all thinned out with some liquid from simmering tamarind paste in water until well flavored, and providing a nice sharpness – a fairly simple interpretation of a salad called keredok, but I love the way the sauce turns out – in fact my lunch the next day was a big bowl of the salad!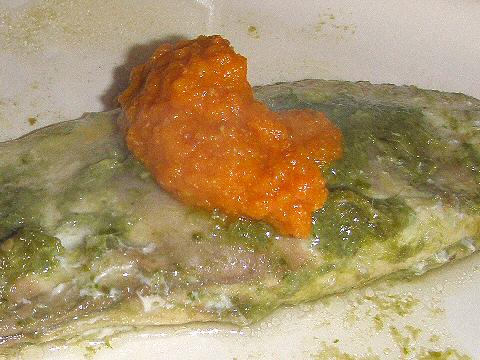 Now the dish that I found most interesting, if nothing else than just for the name of the inspiring recipe, Ikan Kukus Bumbu Cabai. The idea being to wrap the fish up with all sorts of herbs and spices in banana leaves and then steam the packets… a bit more than I'm setup to do here. I split the process (and, of course, had no banana leaves for wrapping, in fact, I don't recall seeing any kind of leaves big enough for wrapping around here…). The fish, a palometa, which in English we'd call a pomfret, I had filleted, and then placed atop squares of foil, splash of olive oil underneath so it doesn't stick, then topped with a mixture of lemongrass, basil, and salt that have been pounded to a paste with some more of the tamarind water mentioned above. By itself that makes a beautifully aromatic and tasty fish, and you could stop there. But I topped it with what would have been the traditional chili paste, or at least some version of it – a pureed and then cooked down until thick mix of tomato, ginger, shallots, garlic, cayenne, pistachios (the traditional calls for candlenuts, cousins to macadamia nuts, which simply have never been heard of here, and I had a bag of pistachios on hand…), and a little sugar and salt. I loved the interplay of the different flavors in this dish, and amazingly enough, they don't overpower the fish, which has a fairly strong flavor to begin with.
Finally, we finished off with two dishes that I've used before in dinners, the main course being a beef rendang, and for dessert, what's becoming a favorite of mine, a banana springroll with turmeric coconut sauce. By the way, I kept the level of spiciness moderate – the chilies are definitely present, and as you could see, I used different kinds for different flavors in each dish, but I didn't want the meal to be one fiery course after another – just enough heat to wake up the tastebuds and remind them that there are interesting flavors out there…
I found a great source of online Indonesian recipes while doing my research, the site also has a good glossary, tips, and general information about the cuisine.