The saying of John Peale Bishop is worth recalling, that the South excelled in two things which the French deem essential to civilization: a code of manners and a native cuisine. Both are apt to suffer when life is regarded as a means to something else. Efficiency and charm are mortal enemies, and Southern charm indubitably derives from a carelessness about the efficient aspects of life."

– Richard M. Weaver, Jr., Professor and Author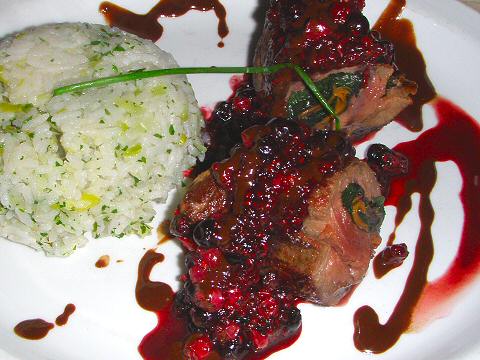 Buenos Aires – You know, given the whole reversal of the magnetic poles and which direction it's warmer, and all that, one would think that here in Argentina we'd be looking for Northern charm, and the Northern hospitality, and talking about the Deep North… but, it seems there's just something about going south that brings all that out, even when south is a frozen glacier… Okay, the glacier's only a small part of Patagonia, which actually encompasses several provinces "down that-a-way". And it's home to not only some charming folk whom I've met over time – though I have to actually get down there and see some of it for myself – but also some cuisine, and the ingredients for that cuisine, that are unique in regard to the rest of the country – particularly in the world of game animals and seafood. The other night found a trio of us, myself and two friends who've just moved here from New York to live (not my influence, if anything, they influenced me, they've been planning this for several years), seated in what could only be described as a charming dining room.
[As of the end of 2009, this place has closed both of its branches.]
The owners of the restaurant, Divina Patagonia, Honduras 5710, Palermo, 4771-6864, have infused an old home with warmth and coziness, despite managing to pack in a dozen plus white painted butcher block style tables. They've left the feel a bit rustic, with rough wood floors, and some exposed brick here and there, along with nice homey touches in the decor. They also have a second spot, which I haven't visited, in San Telmo, where I gather the menu is roughly the same, but, we'll leave that, and it's ambiance, to be discovered on another visit. I love the underground wine cellar with the thick glass trapdoor over it that sits in the center of the dining room, so you walk over a glass pane, looking down at the wine…
Now, a nice colder night is definitely just right for heartier game, and we had that in mind as we perused the menus. But we started out light, sharing two appetizers for the three of us – a platter of deep fried, smoked trout "meatballs" with a dijon mustard dipping sauce, and a phyllo-wrapped round of a regional Patagonian cheese, all melty on the inside, and surrounded by an unnecessary, but quite tasty cream sauce. We also had a nice bread board toppling over with whole wheat rolls and a sort of cornbread… see, there's that southern thing creeping in again… with a surpising, zippy horseradish spread on the side. We popped open a bottle of Bodega Fin del Mundo's Newen Syrah 2005, which was a decent, fruitier sort of Syrah, not quite as hearty or spicy as we might have liked – interestingly, less than half the wine list is devoted to Patagonian wines, and those few that are there are all from, I think, three different producers… there are certainly plenty of other choices available out there, as we've seen at places like Mítico Sur, where the whole, and fairly extensive, wine list is devoted to the wines of the region.
We moved on to our main courses, two of us opting to go all out on the game wagon – a solomillo de jabalí, or loin of wild boar, served up with a raspberry sauce and a thick potato cake, the boar fork tender and a huge portion, and a lomo de ciervo, above, loin of wild venison, cooked medium rare and topped with an interesting bitter chocolate sauce that was studded with frutos del bosque… or forest fruits… what appear to be elderberries and currants. In both cases, the fruit might have been just a touch too present in the sauces… I would have liked for the flavor of the meat to shine through a bit more, but the combinations were really quite good. Our third member of the trio decided on a "lighter" dish, what turned out to be a large bowl filled with herb gnocchi and coated with a creamy wild mushroom sauce. Not so light…
Overall – very good, though very rich… hmm… heavy food (even the seafood dishes on the menu sounded like they'd be pretty rich)… but, of course, we're in mid-winter here, so that's not really a bad thing. It'd be interesting to see what they do with their main ingredients during warmer months. Moderately priced, the food running us about 150 pesos for two appetizers and three entrees, and that taking into account that I think the two game dishes were the most expensive items on the menu. Service was warm and friendly, and fairly efficient… although I noted that food came out fairly slowly from the kitchen, especially given that we were the first folk in, and only two other tables were fillled with another one arriving when we left… but it was relaxing enough that it didn't feel like we really waited.