"And that's the world in a nutshell – an appropriate receptacle."

– Stan Dunn
New York City – My initial impulse, looking back over a week's worth of dining out, is to do a quick overview and point out some high and low points, and move on, returning to Buenos Aires, which is, as I've been informed via several e-mails over the last few days, what people come to SaltShaker looking for… my apologies, though not really – my blog is about food, wine, and life – mine, in general, and I'm not always in BsAs. But still, I'm looking at photos and notes from meals at Felidia, Cookshop, Momofuku, Sakagura, Ten, Porterhouse, Monkey Bar, Banjara, Grand Harmony, and Grill 21 – plus wandering the streets snapping photos, meeting up with friends, seeing a couple of movies… I know that as the next few days pass on my return home, the details are going to begin to fade, and there are going to be other things that clamor for attention. So, I'm going with my initial impulse… which means giving somewhat short shrift to places that probably warrant more… it just means I'm going to have to be pithy and concise… or something in that vein. I'm going to skip two from the list above – Cookshop I've reviewed before, and Grand Harmony is just one of those huge dim sum spots, nothing special, which we only went to because my fave spot is no more.
Now, a couple of thoughts about New York these days… you can't go while you're on a budget. You really can't. Beyond getting to spend time with friends, and staying with a couple of them, and thereby saving on astronomical hotel bills, I budgeted pretty much all my money for dining out, and still aimed, for the most part, for less expensive spots. But I was bored most of the time, honestly. There wasn't anything I wanted to see or do that didn't cost way too much money, like theater or other events, where these days the cheap seats can often be three figures. It doesn't mean one can't figure out a way to do it – and I'm sure I missed out on some opportunities that I could have taken advantage of, but, I simply didn't. Mea culpa. I already mentioned seeing Ratatouille… the other film I saw was the release of the new movie Transformation: The Life and Legacy of Werner Erhard – which was a fascinating look back at one of the most influential people in the late 70s "transformation movement" (yes, I took the est training, and a variety of other things, and even worked for the man at one point, briefly). I thought it was a very fair portrayal, covering both positives and negatives, and it's well worth seeing if you don't know much about that whole time period and movement.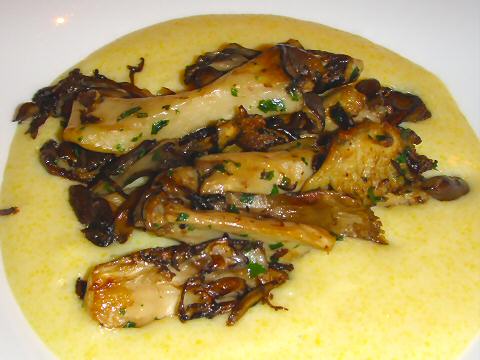 Many moons ago, I worked at
Felidia
restaurant, 243 East 58th Street, in Midtown. It was my second sommelier job, following on the short-lived American Renaissance, and it was easily the most educational experience I've ever had in the wine business. Four and a half years of focusing on the best of the Italian wine world, one of the top Italian wine lists in the world, period, and the chance to meet, and often become friends with, producers from all over Italy. Truly, though, it was the chance to focus in on one particular part of the globe – most of the time in the sommelier world, we end up being generalists. Top that off with truly delicious food. Now, I want to praise an unsung hero of the kitchen. While Lidia Bastianich gets the credit and the accolades, and there's no question she deserves praise, the kitchen is, and has been, run by Fortunato Nicotra, her executive chef, for many, many years. "Dodo" as we all call him (and I once asked, pointing out to him that in English the name has a somewhat negative connotation… his response… "yes, in Italian too…"), not only runs the kitchen brilliantly, and turns out beautifully classic dishes that Lidia is famous for, but has also brought to Felidia an air of creativity, playfulness, and style that he's developed over the years. I met up with a friend and his wife for lunch on my first day back from Ann Arbor (literally dropping my bags at my next living room and running back out the door), and we tucked into what has to be one of the best value lunches in the city, at $29.50 for a three course meal that included "spot-on" papardelle with wild mushrooms, lobster and corn ravioli, grilled scallops in corn puree, polenta with wild mushrooms (personal favorite), crisped salmon over potato cakes, grilled chicken with heirloom tomatoes (I miss those while I'm in BsAs, very little variety in tomatoes available), a peach tiramisu, and palacinche – Friulian crepes.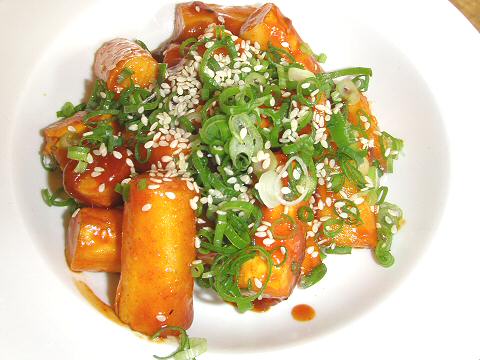 While the NYC food world, especially the local blogs, are carrying on about the the Great Noodle Shop War, I met up with another friend in the wine business for a lunch at
Momofuku
, 163 First Avenue, East Village – the much lauded spot that launched in the East Village a few years ago – and which I haven't been to since the week that it opened. We arrived just prior to opening time, and were therefore pretty much first in the door – other than a young couple that pushed their way past us and raced to seats – I think they'd already ordered before we got our behinds atop our stools, so to speak. Clearly looking for a fast in and fast out, our waiter was trying to take our order for drinks while we were walking from the door to our spot at the long counter, and was back to take our food order at the same time as bringing a bottle of water. I know they're wildly popular (and they did fill quickly, though at no time did anyone wait for a spot), but still, chill a bit, okay? We started out with a brilliantly executed heirloom tomato salad with slivers of shiso leaves, soft tofu, and a light sesame dressing, followed by the winner of the day, the roasted rice cakes in a semi-sweet red chili sauce with roasted onions – earning one of the few "wows" that I had all week. We moved on to a crispy red snapper in bacon, pickled ramps, and summer squash that was delicious, and then one true disappointment, the "bibim gooksu" – very fine noodles, almost like angel hair pasta that were supposed to be in a kimchi and sesame sauce – the kimchi turned out to be more or less bread and butter pickles – rather sweet, the sauce on the noodles even sweeter, and topped with bits of fried chicken that were dried out and stringy. But those rice cakes…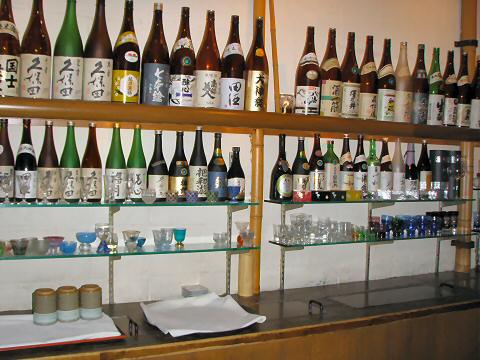 If you're in New York, and you're a sake afficionado, you probably already know that THE place to go is
Sakagura
, 211 East 43rd, right near Grand Central Station. If you don't know that, it's time to. We didn't eat. I met up with a friend who's a sake importer, just for a few drinks, prior to heading out for some sushi. Sakagura does have a good kitchen, and nice sort of tapas style snacks, but not so much on the sushi side. It does, however, offer up more than 400 different sakes (of which we sampled five), in a myriad of styles, and served up by knowledgeable bartenders (plus the "sake sommelier" is virtually always around to chat with should you desire). And it's a cool place to find… hidden away in the basement of the building at that address, requiring a descent via the janitor's stairs and then a walk down a narrow hallway to find yourself in another world of bamboo elegance. People are always asking me if there's really any difference in sakes – the unequivocal answer is yes. We started off with three different "namazakes", nama meaing fresh, a style of sake brewed specifically for drinking young and just bottled: Ichinokura Junmai Nama "Hyakkoi" tasting of slightly underripe cantaloupe with a touch of toasted sesame; Watari Bune Junmai Daiginjo Nama coming in with notes of honeydew, enoki mushrooms, and a hint of something grilled, like shiso peppers; and Katoukichibee Shoutea "Born", an unfiltered and unpasteurized namazake that was rich, with flavors of butter poached shrimp and the spiciness of szechuan peppercorns. We moved on to two very different sakes that the sommelier wanted us to try: Masumi Miyasaka "Yawaraku" Junmai, which tasted like those little wild strawberries with a touch of raw almonds, and Masumi Miyasaka "Yanchai 50 Nama" Ginjo, which showed flavors of canned peaches, and a hint of green-ness, like fresh edamame (soy beans).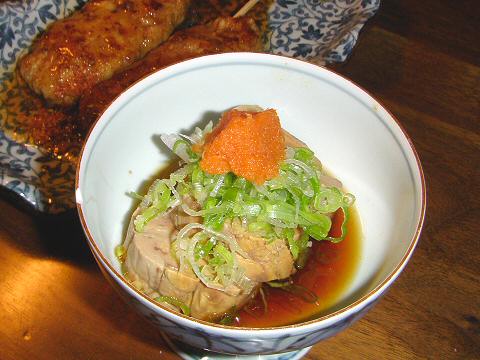 We headed over to
Izakaya Ten
, 207 10th Avenue, in Chelsea, the re-creation of the short-lived and mix-reviewed D'or Ahn (same owners and probably most of the staff). It's an inexpensive neighborhood spot to stop in for sushi. Not the sort of place you go to for a wow, but more the sort you go to for a sushi fix. The food was well prepared and fresh, we started off with a tasty little dish of
ankimo
, a sort of monkfish liver terrine, that is a personal favorite, along with some ground chicken on a stick… there's no other way to say it… that was good if uninteresting. We moved on to an array of sushi and rolls, the former quite good, the latter tending to be brushed with sweeter sauces, in some cases, like the dragon roll (eel and avocado), the sauce was treacly sweet and a bit overwhelming. Not a bad meal, but certainly not one of the better meals I had in New York this last week, and I doubt I'd bother to return, there are simply too many better sushi spots out there.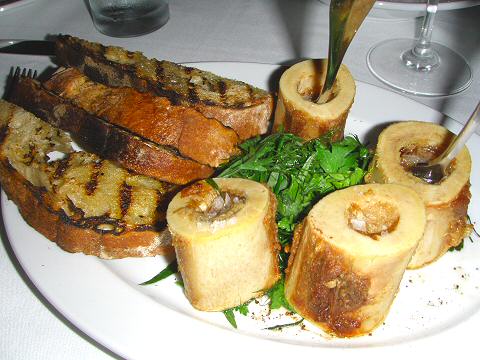 I was literally heading back to the apartment from Ten when a friend of mine buzzed… it was looking like there wasn't going to be time to see him during the week, but he had just finished work and was hungry… I was full, but hey, I'm a professional, right? We headed over to
Porter House
in the Time Warner Center, me figuring on a glass of wine while he ate at the bar. But it was late night, and we know the manager and the chef, so we ended up at a sort of power table in the corner… not that it's much of a power table when the dining room is emptying out fast, but we did discover that we were seated at the table next to Padma Lakshi, the former model/actress who co-hosts
Top Chef
, is currently getting divorced from husband Salman Rushdie, and was borderline giving the older man she was seated with a lap dance, while a quartet of young hangers-on… hung on at the table with them. She was also packing away food at a rapid rate (she's stated on TC that she loves to eat and eat a lot) including diving across the table with her fork to spear things off of others' plates. Enough about her… we ordered up some… umm… light food – a steak tartare that was classic and good, beef marrowbones cooked with parsley and garlic, beautifully flavorful, though perhaps a tad undercooked, the marrow still being a little too firm to spread, and a baked potato, that arrived bearing more of a resemblance to a football than a potato – easily the size of 3 standard baked potatoes. We chatted with David, the manager, and he joined us for some wine – a quite good, if a little less elegant that I remembered, Arcadian Pinot Noir Gary's Vineyard 1993; and the chef, Michael Lomonaco, one of my favorite people in the business (he understands that sometimes… no, most of the time, simplicity is better – you might remember I used one of his recipes recently for the base of a
mushroom terrine
) dish, came over and joined us briefly – turns out he reads this blog on occasion, and somehow had not connected me with it, even though we've known each other casually for years… out of context I guess! We didn't get a chance to try any of the steaks… perhaps next time.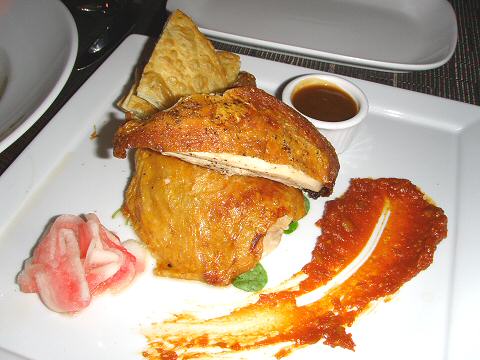 I'm in a quandary about sharing my next experience. I worked for some time at AZ and Pazo when they were open – one of my best restaurant working experiences – with chef Patricia Yeo, who I consider both a friend and a truly talented chef. I loved the food at both places, I've eaten several times at
Sapa
, where she's been for the last few years, and reviewed it very favorably. Recently she took on a second position, re-creating the
Monkey Bar
in the Hotel Elysee, 60 East 54th Street – I arrived in NYC to find that she'd just gotten a truly
atrocious review
from Randall Lane at
Time Out
, who basically said
"More often, though, the dishes were so unsuccessful that I had difficulty finishing them."
… I simply knew he was wrong. So a friend and I popped over one evening to sample through a half dozen dishes… and it pains me to say so, but he was right, though, for different reasons… virtually everything we had was very overcooked – pork springrolls with carrot ketchup were solid as rocks and flavorless, the dish only tasting of the sauce; a softshell crab, quite possibly the smallest one I've ever seen, was burnt, and floating in a pool of very sweet corn and bacon chowder; the moo shu duck inedible, with black, burnt shreds of duck and a sauce with the sugar level and near consistency of taffy; the "BLT" salad – bacon, lobster, and tomato – without seasoning and devoid of the "B" – given that no waiters were in sight at the time, we simply nibbled at it; a sea bass in a sort of crab egg-drop soup that was okay, the fish only slightly overcooked, and the broth at least seasoned well; and a salt and pepper chicken that was tasty, but so overcooked as to be chalky. Had I not sat and chatted for a bit with Patricia before the meal, I honestly would have though that there was no way she could have been in the kitchen, and I'm left wondering… "what happened?" 
[Pat left the place shortly thereafter and headed to Boston, and I've not been back to check this place out again.]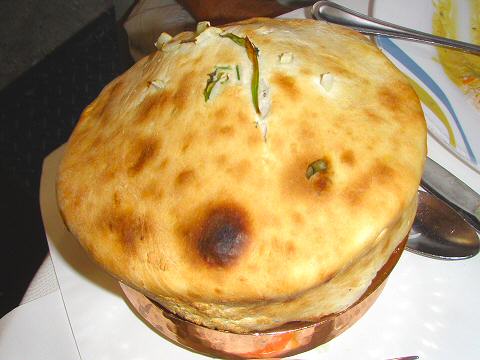 My first experience of Indian food was at Raja Rani, a spot that opened up in Ann Arbor somewhere around 1975… I was taking a class in high school in, of all things, Icelandic Sagas (still one of my fascinations in the world of literature), and the teacher decided that we were going to have a class farewell get-together (what high school teacher does that sort of thing??) at this newly opened spot – introducing us to what, for all I know, was the first Indian restaurant in all of Michigan. It was certainly a completely new experience for most of us, the one Indian girl in my neighborhood whom I'd grown up with never, to the best of my recall, had any of us over for dinner, though she would sometimes tell us of strange, exotic dishes that her mother cooked. Okay, we'd all tried curry – it was, after all, "the thing" in the late 1950s and early 1960s for housewives to whip up for virtually any "gourmet" occasion. I truly started to discover Indian food when I moved to New York, a student with minimal income, and needed to dine out cheaply – East 6th Street was a haven for us at that time, a three course dinner, with a glass of wine, often running only $6-8. The block was packed with one establishment after the other, festooned with glittery ribbons and gew-gaw, and we used to joke that there was only one kitchen, one team of waiters, and they handled all of the dining rooms on the block – the menus were the same, and you were quite sure that you'd seen your waiter only moments before half a block away – it's changed now (and quite recently), the block mixed with Cajun, Ethipoian, and Vietnamese Vegetarian restaurants, clothing shops, and more. Back in late 1993, came
Windows on India
, an elegant, white tablecloth sort of spot, with dishes that ventured far beyond the "norm". The place has changed hands a couple of times, and is now
Banjara
, 97 First Avenue, right on the corner of 6th, and devoted to the cuisine of, the Banjara, a tribal people originally from central eastern India, who are known for their unique mode of dress, songs, dance, and, for the dedicated foodie, their "different" use of spices. The menu features both their own traditional dishes, as well as banjaran interpretations of recipes that are seen in many an other local esablishment. We worked our way through an absolutely delicious and fiery
banjara baingun
– two thick grilled slices of eggplant folded over a filling of mixed seafood and spices and served with a chili sauce;
dhakshin se shuru
– a crepe filled with potato, onion, and nuts and served with both a coriander and a sweet chili sauce; savory coconut
somosas
that worked brilliantly with both the accompanying tamarind sauce and the chili sauce from the
baingun
; a rich, tender, and simply… can I say "divine?" butter chicken, a dish
I've made before
– this version, far more buttery and subtle than mine; both a lamb and chicken version of a
dumpakht
, which I'd describe as an Indian pot-pie… flavored with bay leaf and cinnamon, and different sauces encased in each. The food, simply, utterly delicious.
[Closed]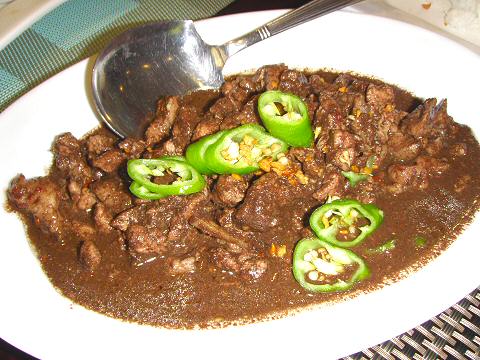 Most of my experience of Filipino food is from the East Village steam table shops, dishing up cheap platters of rice topped with your choice of 2-3 different stew-like dishes ladled side by side onto the same plate. Lots of heavy, deep fried foods, or greasy stews, seemed their
raison d'etre
, and though I enjoyed them on occasion, the food was simply too much to be a regular mainstay of my diet. I don't know if that's classic for Filipino food, but it's what was available. There was one exeption, called, if I recall correctly, Manila, that seemed more the Filipino equivalent of a bar mitzvah hall, was a bit pricey, and didn't really seem to serve anything of better quality. Now, however, there's
Grill 21
, at 346 East 21st Street, a name that doesn't immediately… or ever… evoke the cuisine in which it specializes. It's small, decorated in lots of cheery, brightly colored murals, and it's turning out really excellent versions of the very same dishes that I'm used to finding on the steam lines. A trio of us worked our way through most of (we simply couldn't finish the quantity) platters of
chicharon bulaklak
– deep fried bits of pork intestine and fat with a simple vinegar sauce (spice it up with a bit of fish sauce and chilies that you'll have to ask for – the one odd note at Grill 21 is that the usual array of condiments had to be asked for rather than being provide on the table);
lumpiang shanghai
– mini springrolls of pork and vegetables served up with a nice sweet and sour sauce; my personal favorite,
dinuguan
– easily the best I've ever had – a mix of diced pork, pork liver, and a sauce made from pork blood, topped with spicy chilies (I used to get very odd looks at the East Village spots, being one of the few white boys who would order the stuff);
lechon kawali
, which we really didn't need after the
chicharon
– since it's deep fried cubes of pork belly and fat, served up with a "liver sauce" – still it was tasty; and
ginataang sitaw
– a heavy, thick, creamy plate of string beans, squash, and shrimp cooked in coconut milk. All really good, and all ensuring that you won't want to eat for another 24 hours…