If it looks like a duck, and quacks like a duck, we have at least to consider the possibility that we have a small aquatic bird of the family anatidae on our hands."

– Douglas Adams, British Comic Writer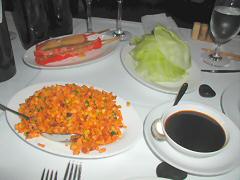 New York City – Here's the thing. It was about the duck. The Peking Duck to be exact. The appetizers were just fine – a delicious, if vibrantly pink-orange chicken satay, and some very nice little lettuce wraps with some sort of chopped meat, vegetables, and a thick, gooey dipping sauce. The place – pretty – white tablecloths, nice glassware, modern Chinese decor, cute sommelier… hmmm… really cute sommelier, if a tad on the young side. Lunch with a good friend from my days in the NYC wine biz to show him some wines from Mendoza that he might be thinking of importing. The place – Philippe, 35 East 60th Street – Philippe Chow, of the long famous Mr. Chow's "re-do" – his relatively new spot serving up modern Chinese cuisine. And it's all about the duck – sure they have other stuff on the menu, but they prominently display, feature, and practically beg you to go for either the 4 or 7 pound duck (the latter presumeably being either some sort of steroid enhance monstrosity, or the serving of two ducks at the same time), for the not bad prices of $48 or $65, serving either two or four people.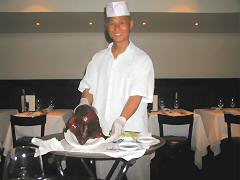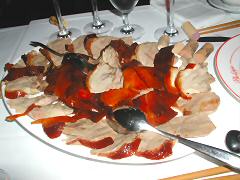 The duck is presented, beautifully lacquered and hot, by one of the smiling cooks – ours nearly lost his composure when the duck slipped from his hands and headed floorwards, but he caught it by a drumstick before it plunged over the side of the cart. He then carved it into perfect slices, laid out beautifully on a plate, and served up with a large steamer basket of delicate pancakes, some plum sauce, and vegetables. It looked like way too much food, but it wasn't more than about ten minutes later before we sighed, sat back, and looked longingly at the empty platter.
What can I say, go there, order Peking Duck, you won't regret it.