"The only thing I learned from his books is that once the word is written it's going to be held against you for the next hundred years, … All along I thought this is not my story about living in Provence; it's a woman coming to terms with changing circumstances against a backdrop that happens to be Provence."

– Norman Taylor, Teacher
New York City – This is an odd and difficult review to write, so you'll have to excuse me if at moments I seem to dissemble a touch. The world of restaurants here in NYC is, at times, a tight knit circle, and six degrees of separation is far and away beyond the level of connection that most folks here have – one to three degrees is probably sufficient to connect virtually every restaurateur, chef, waiter, maitre d', sommelier or busboy to any other in the city. So when Marc and Vicki, the owners of Five Points and Cookshop, announced that they were taking over the long running Provence bistro, and reopening it under the same name, at the same locale, 38 MacDougal Street in the West Village (after all, if you're taking over an existing space, you generally don't move it elsewhere), I thought they were nuts, but at the same time I was excited to have another of their spots to check out on my occasional returns to Manhattan. When they announced their chef would be Lynn McNeely, a longtime friend, creative and excellent talent in the kitchen, and cute as a button to boot, I was, well, thrilled. And so we made a reservation last week, inquiring first if any or all of the above folk would be present, and were assured that all would be. [Closed]
And here is where the problem arrives in my lap. Unbeknownst to the reservationist, conversations going on behind the scenes between the trio heralded the departure of Lynn – terms not announced, but clearly abrupt in midday. When we arrived at our 8:00 time we were simply advised that he'd left early for the day. Marc and Vicki arrived a bit later to dine with one of their sons, and we chatted a bit, including about Lynn, but nothing was mentioned – clearly awaiting some sort of official moment for it all to be made public – I understand. But, here's where things get off-track… I'm about to review a dinner that was from a menu created by, if not supervised in and of the moment by, a chef who's no longer the chef at the restaurant, and I have no idea what plans the owners now have for the menu. I'm guessing that the dishes were come up somewhat in concert, Marc being the overall executive chef of all three restaurants as well as owner, but his style is quite different from Lynn's, so it's like that there will be some noticeable changes.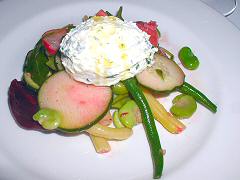 So, on to the food, and hopefully somewhat representative of what one will still be able to find at Provence. We started off with a trio of appetizers, as we simply couldn't narrow our choices down to two. Signature Lynn – a vine bean salad topped with an herbed and perfectly seasoned unctious and spreadable cheese showcased the freshest of the bean world that are in season at this moment. Very lightly dressed, it was the essence of summer. Tender squid stuffed with spicy chorizo sausage was a complete counterpoint – with fiery flavors that still somehow managed not to overpower the freshness of the shellfish – a deft balancing act. The cutest little way of serving brandade I've ever seen – the delicate cod and potato puree spread out in a blistering hot cast iron skillet, keeping it warm and crisping up the bottom as it went – lacking a touch of seasoning – a bit more garlic, a bit more salt, and it would have been on par with the first two dishes. Darn close for a three out of three.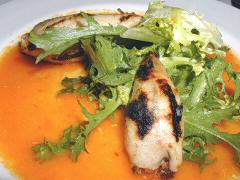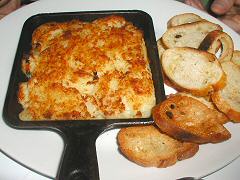 On to the main courses, which to my mind were significantly less successful than the appetizers. It's a phenomenon I've noted in many a NYC restaurant, that often, more attention and more care goes into the first impression than the second – a shame if someone were to not order a starter… I had the grilled sea scallops – in and of themselves perfectly fresh, perfectly cooked, divine if one wanted to pick a superlative. They were, however, accompanied by a pristinely fresh, ripe, yellow tomato puree – so ripe that it was as sweet or sweeter than the scallops themselves – there was simply no contrast, only an amplificiation, and, I just wasn't yet ready for dessert – so I ate the scallops
sans
sauce, which probably defeated the planned purpose, but at least cut back on the sugar shock. The roast chicken fared better, accompanied by a fascinating melange of vegetables, including giant caperberries (which I picked off of John's plate, since he's not a fan). The chicken was heavily marinated in rosemary – a bit too heavily for my tastes, though he enjoyed it thoroughly, and there's no question that the chicken was moist, tender, and roasted to perfection.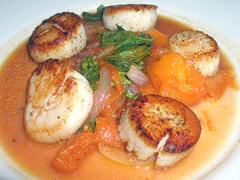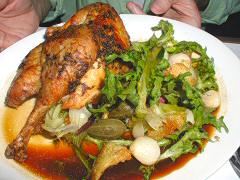 On to dessert – I truly at that point felt like I'd already had one, not to belabor the point to much – and opted for a cheese – the maitre d' insisting that instead of a single cheese I try all four that were being offered. Two out of four cheeses were quite good, the other two, bluntly, were just iffy – I chose one as an absolute no and the other as an okay, John felt the reverse about them. They were served up with a little compote of fruits and nuts, and a couple of simmered prunes. We ate two of the cheeses and left the remains of the other two. He ordered up a classic Peach Melba, which was exactly what it should be – peaches, raspberry, and lots of whipped cream – well executed, but nothing particularly creative.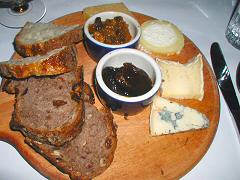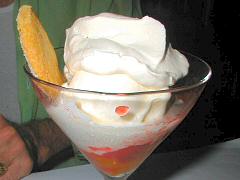 Overall, good. I much prefer Five Points and Cookshop in all honesty – much more "American" in style – and, of course, we don't know what the future now holds for Provence. It remains to be seen where the place goes… As a note in the "full disclosure" realm, the restaurant picked up the tab for our wine – an excellent Cassis rosé, desserts, and a couple of after-dinner drinks – a welcome surprise.