"On July 14, 1789, an outraged group of Parisians stormed the Bastille, a fortress and prison in France where prisoners of influence were held, in hopes of capturing ammunition…. For the peasant class, the Bastille stood as a symbol of the hypocrisy and corruption of the aristocratic government – controlled mostly by nobility and clergy. This important event marked the entry of the popular class into the French Revolution. The French recognize Bastille Day as the end of the monarchy and beginning of the modern republic. The lasting significance of the event was in its recognition that power could be held by ordinary citizens, not in the King or in God."
Buenos Aires – Bastille Day is always a great day to trot out the classics of French home or country style cooking – the symbols of the "common" folk, and in truth, once you get past all the frou-frou, probably the best of what French food really has to offer. It's in those dishes that the soul of French cooking lives.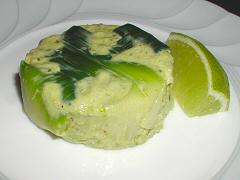 We started off our Casa SaltShaker Bastille Day celebration with a simple leek and trout mousse. It sounds like the sort of thing that's difficult to make, and it certainly has a moment or two where you could get all fancy on yourself – but I decided to keep it much closer to its basic elements. One simple thing that could pretty the dish up, though I like it this way, all green contrasts on the plate, would be to line the ramekins not ony with the strips of crossed leeks, but also strips of smoked trout… a little pinkish orange thrown into the mix. Obviously, the dish starts with leeks – trim off the green tops, I set them aside to use later in a sauce for another dish – cut off the root ends, and peel off a decent number of whole leek "leaves" – you'll need two per mousse serving. Blanch those in boiing salted water and then shock under cold water to set the color. Line ramekins or other molds with the leeks in a cross pattern. For the rest, coarsely chop the leeks (after cleaning of course) and saute them in a little bit of olive oil until soft. Toss them in a blender with a cup and a half of sour cream (I was using about a dozen small leeks), a couple of slices of smoked trout, a handful of parsley leaves, and the zest of a lime. Blend thoroughly and season with salt and white pepper. In a small cup dissolve a teaspoon of gelatin powder in cold water and then simply warm in the microwave for 20 seconds to activate it, stir thoroughly, and blend into the mousse mix. Now, I was going for a soft mousse – if you want something firmer, add more gelatin. Beat two egg whites until very stiff and combine with the mousse mixture – not in the blender, pour the mix into the egg whites and fold together with a spatula, gently. Adjust seasoning again, pour into the lined molds, and chill in the refrigerator for 2-3 hours. When ready to serve, simply run a palette knife around the edge and flip onto a plate. Garnish with a wedge of lime. Voila!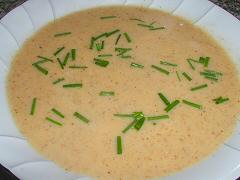 This was a simple one – I love panade, the French bread and onion soup, and I've made it before – or at least a version of it – for our English Renaissance feast way back. The only difference here, I stuck with the more traditional cow's milk rather than the almond milk I did for the old Brits. It's truly one of those soups that would be near impossible to improve upon – or perhaps not, but why would anyone want to? On one of the two nights we had a guest with a wheat allergy, so I toasted and then simmered up some quinoa in a small pot, and then treated it from that point on the same way as the bread version. It worked! It didn't have quite the richness of flavor that the sauteed bread does, but that's something that could probably be worked on – maybe cooking the quinoa first, then sauteeing it, and then soaking it in milk, just like the bread… something to think about for a future version, I know Henry wants us to do an "all quinoa" dinner one night – or at least an "all Andean grains" dinner…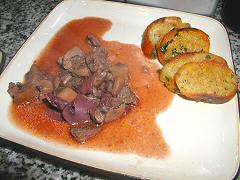 I decided to take a chance – after all, we're talking French bourgeois cooking, no? A bit of offal in the offing – and I went with classic kidneys in a bordelaise sauce. The sauce is made by simmering red wine with leek tops (I told you I used them), parsley, thyme, a bay leaf, and black peppercorns until it's nicely aromatized and has reduced in volume by about half. Separately, dissolve a spoonful of tomato paste and some flour in white wine (on the night with our wheat allergic friend I used cornstarch instead, it works just as well, if coming up with a slightly different glossiness to the sauce). Saute some sliced button mushrooms in butter. Strain the red wine mixture into the mushroom pan, bring back to a boil, add the white wine mixture and cook until it just slightly thickens. Now, of course, meanwhile, you've cleaned and diced the kidneys, and "rinsed" them by pouring boiling water with a little red wine vinegar in it over them, letting them soak for five minutes and then straining – it helps remove the brunt of the ammonia smell that kidneys often have (I was using beef kidneys). Then saute them in a little butter and olive oil. When cooked, strain off some of the liquid, and add the sauce mixture to them, tossing to combine. Serve with small slices of bread that have been fried in butter, garlic, and parsley.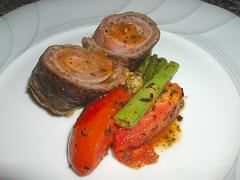 This dish has a bunch of preparation steps to it, but in the end is pretty simple to make. Clean, blanch, and shock fresh green beans. Cut tomatoes into wedges. Make a duxelles – finely chop a whole bunch of shallots and mushrooms and saute them down to a paste, season with salt and pepper, let cool. Take veal scallops, pounded thin, spread a layer of the duxelles on them and top with a slice of cooked ham. Roll them up. Brown them on top and bottom and throw in the oven to cook – I like them medium, so I don't leave them in too long. While they're in the oven, heat olive oil and butter over high heat, add fines herbes – tarragon, parsley, thyme (and normally chervil, but it's really hard to find here) – add the tomatoes and saute until softened, add the beans, and continue cooking until they're heated through – finish with a dollop or two of good dijon mustard, salt, and pepper to taste. Cut the rolls for a nice presentation and spoon the vegetables and sauce around and atop.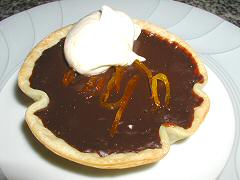 You can simply thank Joel Robuchon for this tart. Not that he made them in my kitchen, though that would have been great fun… for me anyway… but it's simply his recipe. A basic tart dough crust. The filling is a mix of cream and milk that have been brought to nearly a boil then poured over bittersweet chocolate and turned into a smooth ganache, left to cool, then a couple of eggs are folded in, it's poured in the shells, baked in the oven, and topped with some caramelized citrus peel – oranges in this case, though lemons are a nice touch too. I also whipped up one rice flour pastry crust – something I've never made before, and pulled the recipe off the internet – it worked well, and our non-wheat eater said it came out delicious. Of course, an old tennis shoe filled with bittersweet chocolate ganache would be delicious…
And that was our Bastille Day celebration!