It's interesting how this whole thread revolves around fusion with Asian elements only. In Spain we have perhaps the earliest pioneer of fusion cuisine in Europe, Abraham Garcí­a of Viridiana (he's been doing it for more than 20 years, much earlier than the actual appearance of the word 'fusion' to define the movement). Perhaps because of his influence, Spanish fusion tends to be widely encompassing – its main elements being Spanish, Italian, French, Chinese, Japanese, Thai, Moroccan, Turkish, Mexican and Peruvian, with a Scandinavian dollop here and there. It doesn't always work, but when it clicks it gives a glimpse of the future (as is the case with fusion everywhere, of course). It seems to me that, outside Spain, fusion cooking isn't making a great splash in continental Europe – but I may be wrong, of course."

– Victor de la Serna, El Mundo del Vino, on eGullet
Buenos Aires – It's not like no one has ever cooked Spanish-Japanese fusion food before, in fact it's probably relatively common in the world of multi-ethnic mixing. So I wasn't exactly on thin ice by proposing a menu that combined elements from Navarra, Spain – Friday being the start of the San Fermín festival, the annual bull versus drunk idiot race – and Japan – the annual Tanabata star festival, officially starting on Saturday, at least based on the Gregorian calendar. Two dozen eager campers arrived between the two nights, looking for an unusual and interesting experience, and, I think we managed to provide just that.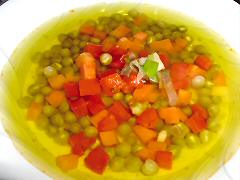 Kicking things off, I wanted to go for something like a miso or dashi based soup. In a bit of surfing about the net I spotted a note from reviewer William Grimes about a dish at a restaurant called Aleutia (that I'm pretty sure is no longer in business) offering lobster in a saffron dashi. The lobster being out of the question here (occasionally available, imported and frozen, at 400 pesos a kilo, or about $60 a pound), but I liked the idea of a saffron dashi – and it's really simple to make – dashi being a broth made from dried bonito shavings and kombu seaweed, and then a simple addition of some powdered saffron to the mix and a bit of salt to perk it up. I thought about doing it with a whole paella thing going on – vegetables, some shellfish, and maybe even trying out that puffed saffron rice that we did in class – and I may do something like that in the future after working on the rice a bit – but we were having two other seafood dishes on the menu, so I went with a simple vegetable "garnish" of fresh peas, carrots, peppers, and green onion, something like what might be found in a paella. This might be a better soup for a warmer day – it was very tasty, but in retrospect, I think it was probably too light for a cold winter evening meal.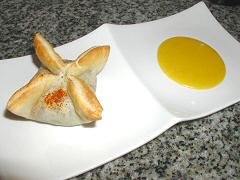 I wanted to do something with bacalao, or salt-cod, but it's also prohibitively expensive here, and sold in whole sides of fish – I only needed a little – so I went with fresh cod instead. I was thinking along the lines of a cod fritter of some sort, with a nice Japanese dipping sauce – my favorite miso mayonnaise tamago-no-moto popped immediately to mind. But I'm not a big deep-fried food kind of person – on occasion yes, perhaps sitting by the seashore with a cold beer in my hand – the rest of the time, not so much. And while potatoes are a classic accompaniment in cod mixtures, since we were, as you'll see, about to do a bit of potato on the next course, I decided that a touch of sweetness from batatas, the local yams, was the way to go. The filling – yams cooked with lots of garlic, add in the cod and a good amount of chopped parsley, salt, and shichimi powder to give it a little kick and add an additional Japanese touch. Encased in empanada dough, just made into a different form, and served up with the sauce – 3 egg yolks, juice and peel of a lemon, a ¼ cup of white miso, and about a cup of olive oil. Seasoned with salt and white pepper. Great combination!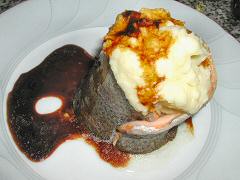 This was prettier in person, or in fish, than in the photo. Such is life – I tried a couple of shots and none of them really showed off the reflections of the salmon skin, and the, if I may use a Rachel Ray-ism, yumminess of the dish. The fish – simply deboned, lightly salted, and then coiled up with the skin on the outside, and put in the convection oven with the broiler on until just cooked. Topped with a heaping scoop of mashed potatoes with plenty of butter and cream, and a nice dose of wasabi powder, and salt. Then a simple ponzu sauce – juice of one orange and one lemon, a splash of white wine vinegar, soy sauce, bonito flakes, and salt to balance – warm it up and drizzle it over the dish – or just over the potatoes… we got lots of compliments on this one!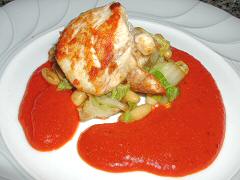 An entry on the Zagat's Survey for a restaurant called Joe's, in Venice, California, listed Crispy Chicken, Purple Yams, Baby Bok Choy Truffle Soy Brown Butter, Miso Piquillo Puree as a menu item – $27. Kudos to Joe's for suggesting the idea that became this dish, even if I have no idea how they, in particular do it – the idea sounded delicious. The chicken – white breast meat coated in cornstarch and salt and then sauteed in a mix of olive oil and butter until it had a nice browned and lightly crispy coating. Sitting atop a saute of akusay, or Chinese cabbage, Japanese cabbage, Napa cabbage – you pick – with pochas, the small white beans from Navarra, cooked down in brown butter and finished with a splash of soy – I may never make cabbage and beans in any other way again, I could just eat a bowl of that it's so good. Surround it with a simple puree of piquillo peppers, white miso, a splash of honey, and salt to balance. Henry asserts it's the best chicken dish I've ever made. I'm not sure I'd agree, but it was pretty darned delicious.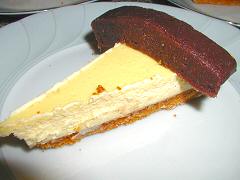 Last year for San Fermín I made a manchego cheese based cheesecake with marmalade topping. I really liked the cheesecake itself, though I couldn't find any manchego when I went out looking, so I decided on a lightly salty goat's milk cheese as a substitute, and it worked out really well – I do have a thing for a touch of salt in my desserts… I paired it up with a red bean paste – I realize that the Japanese have other desserts, but this one's kind of ubiquitous, and it gave me a chance to play with making the stuff – which turns out to be pretty easy – rinse and then cook up some adzuki beans until they're soft (you can soak them overnight first, but truthfully, they cook so fast anyway it's kind of irrelevant). Then drain them, return them to the pot, and add ¾ the quantity of white sugar as the original volume of beans (e.g., in this case, 2 cups of uncooked beans, 1.5 cups of sugar), and cook them over low heat, stirring regularly to it doesn't burn, for about 30-40 minutes – until it gets to a very thick paste consistency. Add a bit of salt, just under a teaspoon in this case, mix well, and leave to cool. After it was room temperature, I spread it out to about a ¾" thickness between layers of plastic wrap, and put it in the refrigerator to firm up a bit – it'll still be soft and paste-like – if you want that more yokan texture that's sort of a slightly rubbery feel, you have to add agar-agar or gelatin. Have to work on the presentation, but the combination of flavors was great.