"Why worry about minor little details like clean air, clean water, safe ports and the safety net when Jesus is going to give the world an "Extreme Makeover: Planet Edition" right after he finishes putting Satan in his place once and for all?"

– Adrianna Huffington, Editor in Chief, The Huffington Post
Buenos Aires – Casa SaltShaker had some things that inspired it. The first, and the major background, were the series of dinners that I'd been doing at my home in New York, once a month, for groups of friends and colleagues, called the Second Sunday Supper Circle. It was pretty much the same idea, it was just limited to six of us including myself, was usually a six course tasting menu, I didn't tell people the themes and menus in advance – but then again, they weren't paying to attend – and it generally cost me a fortune each month, but I wasn't really watching the costs. The second thing was, that I'd thought about starting to do them again here, and even done a couple of trial runs at it, with people telling me things like "you really ought to open a restaurant" in response… but part of why I left my life in New York was to get out of the hellish number of hours that working in a restaurant there involves. The third was more of the catalyst factor – I had heard rumors of this private, in-home restaurant, serving, of all things in Buenos Aires' meat-centric culture – raw food vegan dinners. I went, enjoyed, wrote about it, and it started me thinking… "I could do that" – not, of course, referring to raw food vegan, which I suppose I could do should I have had or ever have the desire, but the in-home dinners. So, thanks Diego and Lola for getting me started here…
Which leads me to where Diego and Lola are today. I don't know that they had it in mind when they started their offerings, but at some point, it lead to the idea of opening a "real" restaurant and offering up the same sort of food. And, they plunged in, went ahead and did it. The new verdellama is open, at Jorge Newberry 3623, 4554-7467, in Colegiales. The space is reminiscent of a Lower East Side coffee shop, or hangout sort of space – a few low couches and tables, newspapers and magazines scattered about, tables randomly placed around the room – a whole lot of empty space – in truth, though I think they have more physical space than they did in their home, I'm not sure they have a whole lot more seats – in their home it seemed like about 20 or so, spread between several tables, here it seems like maybe 30. We popped in for lunch one day last week – one person was eating lunch at one of the low tables while busily working away on his laptop, another was sitting in a corner wolfing down a plate heaping with greens and grains. Lola and a couple of others were behind a counter in an open kitchen busily preparing plates, Diego wandered in part way through lunch with some purchases that he'd made and then sat down at the low table with a trio of folks who'd come in and seemed to be intensely scrutinizing spreadsheets and other paperwork – accountants, investors, publicists? They didn't look like happy campers and there seemed to be a lot of intense discussion going on.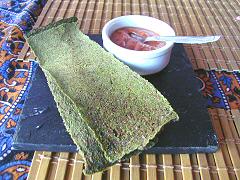 Now, remember, there were only two other people in the room, and both of them were already eating. We ordered a couple of drinks, appetizers, sandwiches – yes, they're not all totally raw food any more – they have sandwiches, on bread, which has clearly been baked. About ten minutes later our waitress returned to tell us that one of our appetizers was not available, and likewise one of our drinks. Another ten went by before we saw the drinks we settled on. Another ten before we saw these flax seed crackers with a tomato dip, and another ten before the one appetizer we'd decided to just share showed up – 40 minutes after ordering, and no one else in the place to make anything for – we were actually at the point where we'd decided to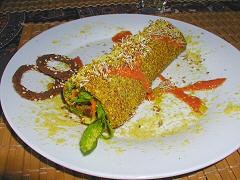 ask for the check and leave without eating. Now, I'd like to say that the rolled up sort of flax seed crepe around vegetables was enough to make up for the time, and it was quite tasty – better I think than anything I'd tried the first time at verdellama back in their home – but nothing about it suggested that much work and time on their part (assuming, of course, that they had their ingredients prepped in advance, perhaps not), or need for patience on ours. Especially when followed up by one of our sandwiches (which were virtually identical – only changing one main ingredient, a tofu version and a walnut pate version) arriving shortly after the appetizers and the other not arriving for another 15 minutes. The sandwiches were quite good – lots of fresh vegetables, and served with a gingery vinaigrette to drizzle on them.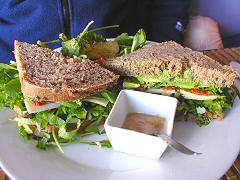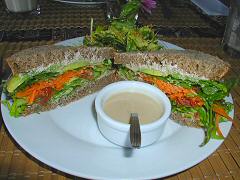 Now, it was just one visit, and maybe we caught them on a day where their timing was off, I don't know. The food was good, and if you're in the neighborhood and in the mood for a good veggie fix, probably a good option. But it's a hike to get there, and if the kitchen, while turning out good product, is this off on timing with only two people to make food for, I'd be concerned about how they handle things when they're full. They certainly did a far better job of preparation and service when it was just two of them, without assistants, and without waiters, in their own home, for ten times the number of people… and that's something to think about… maybe that's what all the spreadsheets and paperwork were about?