"The virtue of authenticity is that it doesn't change in the course of time."

– Eric Hauser, public relations
Buenos Aires – I've been meaning to check out the little Brazilian spot off the corner of Plaza Palermo Viejo for some time now. Our recent dinner featuring dishes inspired by Brazilian seafood recipes brought it to mind again – and off we went for lunch last week. Me leva Brasil, Costa Rica 4488, 4832-4290, is a charming little spot, with a few tables outside in nice weather, and a sort of thrown together homey ambiance inside. While friendly, the staff are remarkably inattentive, enough so that a gentleman who appeared to be the owner, more than once went to the bar where the waiter was hanging out and told him to take care of something on one table or another that he'd simply not paid any attention to – like taking an order, clearing plates… The menu is a relatively short affair, listing maybe half a dozen appetizers, a dozen main courses, and a few scattered items of local fare, like hamburgers or sandwiches. The bulk, however, is Brazilian food – mostly, I gather, from the Bahia area. It's also in Portuguese, with passable translations into Spanish in small print below each item.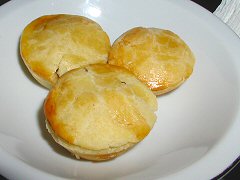 We started off with a plate of empanadinhas, or, I gather, after the fact, "small" empanadas – which they were… we selected the shrimp ones, the other offering being cheese – they're more like a mini pie with a top crust – in this case filled with a little stew-like mixture that included small bits of shrimp. I must say, that while tasty, they were a little lacking in both inner substance as well as size… especially for eight pesos… when the three of them probably added up to the size of a typical Argentine empanada that would cost only around two. They definitely could have used more shrimp… and more… well, everything. Served up with a nice bottled hot sauce on the side, which I did enjoy.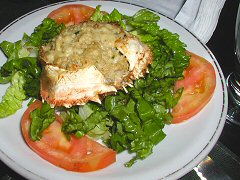 You may or may not remember (or have just looked at) my reinterpretation, sort of inside out, of the Casquinha de Siri, or as monikered at this spot, Caixinha de Siri. This, I'm sure, is far more authentic – on the other hand, one might note that the entire crab shell is about the same size as one of the tomato slices. Once again tasty, but once again disappointing in terms of quantity. I know crab is expensive here, but for twelve pesos this was really skimpy. Also, honestly, it was packed with more breadcrumbs than anything else, and took over half an hour to arrive (the empanadinhas arrived within a few minutes of our ordering). I'll stick with my version, thank you very much.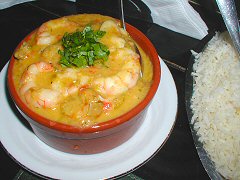 This was the dish I was most interested in tasting, a Vatapá. It's the one I based the risotto on, and that our Brazilian guests told me "captured the flavors really well" – so I was truly curious – especially as it's a dish I'd never actually tried before making it. Now, assuming that Me leva Brasil makes it relatively authentically, and it does look the way the dish was described in several of the recipes I looked at, it's more of a stew of shrimp and fish – plenty of each in this case – I'll give them that the main courses, in quantity, definitely outdo the appetizers. It seems, and I'm basing it on this one version, that the base is all pretty much the stuff that I used – and the flavor was quite similar, though I think they used more of the dende oil than I did – the flavor was much stronger, and so was the intensity of the color – along with the fish, which seems to be cooked down almost to a paste. Then the shrimp are tossed in with this – I'd guess, like I did, that they were cooked separately and then added at last minute. Really quite good, and although I loved my risotto version, this traditional stew is one I'd order again without question.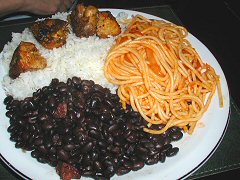 Okay, it's fried chicken. It's not fried chicken the way you or I probably think of fried chicken (given the majority of my readers), but it's what it is. It's not fried in a crust, it's marinated and then fried until the chicken itself is a bit on the crispy end of things on the outside, and sort of tender and falling apart inside – it might be that they're deep frying it, just without a breading. There wasn't a huge amount of the chicken, but sufficient, and it was served with a mountain of carbs, as you can see – rice, spaghetti, and really good black beans. Make that excellent black beans. I'd order just a plate of the rice and beans as a side to anything else I try there in the future.
So, overall, generally good ratings on the food and ambiance, a bit iffy on the service, and, given the style of the place, a bit on the pricey side – lunch running us nearly 80 pesos. Still, it's one of the few Brazilian spots in town when you're in the mood for something different.