Culture is a window reflecting the history, culture and spiritual world of a nation. Cultural exchange is a bridge to enhance the mutual understanding and friendship between the people of different nations."

– Hu Jintao, President, People's Repulbic of China
Buenos Aires – I admit it, I didn't participate in any exchange student programs during any part of my school life. Not something I regret, but something I wish I'd taken the opportunity to do. I've always loved travel and exploring new cultures. On the other hand, I did go on the first high school student trip to the Soviet Union after Nixon negotiated a cultural bridge between our countries, so I guess that's something! Which is a round-a-bout way of getting to last week and a group of students studying for a month at the University of Palermo for just that purpose – a bit of Spanish, a bit of Argentine culture, a bit of fun. Most of them are from the University of New Mexico, though the young lady who arranged for dinner was from Texas A&M… and her only instructions were that they wanted to have an intimate place for their last dinner together, something away from the various Argentine restaurants they've spent the last month frequenting and exploring.
Now that we've moved into winter time here, I'm getting to play a bit with some of the heartier winter vegetables, as well as just generally richer dishes… I decided to leave the menu pretty much to the last minute, and just go hit the local markets and see what I came up with, and then figure out a menu from there. I have no doubt that store employees are eyeing me with suspicion as I put things into my basket, then take them out, one after another, as I change my mind and figure out what to do. But, by the time I got home, I had a menu in mind, and it came together quite well, if I do say so myself, and I do.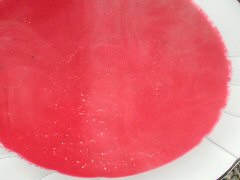 First up, of course, a nice hot bowl of soup. Beets, that's the ticket, a nice homemade borscht… but of course, a twinge of concern – I don't know these students, I don't know their tastes – I'm fairly sure that when I was in college I wouldn't have been happy to have a bowl of borscht stuck in front of me. I don't know, I don't think anyone ever did. What the heck, let's see how it goes… First off, I roasted a whole bunch of beets, some red onions, and some garlic in the oven with a little olive oil and salt. Let that cool enough to handle the beets, and peel them. Put all of that into the blender with a little beef stock and puree it. Into a soup pot, top it off with some more beef stock, a little bit of Chinese red vinegar, just a touch of cream to smooth it out and soften the color to a nice vermillion, salt and pepper, and voila! There were ten students, all ten bowls came back practically licked clean, so I guess you can put a bowl of borscht in front of a college student. We served this up with a nice festive kir royale – the color of course worked with the soup, and the sweetness matched nicely with the soup.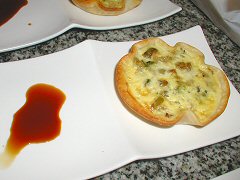 Continuing in our vegetable tart exploration, it seemed a natural to do something with some fresh winter vegetables. Globe zucchini and fennel are in all the vegetable markets, and I picked up some of each, diced them and then sauteed them with some salt and szechuan peppercorns. On into the tart shells, top with a mixture of milk, eggs, reggianito cheese, and a touch of salt, and then baked them up in the oven to a nice golden brown. I had just picked up some nice tomato vinegar (hard to find here, in fact I stumbled across it purely by chance at a little shop in Microcentro – it's not a tomato flavored vinegar, but a vinegar actually made from fermented tomatoes) – I reduced the vinegar down to about half it's original volume to give it a richer and darker flavor and color. It made a nice contrast with the tart, as did the bottle of Alfredo Roca Tocai Friulano that we popped to go with it.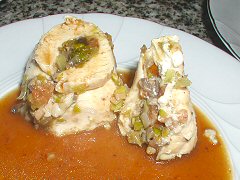 Way back, I made up some nice chicken roulades filled with all sorts of good stuff for a private dinner. I had in mind, actually, a duck dish that we used to make at The Sazerac House with a kumquat reduction sauce – wouldn't you know it, despite that they're in season, I couldn't find any fresh kumquats anywhere that day – everyone was sold out. But, I found a bag of limequats, a more tangy citrus fruit… so, first the sauce, caramelize some brown sugar, add the juice from the limequats, oranges, and some red wine vinegar, and cook that down until it's fairly concentrated, about a third of its original volume, then add chicken stock and simmer together for a few minutes to blend the flavors – season to taste, and you're ready to go. The chicken roulades were made from chicken breasts pounded fairly thin and then filled with a mixture of sauteed sweet Chinese sausage, pistachios, leeks, and mushrooms. Good stuff! Paired it off with a bottle of Callia Alta Rosado de Syrah that worked quite well with the dish.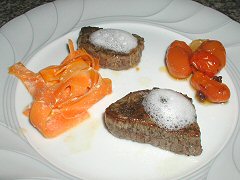 You know I wasn't going to stop at one foam experiment – I'm going to play with it a bit here and there as ideas occur to me. I suppose the true way to get the hang of it would be to make a point of making foams, but, I just can't bring myself to do so. Such is life. This is pan-roasted peceto, or top eye of round, sliced into small medallions – I suppose for proper new presentations I should have cut them into neat cubes or rectangles or something, but I can't bring myself to waste that much meat. The medallions are topped with a foam made from almond milk with a bit of soy lecithin in it to hold the bubbles. To one side are cherry tomatoes that were roasted in butter and vanilla. To the other, "adult" candied carrots – the carrot ribbons candied in a mix of cream, marsala, honey, salt, and a touch of black pepper. Also from Callia Alta, I thought their Shiraz-Malbec blend would go up well against all these sweet flavors with the beef, and it did.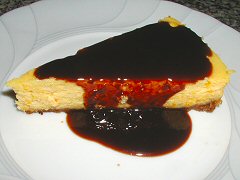 I had to go with a cheesecake – in this case a reprise of the apricot cheesecake I made not too long ago, only this time sweetened with white sugar rather than agave syrup, which I thought made the consistency of the first version a little too soft. Topping the cheesecake is a sauce made from simple syrup (equal parts by weight of water and sugar), cocoa, and some fresh bay leaves – all simmered together until the sugar was all dissolved, and then left to steep for a couple of hours. Pulled the bay leaves out, heated the sauce up, and spooned it over the cheesecake. Now that's a combination that works… (if you've never tried cocoa or dark chocolate with bay leaf, you have no idea what you're missing – kudos back to Richard Leach, who I'm pretty sure is the pastry chef who taught me that one at Mondrian when he was there… if not, then whomever preceded him…). Our favorite dulce wine, Finca El Retiro Tardío held it's own and complemented this beautifully.
Now how come I never had any dinners like this when I was in college? I know, I know, had I gone on a student exchange program…