"Originally a brewery, a brasserie today is a café or restaurant where beer, cider, and other drinks are served. Dishes typically sold at brasseries include garnished sauerkraut and plates of oysters, but standard hot and cold dishes are also served. The distinction of all brasseries is that they serve a limited menu at any time of day and often fairly late at night."

– Larousse Gastronomique
Buenos Aires – I'm fond of the brasserie concept – limited menus are great, especially if you offer things that are fresh, seasonal, and varied. A good brasserie is the kind of place that locals can eat at every day for lunch or dinner, and not feel like all they have to eat is the same thing day in and day out. Now, that's the ideal, that's the tradition. In practice, a good number of them have a set few items that they always have – maybe even one that they're particularly known for, and then vary a daily special or two. To the casual visitor it sometimes seems as if the place isn't really trying – but if they understand the concept, they'll recognize that it's actually more honest cooking, and they're like to get better quality of those few items, than from a kitchen that churns out fifty different items… often of mediocre quality.
So, mixed plaudit and pan, I give you Brasserie Berry, Tucumán 775, in Microcentro. They've got the concept down right, no question – even if they're leaning more heavily on wine than on beer – a perfectly acceptable substitution, especially in a culture that puts more stock in the former (though, I hear that beer drinking here is on the rise and wine drinking on the decline… a rumor to be checked out). At lunch, a simple prix fixe menu of four different items, along with the offer of a couple of basic appetizers for those who want a little something extra. At dinner, not much more – separated out as an a la carte menu, but still only half a dozen menu items – simple, basic, hearty cuisine. Not surprising, given that mother and son team behind the place are from Lyons in the south of France, and I think the chef is from the southwest, in Gascony. The space is rustic, the service is quick and efficient – more amazing because one waitress was handling all fifty seats the day we were there, and the place was full. At one point when she saw she was falling behind, she actually went and asked one of the two people behind the counter, both of who were doing nothing but watching her work, if they'd help her out – I have no doubt she phrased it slightly differently. Still, menus arrived, orders were taken, food arrived, plates were cleared, dessert and coffee a repeat – it all worked, and worked fast – most of the crowd were clearly businessmen – and they were virtually all men – in for a quick bite, say hello to various comrades at other tables, and hit the streets again.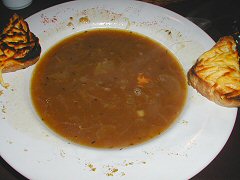 On all that, Brasserie Berry has the system down right. On the food is where it gets mixed. This onion soup was, to be generous, anemic. Sweetly anemic. I'd like to think that the sweetness was the simple caramelization of the onions, but I swear there's sugar in the mix too. It's a vaguely purple brown color, so no doubt a bit of red wine in the mix. Too few onions, mostly broth, and fairly lightly flavored broth at that. Burnt toast on the side with some cheese carbon-bonded onto it. It didn't presage the rest of the meal well. We could only hope, wait and see.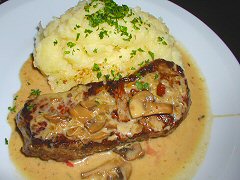 And, our hopes were semi-answered. The basic steak – more or less what is probably an entrecote steak, or rib steak, was cooked perfectly medium rare as requested. The meat was well seasoned, tender, not at all fatty. The wine and mushroom sauce was classic, a perfect consistency, plenty of flavor, and properly seasoned. The mashed potatoes on the side were buttery, light and fluffy. Everything you could ask for in a classic brasserie dish.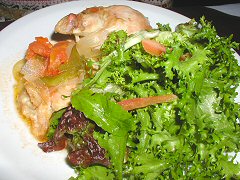 On the flip side, the roast chicken with green salad was a bit of a disappointment. It was flavorful, it was well seasoned, it was accompanied by a nice vegetable sauce, the green salad on the side a nice mix of greens, lightly dressed in a tasty vinaigrette. But the chicken, a single breast split in two sections, was dead. Well and truly dead. I have some friends who come to visit here who point out that one of their favorite things to order in Buenos Aires is chicken, because it's always so moist and juicy. I make chicken dishes all the time, and it's true – it's hard to dry it out. But they did it. The only thing I can assume is that they cook the chicken breasts well in advance and leave them sitting somewhere, perhaps a warm oven, where they can grab them as needed – makes it easy to turn out food quickly – but also means that the meat dries out as it sits in a dry, low heat oven. A shame, because had it been juicy, this would have been another winner dish.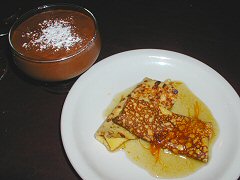 So here's the thing. Brasseries aren't known for desserts. The usual take on them is after you have your nice hearty, rustic single plate, you order a coffee, maybe you get a couple of little cookies alongside. But, we just were in the mood for something sweet – so we ordered. The chocolate mousse was just fine and chocolatey but way, way too sweet. The crepes with orange sauce likewise – pure caramelized sugar – and the crepes themselves refrigerator cold, topped with a hot orange caramel sauce – not a good combination – kind of like maybe they threw the plate in a microwave but not for long enough. I know that Argentine's have a sweet tooth, far more than I do anyway, but this was over the top sweet.
One last note, I can only guess that the owners are trying to get in on the trend in Buenos Aires to offer a degustación menu – or tasting menu. At dinner time they offer up a 100 pesos version. A hundred pesos??? The tasting menu consists of one appetizer, a green salad, a main course, a dessert, and a glass of champagne. If you add up those items separately on the menu, they come out to less than 100 pesos. Far less. Even if we're throwing in mineral water and a coffee, which they may have been… it didn't look like a deal to me. Still, I'd go back for that steak and potatoes, followed up by a cup of coffee – sometimes that's all your in the mood for.