A general overview of culinary history and trends reveals that, for the most part, areas that tended to spice heavily were areas in which the fresh food supply was not as reliable as in places that traditionally used a lighter hand in their use of spices. The climate of Sichuan is conducive to faster food spoilage. This, particularly in the past, made necessary food preservation techniques that themselves left behind a strong flavor, such as salting, pickling, drying, and smoking. Thus, spices served to mask the flavors of less than fresh foods and those that have been preserved by methods that affect their natural flavors. In addition to masking certain flavors, the use of hot spices, such as chili peppers, tends to be more common to hot climates, as the sweat that they can produce is thought to cool the body."

– Kirsten Hawkins, food & nutrition expert
Buenos Aires – There are many Lai-Lai's in the world – a dumpling restaurant in Houston, a Mongolian eatery in Phoenix, a dim sum joint outside my hometown of Ann Arbor, a top Chinese spot in Ontario that specializes in vegetarian food, a Nepalese-Tibetan restaurant in Kathmandu, Taiwanese in Singapore, a couple of islands, travel agencies, the list goes on and on. Now, depending on which characters in Chinese represent the word "lai", it could have many different meanings, and unfortunately, I forgot to scribble down the characters (and neither character on the awning, as best my dictionary seems to indicate, is a version of the word "lai")… next time… because there will be a next time that I go to Lai-Lai here in Buenos Aires, at Arribeños 2168 in Chinatown. But amongst the various possiblities… river, bamboo, to come… and, given the cuisine, the possibility of the name of a mountain in the Szechuan province… because a good portion of the menu at Lai-Lai is Szechuan in origin.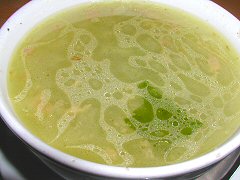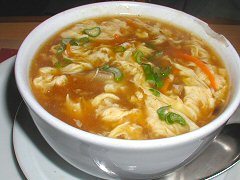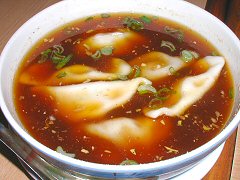 The space is L shaped, and upfront has the ambiance of a cafeteria… as you move into the back part of the L, towards the kitchen and bar, suddenly the lighting is subdued, the tables have cloths, and the space is filled with local Chinese clearly enjoying their food and chatting back and forth between tables – it's clearly a community dining spot. We immediately spotted the differences from most of the menus along the strip, as dish after dish is marked picante, and many were dishes that we hadn't seen on other local menus. We started off with a couple of bowls of soup – an excellent seawood soup – perhaps a touch too much oil in the mix, but packed full of flavor and a mix of different seaweeds; and a hot and sour soup that was worthy of at least half the name – it was hot, as in picante as well as temperature – the sour was a bit subdued for our tastes, but a splash of rice vinegar and it perked right up. As long as we were in the mood now to try some spicy stuff, when we spotted the Szechuan dumplings (on the menu as something like empanaditas chinas picantes, we couldn't resist. The dough on the dumplings was a bit chewier than I normally like, but pretty close to right on, the filling packed with pork, garlic, and green onion with just a touch of chilies – more picante from garlic than anything else, and the broth delicious. I'd be happy with just a couple of bowls of these!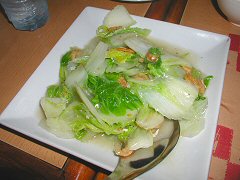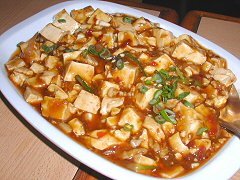 For main courses we decided to go on the light side, and also to get one spicy and one not spicy dish. So, a searingly hot and perfectly cooked ma po tofu, easily one of the best versions of this I've tried, and not just here in Buenos Aires, but in any Szechuan restaurant I've tried. On the other hand, I have this soft spot for sauteed greens with dried shrimp – I love the flavor combination, and this platter of akusai, or Chinese cabbage, was exactly what I've been wishing for. As I said, there will be more trips to Lai-Lai.