"Passion is the element in which we live; without it, we hardly vegetate."

– Lord Byron, Poet and Satirist
Buenos Aires – According to their name, and I know not from where it comes, they're not just a restaurant, they're Eliot Restó & Otras Pasiones, located at Honduras 5237 in Palermo, 4831-1112. There's no indication of what the other passions might be, unless it's the odd, randomly scattered art on the walls. The space is light and airy, with high ceilings and a big glass front window – seating is widely spaced, which gives the room a certain feel of being not particularly intimate. I kept waiting for an echo as we chatted. Sitting not far from us were a dozen folks from the Buenos Aires International Newcomers group, a few of whom we recognized and waved to from afar, a couple came over to chat. [This place has closed.]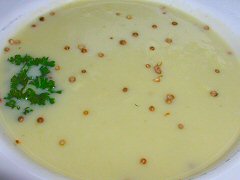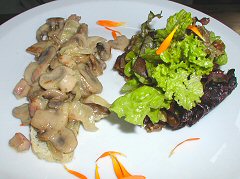 Service is friendly and competent, something that thankfully is becoming more and more common in the city as restaurants (or at least their waiters) realize that actually providing good service results in happier customers, who come back time and again, and tip better… surprise that, no? Lunchtime is easy – it's a fixed price menu, two or three courses, dessert being optional. We started off with a delightful squash soup (they're popping up all over, a nice change of pace, and interesting the different interpretations), seasoned with cardamom, a delicious touch, and the soup nice and creamy, rich and satisfying. We also tried the mushroom bruschetta – not bad, but not overly interesting – the bread a bit too thin and quickly soggy, the mushrooms underseasoned, though a bit of salt fixed that.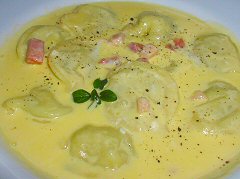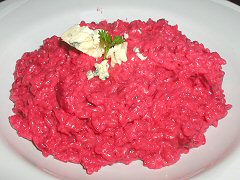 We both were more impressed with the main courses we tried. Eliot offers up a selection of pastas, the most interesting of which, to me, was the ravioli filled with ricotta, spinach, and prosciutto. Top that with a nice range of sauces offered, including a freshly made carbonara – a sauce one doesn't see much here, and which isn't often well made anywhere. This one was a little on the soupy side, but flavor-wise was dead on. The risotto made with beet juice, grated beets, and a nice salty blue cheese was a winner – cooked al dente, brightly colored, flavorful. We were happy. We were also full, and opted out on desserts, and toddled off down the road for a coffee elsewhere.
Overall, for me, there's something "off" about the room, maybe it's just too non-intimate – not what I'd call cold, but the ambiance isn't warm and welcoming – thankfully that's made up for by the waitstaff. The food is good, mildly creative, and well cooked. It's not wow, but then again, a two course lunch is only 18 pesos, which works for me. I await hearing from anyone who may happen to know a) who exactly is Eliot? and b) what are the "other passions" offered?