"Let us call up the spectacle of a totem meal … The clan is celebrating the ceremonial occasion by the cruel slaughter of its totem animal and it is devouring it raw – blood, flesh and bones. Each man is conscious that he is performing an act forbidden to the individual and justifiable only through the participation of the whole clan… When the deed is done, the slaughtered animal is lamented and bewailed. The mourning is obligatory, imposed by dread of a threatened retribution. As Robertson Smith remarks of an analogous occasion, its chief purpose is to disclaim responsibility for the killing."

– Sigmund Freud
Buenos Aires – Thankfully, our meal was not to include either slaughter, nor anything else graphically described above. Our food was already dead, cooked, and served to us in occasionally artistic manner. But, in advance, I had no idea what to expect – when one names a restaurant after the father of modern psychiatry, and then tacks one's own name on, and hangs out a shingle, customers can't be faulted for considering the possibilities. Now, it turns out that the owner of this restaurant was, or is, a "disciple" of Freud's, so at the very least he felt himself entitled to the collaboration – perhaps he offers therapy sessions over coffee…? A quartet of us were ensconced in the oddly decorated salon that is Freud y Fahler, Gurruchaga 1750, 4833-2153, in Palermo Viejo, perhaps somewhat nervously looking forward to lunch. It didn't help that the walls are painted more or less graffiti style with scribbles, strange drawings, odd recipes, and visions that look like an occasional mangled body part. One man's art… [Closed sometime in 2009. Reopened nearby at Cabrera 5296, a year or so later as NCF&F (Nueva Casa Freud & Fahler)]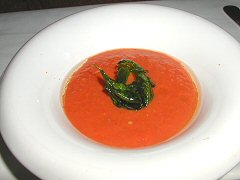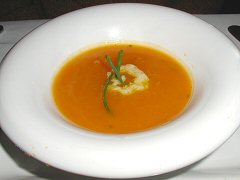 Soup is one of those items that seems to rarely occur on menus here in Buenos Aires. When it does, it can be occasion for celebration. Of course, that depends on the soup. These were tasty, but ordinary – a duo, one a cold tomato soup (it was a mere few degrees above freezing outside, and not significantly warmer inside, it wouldn't have been my first choice to either offer or order); the other a thick squash soup. Both could have used a bit more seasoning, but for hearty, simple soups, performed well.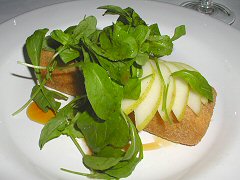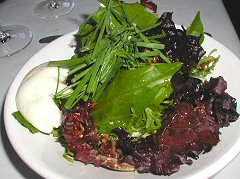 The other options veered towards the world of salads – a warm, breadcrumb encrusted wedge of brie – not oozingly ripe, but neither was it immature – topped with slices of apple and a nicely dressed salad. For a complete green fix, a large mesclun salad, tossed with a light and tasty vinaigrette, and served with a side of poached egg, which would have benefited from being a bit less poached – runniness is a thing to be desired in
un huevo poché
, otherwise one may as well toss on a hard-boiled ovoid and be done with it. Winner of the appetizers, I'd say, was the brie.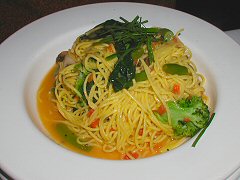 On the main course side we continued on the trend of simple, honest food. Perhaps, actually, that's the best way to sum up this whole restaurant… or at least most of it… certainly the food… it's all good, and it's all, well, regular. There's no pizazz, no spark, no wow factor. And that's not necessarily a bad thing, unless you came expecting that – it's just good, wholesome food that no one is likely to be unhappy to eat, and no one is likely to remember an hour later. Here we have some cheese filled ravioli with sun dried tomatoes and basil, a touch of ground walnuts in the cheese filling; on the right, spaghetti in butter with vegetables.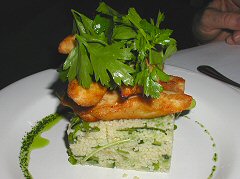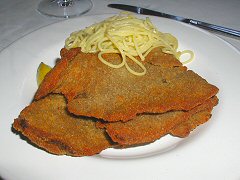 I guess I'd give points for a moderately interesting presentation to the dish on the left – described on the menu as
lomo de pollo
, you know, the loin of the chicken… that little strip you pull off the breast, sometimes called "chicken tenders" – here, breaded and fried… after being flavored with a touch of curry – chicken fingers atop a block of cous-cous – the latter strangely served refrigerator cold – and a bit of salad above. The other, well, the menu did just say
milanesas de ternera
– it didn't quite specify it'd be a stack of them, unfinishable by one person, despite the meat in each being thinner than the crust – they were tender, reasonably tasty, and served with some buttered spaghetti on the side.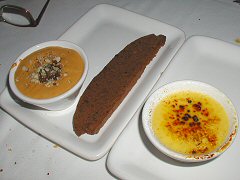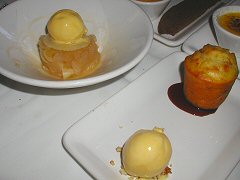 Desserts, much the same – a mini-creme brulee, a mini-dulce de leche custard, a mini-apple tart, and a mini-cranberry cupcake – the last would have been the best dessert had it actually been cooked through rather than left with uncooked batter in the center – as it was, I think the table consensus was that the dulce de leche custard was the best.
So, in the end, I suppose if lunch in the care of psychiatrists is supposed to return one to normalcy, some sort of average position, Freud y Fahler accomplish their goal.