Sound bites and quick appraisals are not conducive to thorough analysis. People's reputations often rest on how we talk about important matters."

– Janet Reno, former Attorney General of the United States
Buenos Aires – It's simply not in the cards to review in full every spot that I get to eat at. Sometimes it's because I've only popped in for a quick sandwich, and don't get any real feel for a place, sometimes because I feel like somehow or other I'm missing a true sense of what the kitchen or staff or ambiance are normally like, most often I just simply don't feel like I have enough information, but perhaps have no plans to retry a spot for one reason or another. Still, I like to let folks who might head to one of these spots get at least a glimpse of what they might be in for. So hence, forthwith, and any other legalisms that sound like they fit at the beginning of this sentence, a quartet of blurbs: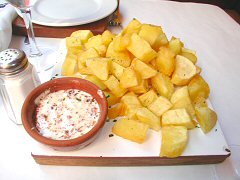 Now, these lovely potatoes are in a spot that I might actually get back to at some point. I met up with an editor friend at Sangria, Tucumán 400, in Microcentro for a quick lunch. We sampled an order of these delightful, pretty much perfectly cooked papas bravas – sort of squared off french fries served with a nice spicy mayo dip. We also tried one of their little tapas platters – a mix of different seafoods that ranged from some anchovies pretty much straight out of the can to some really tasty baby squid in olive oil, herbs, and garlic. This place is a relatively new locale from the same owner as Bar Petanque, a French brasserie in San Telmo that I'm not particularly fond of. Here, at least, the service quality was quite good, and the food tasty.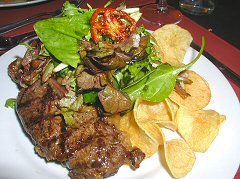 On the other hand, I promise you I have no plans to return to this spot. We should have just simply not gone in. It turns out to be the restaurant in the back of a Howard Johnson's – now, if it had been a real HoJo's, we'd have been all over the fried clam sandwiches – but it isn't, it's a spot called Citrino, Marcelo T. Alvear 1368, Centro, where the food is the epitome of bad hotel food served up for a crowd that was clearly not possessed of palates given the rate at which they were digging into their food. Expect the vast majority of conversation buzzing about the room to be in languages other than Spanish, not surprisingly, I imagine the hotel is primarily catering to folks here for conventions or conferences from various other locales. A soppingly wet and tasteless caesar salad, a piece of cod floating in a lake of melted butter (definitely not the brown butter specified on the menu, just melted), this piece of lomo that consisted of fat and gristle and little else – and served with potato chips… that's just wrong, an apple tart that amazingly barely tasted of apples, I'd guess it had been in the refrigerator for quite some time, and a creme brulee that just had the wrong consistency – it wasn't creamy, it was more like grainy jello. Oh, and you'd think in a hotel catering to tourists, if they're going to translate the menu into English, they'd have someone who spoke both languages do the translating (and the manager and the waitstaff seem to speak both, so there's no real excuse) – it was so unintelligible that we were laughing out loud.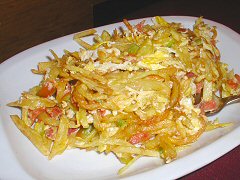 On my list for awhile was to check out another of the kosher spots in Once. I often get asked by Jewish tourists headed this way for suggestions – given that I don't keep kosher and never have, I've made little effort to seek the spots out. The other day we popped in to Mama Jacinta, Tucumán 2580, a spot that often gets high marks from folks who've been. It's a spot I'd have to go back to to decide – the food was fine, but nothing special – the atmosphere just seemed, off. I think, however, that was more me, I was fighting off a bit of a cold, and somehow it all seemed a bit odd – nothing I can put my finger on, but there you have it. We started off with a very good, smoky babaganoush, and a quite tasty, lemony hummus – but both served ice cold – had they been closer to room temp they'd have been really quite good. They were served with a basket of the usual sort of linked white rolls that are ubiquitous in Argentina – and only a couple of little triangles of good pita bread – more of the latter please. The spinach ravioli were flavorful, but dense and a bit undercooked, and with a fairly uninteresting plain tomato sauce – maybe that's why they "recommend" one of their selection of special pasta sauces below the short list of pastas – extra charge of course. This revuelto gramajo, pretty good actually – an interesting twist, using pastrami rather than ham, for kosher reasons obviously – a bit light on the egg and a bit heavy on the fried potatoes, but still eminently edible. [Closed]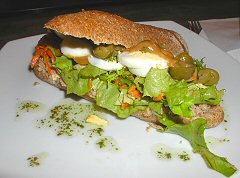 These guys have a great thing going, they know it, and they're quickly becoming a little hotspot. The place is Pura Vida, Uriburu 1485, here in Barrio Norte, and it may be the city's only real juice bar – it's certainly the only one I've heard of. And it's a real, California style juice bar – right down to all the little things that can get stirred in – bee pollen, soy protein, etc. – they even contracted with a local farmer to grow wheatgrass for them so that they could have a steady supply for those into wheatgrass. I'd have trouble giving this spot a full review – it's primarily a counter with half a dozen seats where you can eat or drink juices or wait for something to take-out, plus two tables for two for the same. They have a menu of various juice combinations, and of those I've sampled, they're really well done – though, be prepared, especially if it's not particularly busy, to be treated to a dissertation on why you're drinking the juice you're drinking – the juice-master is a True Believer. They also offer up some tasty sandwiches, including this really excellent tuna and salad one, some good salads, and a couple of soups – I've tried the quinoa vegetable soup which I have to admit was a bit lacking in both quinoa and vegetables, not to mention flavor, but I'm informed by friends that they have a chicken soup that's excellent – have to give that a shot. The owners are a trio, I believe, of norteamericanos, the clientele is, at the moment, heavy on the U.S. expat crowd – especially a younger, female clientele with west coast accents – the idioma you'll hear is pretty much all English. At the same time, I see more and more porteños at least poking in to sample (the spot is only a block from home, so I walk by regularly), and the owners say that more and more are coming back regularly. [Closed]