History loves a paradox, and there can be none greater than a taste for spices being responsible for the exploration of our planet. Sovereigns pledged their prestige, and navigators risked their lives, not in the quest for gold or the thirst for power but to redirect the distribution of a few inessential and today almost irrelevant vegetable products."

– John Keay, Author, The Spice Route: A History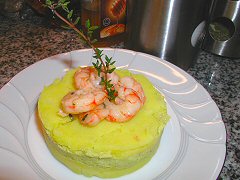 Buenos Aires – The instructions were, as they often are for private parties, simple: we want spice, no nuts, group of eight women writers, go. So was born a little round the world tour of spices, in five plates, bonded together by little more than whimsy. The eight arrived, a few of them had been here before, we moved on into the evening, starting off with a bit of a twist on the Peruvian causas that I've made in the past – I combined it with what I thought was an interesting mashed potato and shrimp dish that I'd made for another private dinner recently. In this case, the dish is served cold, as is tradition, with the mashed potato layers being simply flavored with lemon juice, olive oil, salt, and ají amarillo. The avocado gets layered in between, but I used the banana guacamole, made with lime and cilantro, that I've become quite fond of; and then topped the causa with chilled shrimp that had been marinated in olive oil and thyme and then sauteed. A little thyme sprig as a garnish. The portion was a bit too large – I have to get some smaller ring molds…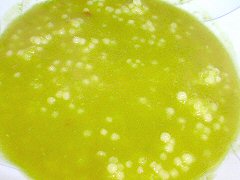 I can't decide if I'm disappointed in this dish or not. The flavors are there, the texture isn't – the soup was just too watery. I wanted a nice, hearty, split pea soup, but for some reason, though they got appropriately mushy, the split peas simply didn't seem to absorb near as much water as they normally do. I added some pasta to the soup towards the end to help draw out more water and give a little contrast, but it felt more stop-gap than anything else. The soup is flavored with fresh ginger, chilies, green onions, turmeric, coriander, cumin, and tomato, and is in a chicken stock base. It just wasn't quite what I'd envisioned, even it was tasty.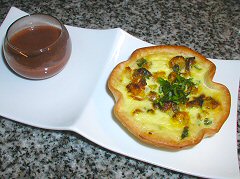 I've been enjoying playing around with small vegetable tarts recently, as well as sampling a variety at various restaurants. Most of them seem to be a bit dull and uninteresting, and I thought it might be interesting to spice one up a bit. Now, if you've been with me for awhile, you may remember the Cauliflower Kuku, a classic Persian vegetable dish. I basically followed the same recipe I presented there, but made small tartlets out of the mixture and baked them to order. Since I'd made a large batch of the charred tomato and red wine sauce for this weekend's dinners I thought it would pair well with the tart, not to mention add some additional interesting spice. It worked. I do like cauliflower…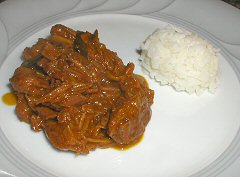 If you happen to be familiar with Beef Rendang, it's likely that you're familiar with the Malaysian version – coated in shredded coconut, and in some ways curry-like. The supposed origin of the dish is Indonesia, and in specific as a ceremonial dish of the Minangkabau people from Western Sumatra. While the dish takes time to cook, the preparation is actually quite simple. I browned sliced onions, garlic, and ginger, then added roast beef cut in cubes and browned those. I added a small amount of coconut cream and some beef stock, a couple of tablespoons of very hot chili paste (piquin in this case), a couple of sugar, some chopped lemongrass and kaffir lime leaves. Covered, and then simmered for about four hours, then removed the cover, turned the heat up high, and cooked the liquid off to form a glaze on the meat. Served with some jasmine rice – I'm just happy I made a big batch… lunch today as well!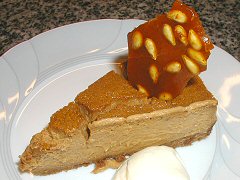 I was randomly searching the internet looking for various spicy desserts, wanting to stay in theme. Various things with chili and chocolate popped up. But one dessert caught my eye in particular – a Pumpkin Flan with Chili-Spice Brittle from The Gilded Fork. But, to make a flan properly, it needs time to really chill – preferably a full day – it helps separate out the caramel layer and give flan its characteristic consistency. Instead, I thought I'd work with the idea and make it my own – so I started with my standard cheesecake recipe, cut back a little bit on the cream cheese, and added some just roasted butternut squash (pumpkins are pretty much non-existent here, at least as we think of them). In place of vanilla extract I added some orange liqueur, then added a mix of classic pumpkin pie spices, plus a nice dose of ancho chili powder. Then, I pretty much followed their recipe for the pumpkin seed chili brittle, using lemon juice in place of cream of tartar (just didn't have any…) and the orange liqueur again in place of the vanilla. A scoop of stiffly whipped cream on the side. Couldn't really be much better – and the chili just provides a very interesting and somewhat elusive hint of heat in the background.