I have no interest in eating at a restaurant named after a gland."

– a local friend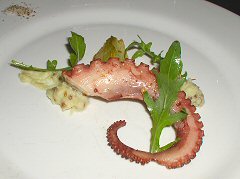 Buenos Aires – … and, I understand that. On the other hand, sometimes words have more than one meaning, and in this case, the dual entry is the genus of an herb. Thyme to be exact, and the restaurant in question was Thymus, Lerma 525, 4772-1936, in Palermo Viejo. [Closed in mid-2010.] I've been hearing about this place pretty much since I arrived, but I've been hearing about it with a mixture of reactions. Some folk seem to love it, others not. No one hated it that I can recall, but there have been some strongly worded disappointments. No question the place is pricey. On the other hand, there are options – you can order a la carte, or you can opt for one of their chef's tasting menus. In fact, we got to meet the chef, Fernando Mayoral, since he was out wandering the dining room chatting with friends, dressed in casual street clothes – a little odd for an evening when the place was packed with people, but hey, it's his place… This was another of the spots that got listed on Bacanal's best restaurants of 2006, and a couple of local friends just tried it recently and were impressed, so I'd moved it up on my list of spots to try. My friend Mickey was in visiting, so we headed there one night last week.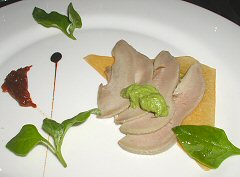 It's a pretty room, with some outdoor space. Lots of warm colors, decor that has a vaguely, I don't know, Egyptian look at times, depending on how you glance at it. It's comfortable. After perusing the menu and deciding to let the kitchen go with the full tasting menu (80 pesos for six courses), the sommelier came over and visited us – we'd asked if we could bring our own wine, which they allow, though it later turned out they're a bit pricey on the corkage fee – 25 pesos a bottle – however that fits with the price levels of their wine list, which seem to run 2-3 times retail prices, quite high – and opened up a nice bottle of red Burgundy, the Pierre Labet Beaune Clos des Monsnières 1995 – it needed a few minutes to open up in the glass, but was absolutely delicious, and worked well through the first half of our meal. We shared a glass with the sommelier (and another of the second bottle we'd brought – didn't get us any discount on the corkage charge – ah well, such is life).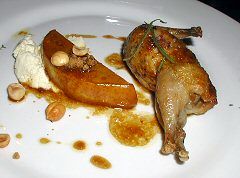 Remember the other day in my review of Almanza where I said that the pictures told the whole story? It's not always true – Thymus has absolutely, artistically gorgeous plating of dishes. But, I can't say we were impressed with everything. It was definitely a hit and miss experience. We started off with steamed dumplings filled with squash and herbs – the dumpling skins thick and chewy – way undercooked, the filling barely present. They were served with shotglasses of local Torrontés wine spiked with citrus and herbs that was undrinkably bitter and sour. We had both opted for their octopus dish as our first course (you get to design your own tasting, selecting any two appetizers, any two main courses, and any two desserts). We're still debating whether the octopus was just so overcooked that it was nearly falling apart, or whether it was simply old and mushy. It was also flavorless, though accompanied by some sort of intensely mustard flavored puree that overwhelmed anything else on the plate. Our second appetizers were mixed as well. An absolutely spectacular, melt-in-your-mouth lamb's tongue dish that was easily the hit of the evening; and a duck confit that would have benefited from spending far longer in whatever marinade it was in, and cooked slower – it wasn't quite dried out, but it wasn't the texture or flavor of a good confit either – still, not bad.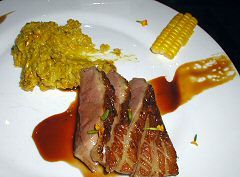 On to the main courses – we split on our first round – one a roasted quail with peanuts, apple, and goat cheese that was quite good and properly cooked, the other a very good presentation of a few bites of lomo with different mushrooms, very tender, perfectly cooked. On our second main course we both opted for the magret of duck. Now, I'd have probably been far more impressed with it if I hadn't just had that amazingly good one at Almanza a couple of days prior. This was good – it was cooked right, had just the right amount of fat attached to it, and was served with an interesting corn mash – I can't fault it, but neither of us was wowed by it either. I would say that our second wine choice helped with the meal as well – Sur de Los Andes' new Bonarda Reserva 2005 – a wow – I've been impressed with the regular Bonarda for awhile now, and we often use it as our "house red" here at Casa S – the reserva takes it to a whole new level.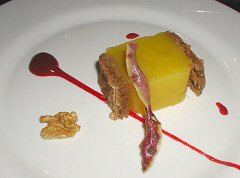 We moved on to desserts, and bluntly, the restaurant falls flat at this point. We had some sort of creamy vanilla soup with a tall cone of a cookie in it that by that point neither of us could remember what it was supposed to be, but neither of us had any interest in knowing either. It was, to be generous, nondescript. The other, a bit more interesting, a twist on the common dulce de batata that's found here, this one spiked with citrus, surrounding by a bit of a walnut based crust – good, but I don't think either of us expected a rectangle of gelled sweet potato given the description of a sweet potato, lemon, and walnut terrine… We finished with cheese plates – six postage stamp sized bites of imported French cheeses – none of the servers were quite sure what the cheeses were, though ours made some guesses at what they might be – regardless, they weren't overly interesting cheeses – they could have been, and it's not the fault of the restaurant that it's hard to get good versions of imported cheeses here, so these were likely cheap commercial grade, but then, at a restaurant of this caliber, don't serve them – serve high quality local cheeses instead, it's not like they don't exist.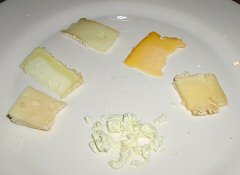 In the end, I'd say that I was simply disappointed. There were definitely some very good dishes – the lamb's tongue, the lomo, the magret of duck – but there were also some real missteps that betray a lack of attention to detail and quality – the dumplings, the octopus, and the desserts. The other stuff falls somewhere in between, which, for a meal at this price level, there ought to be some "wows", and this just didn't leave me excited. I'd still recommend it as an interesting place to try, but I wouldn't rush right over. I find it interesting in doing a bit of research on the chef, that he is a protege of Michel Bras in southwest France, just as is Marí­a Barrutia, the chef at Restó, a restaurant where twice, I've come away with much the same impressions. I've never been to Bras' restaurant, though he has quite a reputation for his creativity. On the other hand, at that last visit to Restó, my dining companion had been there several times, and stated that he'd likewise come away from Bras' place with mixed impressions – lots of creativity, but not always executed well, and a tendency to re-use the same ingredient over and over again in different dishes (which we found at Restó, though not here at Thymus). There was also, in both places, a tendency to use lots of "baby" greens and herbs – pretty, tasty, but just like with the full grown versions, you have to be selective to make sure they work with the dish… just randomly scattering whatever you have isn't generally the best idea.