Thank God for tea! What would the world do without tea! How did it exist? I am glad I was not born before tea."

– Sir Philip Sidney, 16th Century British poet, critic, and statesman
Buenos Aires – Apparently, for some out there, SaltShaker has become a part of the morning ritual. Mine as well, yet for the last week or so I've been a bit lax on posting for one reason or another, and, to the best I can determine, there are a few vocal folk out there who are feeling a bit, well, unsalted. So, I'm back in front of the keyboard, and will get back to my near daily posting of missives from the deep south. Today, by the way, is the one year anniversary of Casa SaltShaker's existence – not that we're doing anything different, though we did find ourselves broadcast on the news on the Telefe channel yesterday afternoon and evening, as part of a show on in-home restaurants – most of the five minute piece went to Caracoles para da Vinci, as they allowed the film crew to stick around during dinner and shove microphones in diner's faces, something I declined. Still, we got a bit of air-time – so far the only business impact was a 10pm call last night demanding a table for six at midnight from someone who clearly didn't read anything on the website other than the phone number. When I can figure out how to edit the recording and put it online, I will.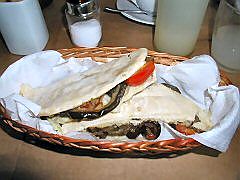 Let me start this duo of critiques by stating that I like tea. I like coffee more, but I like tea. I've tried everything from standard bagged orange pekoe to White Fujian, and all sorts in between. And it does make a nice way to relax in the mid-afternoon. So I was quite happy to see a new spot open on the corner near my home. Tea Connection, Uriburu 1597, 4805-0616, offers up a very modern, sleek room, with lots of smooth services, bold colors (I especially like the line of bell jars of various shades, each with a bowl of tea leaves under it, lining one wall), friendly service, a nice selection of a dozen and a half or so different teas, and, really quite good food. It had some mis-steps early on in that last department, and I wasn't sure they were going to pull it together, but it was worth going in for the tea, and, now having given them another shot on the food side of the equation, I can report happily that it's a great place to not just take tea, but to take breakfast or lunch as well. Top that with a free high speed wi-fi connection and plenty of light…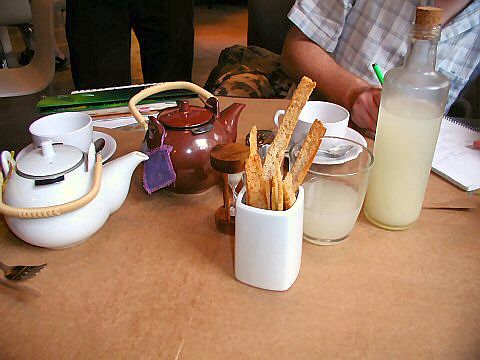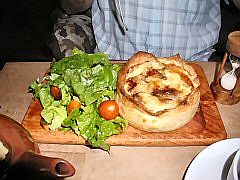 The tea service itself is nicely done. The gimmick here is that they bring a timer to your table, a little teeny hourglass, and tell you how much time your tea should steep. I say gimmick because while it's a cute touch, it's mildly impractical – the timers work out to a minute and a half to run the sand through, while the various teas are divided into three categories – those that should steep two, four, or six minutes – you can see that other than for the latter, the math doesn't quite work – how about a two minute timer…? Still, it's fun to flip your hourglass over and over, and you'll probably find yourself continuing to do it at odd moments throughout your meal. There's also a nice selection of interesting juice and/or flavored water combinations – my favorite a lime and litchi blend, served up in a good sized bottle from which you can refill your own glass as you desire.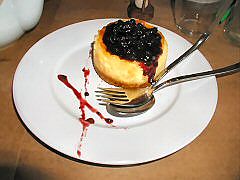 The menu consists of fairly casual breakfast-ish and more lunch-ish items. Some excellent salads; really good sandwiches – personal favorite the roast vegetable and melted goat cheese on pita bread, and I've been happy with alll the others save one – pass on the warm chicken breast – after trying it three times, it seems that the chicken breast continues to be cooked to the point it no longer resembles having been a living thing; "wraps" of various types; and a recent addition of excellent savory tarts. Not surprisingly, the pastry department gets a good deal of attention, and Tea Connection serves up one of the better scones I've had – great when it's warm out of the oven first thing in the morning, and easily the best cheesecake I've tried here in BA (save my own, of course), flavored with rosewater and topped with a mixed berry compote.
—————
Staying in the same vein, I decided I ought to check out another locale for taking tea. Many a time I've walked past Chez Pauline, Juncal 1695, 4816-9988, in Recoleta. From the outside it has the appearance of the sort of place where, well, if I can say it without getting flamed, ladies of a certain age come to take tea. Now, given that I'm rapidly approaching that same age bracket, that means it doesn't appear like somewhere that would be uncomfortable for me to take a table and some tea at the same time. So, I found my way there the other day at lunchtime. The first thing I noticed on entering was that the walls are line with large canisters of different teas. There's no question that Chez Pauline tops Tea Connection in the number of varieties offered – somewhere between thirty and forty at any given time, with a leather bound tea menu offered that describes each. The teas are available brewed, by the pot, or in smaller canisters to take with you. The second thing I noticed was that of the dozen or so tables, four were occupied, each by a single woman of the inferred age, having a pot of tea and a small salad and reading the newspaper or a magazine. That continued throughout my lunch, as women came and went, and without exception, I was clearly the object of speculation.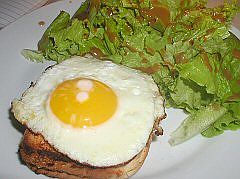 Now, the most interesting table became occupied a bit later in my meal, by a trio of porteñas, who were clearly there for the first time. The subject of the canister-lined wall came up in their conversation, and one went to investigate, reporting back that they appeared to be, well, teas or perhaps ice cream, or something of that sort… Another at the table flagged down the waitress and inquired as to the contents, and received confirmation of the teas. She exclaimed that she'd never seen such a display, and wasn't it easier to keep the bags lined up properly in their little boxes? On the explanation that the teas were not in bags, but brewed with a pot with the leaves in it; and further that no, these were not just different flavored teas like orange peel or cinnamon, but actually different varieties of teas of green, red, blue, and black sorts, she became flustered and asserted that in all her many years she'd never heard of such a thing – declaring the whole operation an atrevido (what in New York we might term chutzpah) designed to part unsuspecting women such as herself from their hard-earned money. She ordered a bottle of water and a salad.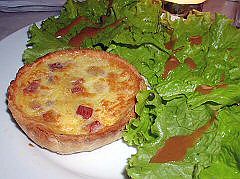 The food at Chez Pauline is of the French, casual cafe/tea shop variety. The menu is short, listing a simple croque monsieur, croque madame, a tart or two of the day, a simple green salad, and one main dish, the day I was there, a ratatouille. I can report that the sandwiches are a bit odd – not quite traditional, or at least not of the croques that I'm used to – consisting of two slices of bread with a slice of ham in the middle, the whole thing well toasted on the outside only, and with the option of a fried egg atop. I'm used to some cheese on the sandwich, some seasoning, perhaps more than one slice of ham, some mayonnaise or mustard either on or served alongside. The sandwiches are served with a side salad with an excellent vinaigrette, which redeemed the plate a bit, but atrevido might indeed describe a dry, ten peso sandwich with one slice of ham on it. The tarts have a deliciously flaky, buttery crust, that would do justice to almost any tart filling, except the over-cooked, dried out one that they put in it. Again the salad was the better bet.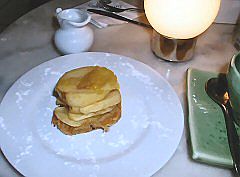 Tea service is a bit more traditional, with a deep basket in the pot that is to be removed and set on a side plate after the stated time for brewing – no timers here, use your watch. Chez Pauline's strong suit is obviously the vast selection of teas, and for that alone, when you're in the mood, worth a drop-by. The desserts are few – a chocolate marquise, some cookies, or a tart tatin served with cream that was also a trifle odd – simply semi-cooked apple slices stacked atop a round of really good pastry. Personally, I think I'd pass on the food here, unless you're in the mood for just a nibble – or, maybe the ladies who were already there have figured things out – after all, none of them were eating anything with their tea other than green salads…